ThirtyTwo 2023/2024 Snowboard Boots Preview
Retail Buyers Guide: Boots 2023/24 Retail Buyer's Guide
Brand: 32
Interviewee: Jon Takao, ThirtyTwo Boot Designer
Any liner story or program you plan to highlight for 23/24?
No big liner stories from last year. Last year we overhauled the liners, we updated the construction to reduce seams, more room in toe boxes, quicker to get your foot in and out, and as always 100% heat moldable from Elite to Comfort liners. 
What lacing systems are your main focus in 23/24 and why? Where does BOA fit in your overall strategy and focus?
ThiryTwo, is a premium lace brand, we will always focus on lace boots for our core riders, but there is big demand for BOA, its quick on/off and on-the-fly adjustments are easy so it makes sense to see why it's so popular. As we move forward, ThirtyTwo plans to continue offering a majority of our models in both closures. For 23/24 we've added a BOA Hybrid Instep model, as asked for be Chris Grenier. The Session Hybrid was his favorite boot and so we developed a new model with him the Diesel Hybrid. All the fit and feel of a standard lace boot, but with the added heel lock down from the BOA Hybrid Instep system.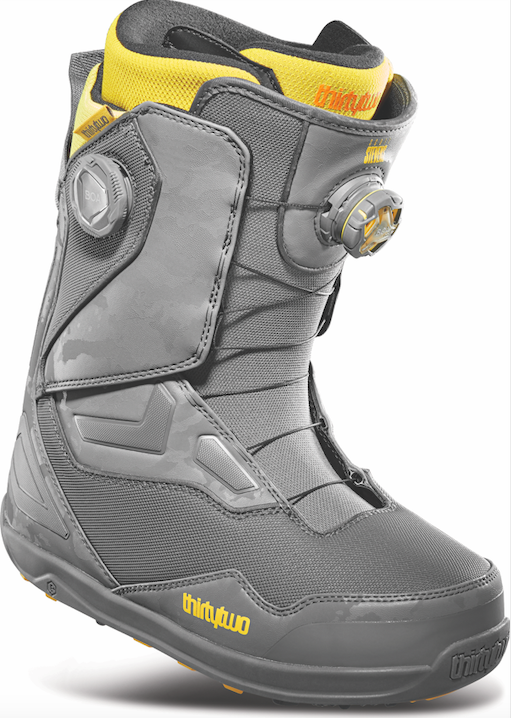 Please tell us about the dominant visual themes or patterns you plan to use in next year's boot line (materials as well as colours)? Any interesting artist collabs or partnerships you have lined up?
Looking over the line, I'd say our overall theme is mixing technical high-performance with classic outdoor. For the 23/24 season we have collabs with Crab Grab, Santa Cruz, Spring Break and Chris Christenson 
Which part of your range are you investing in the most? Freestyle, freeride, all mountain, beginner…? Why?
For 22/23 we invested in backcountry/split boots, during the COVID pandemic we saw a lot of riders investing in backcountry gear and we wanted to make sure we have some of the best split boots on the market for those consumers. For 23/24 we added a new freestyle boot, the Diesel Hybrid, developed with Chris Grenier. All the fit and feel of a standard lace boot, but with the added heel lock down from the BOA Hybrid Instep system. This was a boot that Chris felt was missing from the line and a great opportunity to add a mid priced option in the line. 
Which other footwear sectors or fashion trends do you follow that influence the line?
As a skater-owned brand ThirtyTwo is heavily influenced by skate.  The 23/24 line is also influenced by mountianeering, trail running, sportswear and sneaker culture at large. 
Pricewise, which area of the market do you cater to?
We offer the most options (Models/Colors) between the $250 – $450 price range. Most of our team riders have signature boots in that price range. 
What developments are you seeing with regards to product pricing? 
The cost of everything has continually gone up since 2020; Raw materials, labor, shipping, tariffs, etc. We had to raise prices for 22/23, but worked to keep prices stable for the 23/24 season.