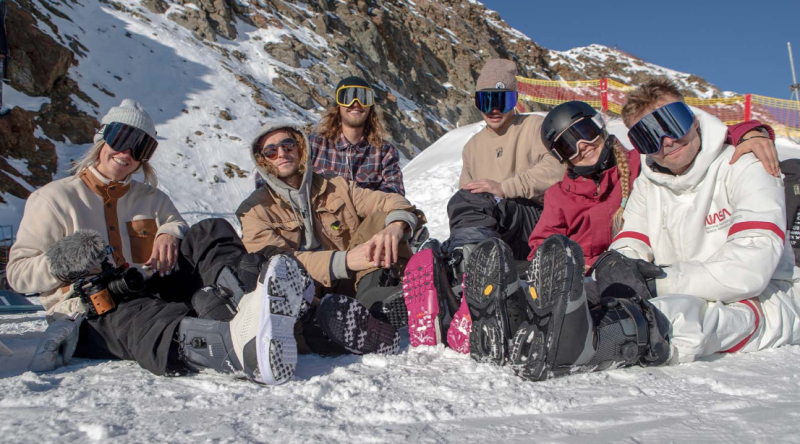 Northwave 2023/2024 Snowboard Boots Preview
Retail Buyers Guide: Boots 2023/24 Retail Buyer's Guide
Brand: Northwave
Interviewee: Davide Smania, Product & Communication Manager
How would you describe the current state of the snowboard boot market? What big developments, changes, challenges, and/or opportunities are you seeing and how is your brand navigating them?
Snowboard boot development has been slowed down during past seasons for many reasons, Covid situation in particular. We are busy with two main projects, one technical hybrid construction for splitboard and alpinism and another one with the no strap concept. After many years of development there are still needs for riding which are not fully satisfied (or could have better solutions). We re-built a strong development team here in Northwave, so a new generation of boots will roll out and you'll have the chance to try these new gears soon.
Everyone has been affected by raw materials and shipping price increases and transport issues. Have you had to make any significant changes with regards to manufacturing, sourcing, or logistics? Are there any examples you can share of how your business pivoted effectively? Any positive developments with regards to these issues and the changes you've made?
We haven't changed much on our sourcing and logistic side during pandemic situation, it was not safe for production standards and lack of possibility to travel to different production sites. We are working hard on the efficiency for logistics costs avoiding extra for express or by air, also for ecological reasons. On the sourcing side, cost increase of raw material is a general trend and not related to certain countries, so even here the partial solution has been working on forecasts and potential scenarios,
After two years of heavy carry over in the industry and more of a return to normalcy last season, what's your overall sales and production/inventory strategy for 23/24?
As said it is not easy to be so optimistic considering the Economic situation, we are worried the energy cost increases will affect the budget for tickets and gears. For this reason part of the collection is carryover, but we introduced new colorway to bring some fresh air.
Does your brand have any new developments concerning sustainability and/or how you are positioning any environmental messaging?
We are working on it, because it is not simple to keep same performance and safety standards with recycled materials, using an important percentage to really change the product and not just have « greenwashing ».
Will you be using any previously unseen materials (in outer shell, reinforcement, cushioning, support or grip) or construction methods? Any liner story or program you plan to highlight for 23/24?
We recently introduced the Popcorn cushioning system which is made in ETPU, which is not just absorbing the impact but also giving back some pop.
What lacing systems are your main focus in 23/24 and why? Where does BOA fit in your overall strategy and focus?
We have different closure systems (speed lace, SPIN wire system, hybrid SPIN+ Speed lace and also traditional lacing system on the Ethan Morgan's pro model) but we are not using BOA since we have our own wire closure system. 
Please tell us about the dominant visual themes or patterns you plan to use in next year's boot line (materials as well as colours)? Any interesting artist collabs or partnerships you have lined up?
Which other footwear sectors or fashion trends do you follow that influence the line? Earth colors and clean design is what you'll see. Together with Ethan Morgan we are bringing on the DIYX concept and we will have his Decade boot with live painting artists during the event STRT Jam there will be in Innsbruck in November.
Which part of your range are you investing in the most? Freestyle, freeride, all mountain, beginner…? Why?
Our collection is more on the all mountain line but in a full sense, so « not just pistes » on mid-high range segment. For sure we have more dedicated boots, like Decade Pro for freestyle, but in general our collection is built to have a progressive flex through the collection.
Pricewise, which area of the market do you cater to?
Mid range
What developments are you seeing with regards to product pricing?
Prices and costs are increasing, we are working to have some innovation which can help in containing them
What are your top product marketing stories for next season?
Decade Pro Ethan Morgan, we will be partner of the STRT JAM event in Innsbruck with a live painting show corner.
Best Sellers/Hero/Key products
The Decade Hybrid is a brand new boot that uses technologies like the heel locker, the SPIN system and the popcorn outsole. It's our team riders first choice due to its extremely secure yet comfortable fit. We can find the SPIN system which is great to close the upper part of the boot. The popcorn outsole is made to absorb all shocks while riding and therefore gives your heels more protection.
When you've got someone like Ethan Morgan, you know that it's going to be a success. Ethan's second pro model boot has everything you ever wanted: style and durability. This boot is called the "DIYX" in honour of Ethans famous most creative snowboard event out there. It's got similar tech to the Decade but with the introduction of laces. Old school is the new school sometimes. The boot is a plain canvas as it comes in white but with the opportunity to pimp it the way you want it.
The Edge is our all mountain/freestyle boot. We really raised the bar this year giving it our new Hybrid SPIN system which really locks your heel in. You will be able to ride a quality boot for an affordable price. It's got a completely restyled upper shell and the colorway is as classy as it gets. These babies are up for grabs!