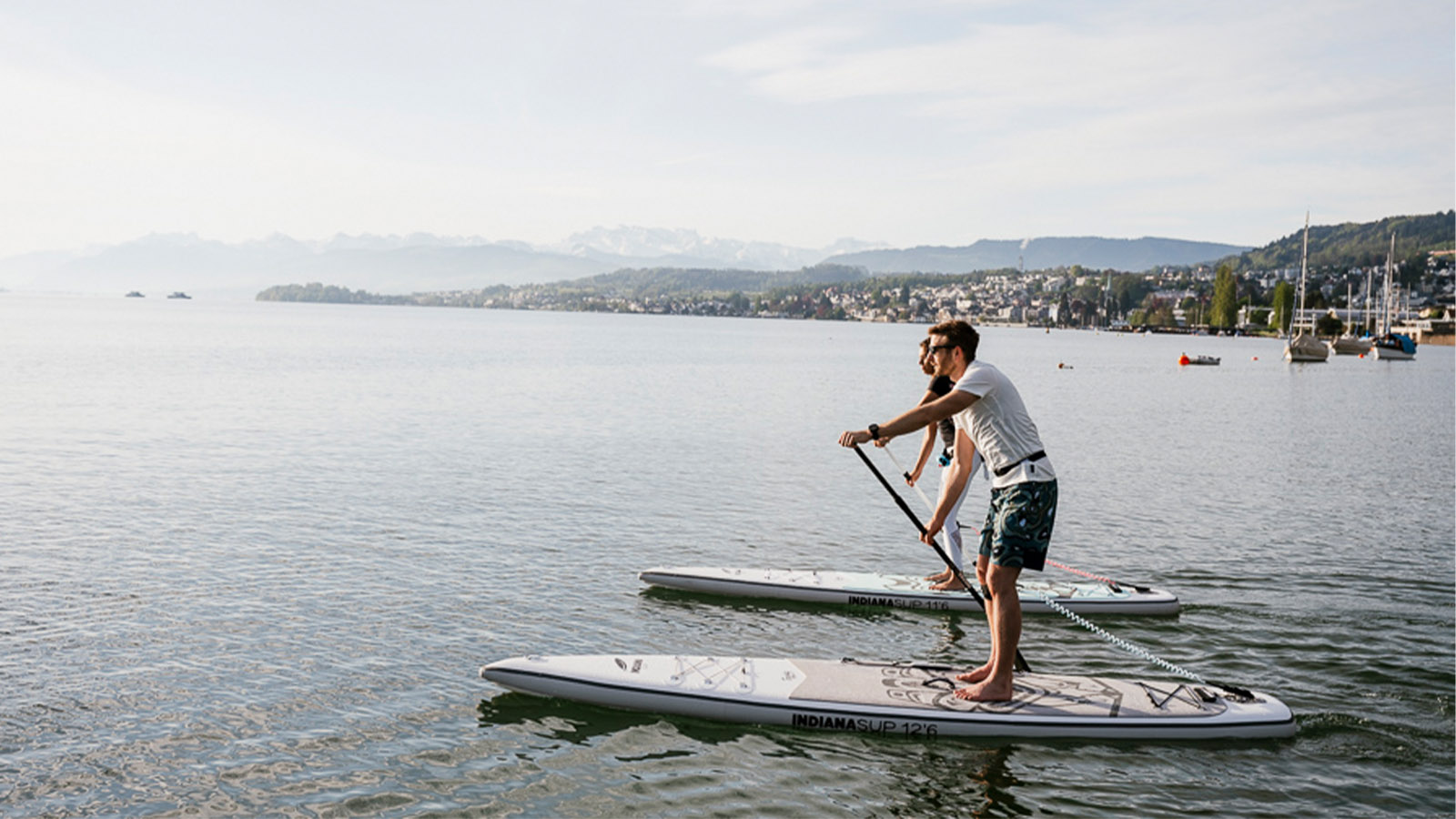 Indiana S/S 2022 SUP Preview
Retail Buyers Guide: SUP S/S 2022 Retail Buyer's Guide
Brand: Indiana
Interviewee: Maurus Strobel, Co-Founder & CEO
Are sell figures still going through the roof? Did you manage to supply accordingly in 2021?
Yes, we were able to grow about 25% and the year is not yet finished. The first factory delivery arrived on time, but later deliveries were delayed because of raw material bottlenecks and transport issues. Nevertheless, we invested a lot in train transport and were able to fill the delivery gaps of our competitors because retailers hardly had any goods at the beginning of the season. So, we were able to gain market share.
After a couple years where virtual relationships were the new normal, how excited are you to attend the Paddle Sports Show in Lyon and meet the distributors/retailers again?
Looking forward meeting all the people again indeed! It is much more fun to meet in person. Direct contact is still the best way to get a message across and present the product range. To listen and learn from customers about their needs is always important for us. The organizers in Lyon do a great job, the location is perfect.
Do you think production time will go back to normal for the SS22 season?
No. The supply chain for all the needed parts for our huge collection is difficult and is getting more expensive. Therefore, we had to place our orders 3 months earlier than in the previous years.
In 2021, the MSRPs did not reflect (that much) the huge rise in shipment costs. Will they in SS22?
During the season 2021 we had to add 6% surcharge for raised production and shipping costs on all net b2b sales. For 2022 we had to increase prices between 5-10% depending on the different product sections. Even with this increase we still lose margin.
Beyond the all-around supremacy, any noticeable movement to report in the other categories (touring, SUP surfing, race, river, foiling…)?
We launched 2 white water SUPs for 2021. They are very well received so, no change needed for 2022. Foil product range increased for 2022. We are investing a lot in this category. Foil is the fastest growing section for us and we see a bright future for this sport.
Inflatables: Which new technologies & models are you implementing in 2022?
We developed a lot of innovative SUP 2.0 features for 2020 and 2021 which are very successful and which make the difference to our competitors. So, there is no need to change for 2022 for inflatable sups. Retail does not like changes for every season. Only exception, like every year is, that we create and launch a new Limited Edition Design by a swiss artist in the sizes 11'6, 12'6 and 14'0.
Hardboards: Which new technologies & models are you implementing in 2022?
We bring 4 new race boards. Two all-water carbon 14'0 race boards with 22.5'' and 24.5'' and two open-water 14'' race boards in 25'' and 28''.
Do you think core retailers should leave the allround boards to the big sport chains and D2C specialists, and focus on more specific (and advanced) designs?
Yes, exactly this is what we propose to our core retailers. They should not offer the family packs 10'6. The price fight is not to win against the big key accounts when there is a lot of rain in June, July or August like we had in 2021. As well there is too much of cheap rubbish on the market in the size 10'6, which squeezes the retail prices in general.
Key Products
Indiana 12'6 Touring Inflatable: 
Our Classic Collection Board with timeless yacht design is very light with 10.4 kg. Equipped with all our SUP 2.0 features. High-end materials, stiff, robust. With tear-off edge and shoulder strap.
Indiana 11'6 Touring Inflatable Lite:
The lower volume "sister" of the 12'6 Touring inflatable SUP. Thickness 4,75′ (12 cm), only 8,3 kg weight for riders up to 80 kg.
Indiana 11'6 Feather Inflatable: 
Super "feather"-lightweight outdoor-adventure Board (7 kg only) for riders up to 80 Kg. For traveling, longer SUP-trips, for light weight lovers, caravan-and boat travellers (very small packing volume).