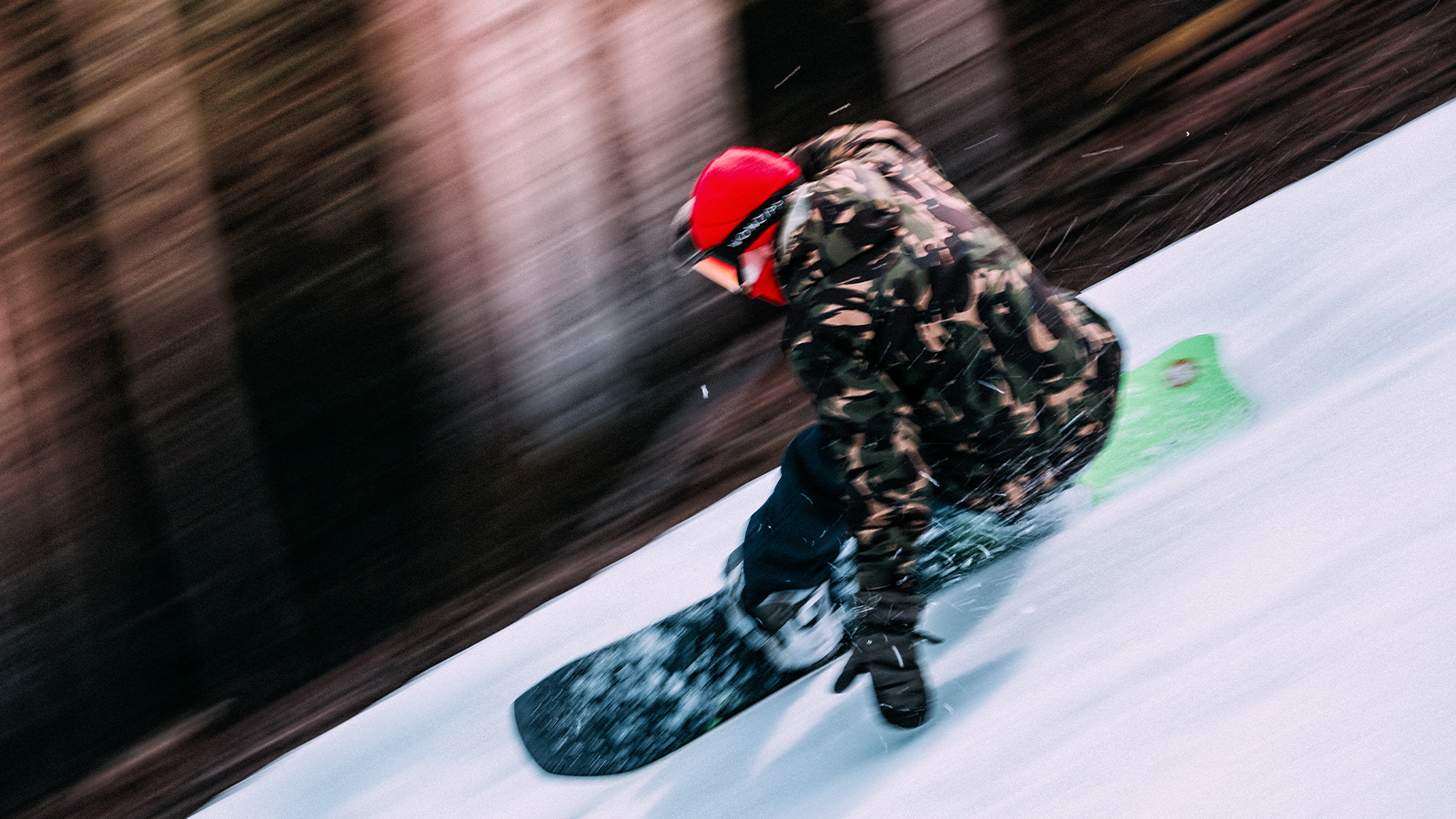 Nidecker FW20/21 Snowboard Boots Preview
Retail Buyers Guide: Snowboard Boots FW20/21
Brand: NIDECKER
Interviewee:  Margaux de Mercurio : Product Line Manager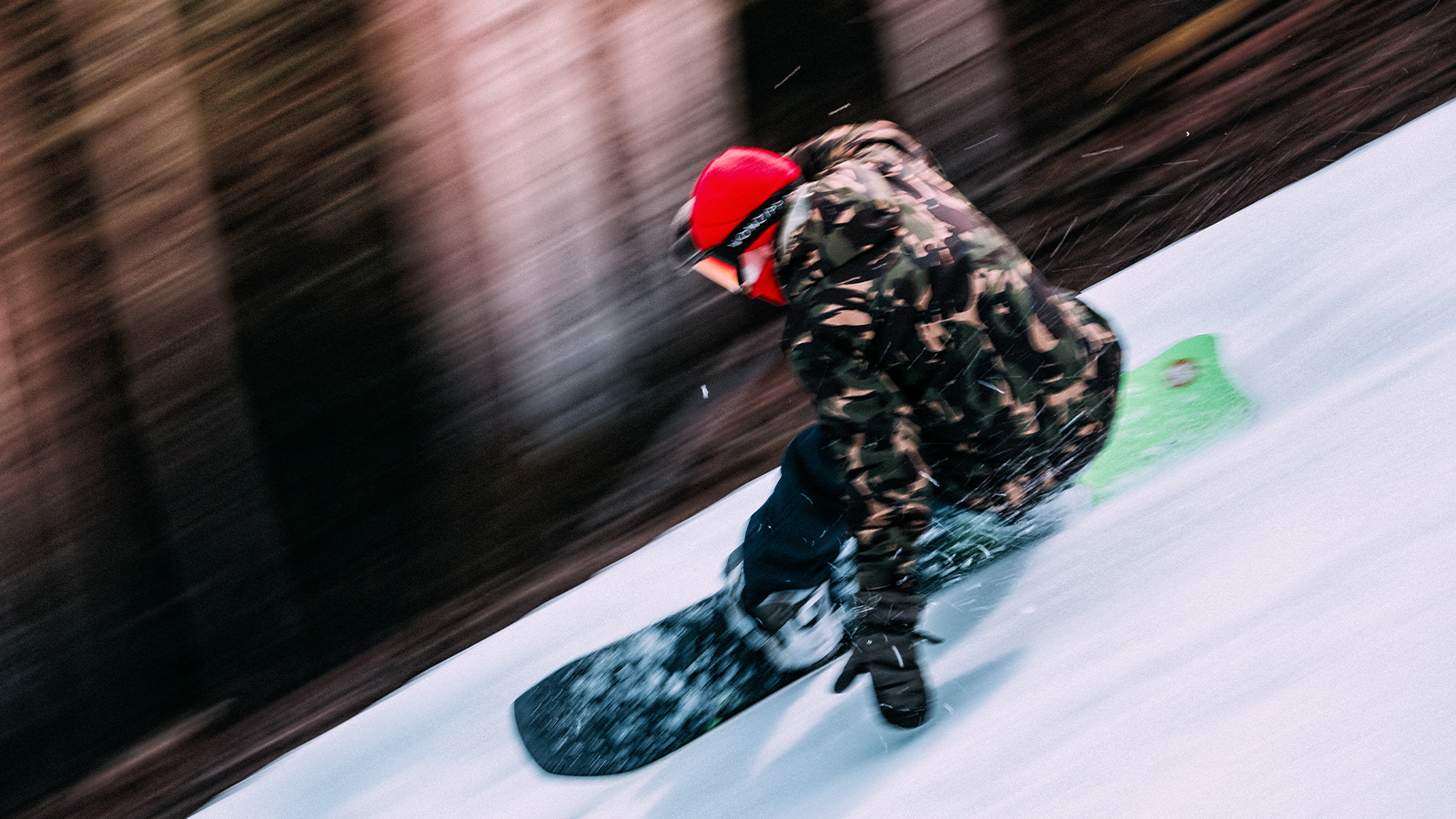 What are the three most important products of next year's boot line? Why?
Our Falcon, Tracer, and Lunar boots models were sleekly redesigned to provide the best fit ever. They feature the new Boa® Dual Zone Sequence™ lace path and our the ASYM3F (Fit-Feel-Flex) Technology. They reflect the importance we put on improving anatomical fit, to promote THE BEST COMFORT FIT OUT THE BOX.
FALCON
(High End – NEW – men's model):
With the brand new Falcon boot you will handle big days in all snow conditions on all types of terrain with confidence. The forward lean increases response, while an array of insulating features are key for pre-dawn starts or snow camping missions. Three innovative, asymmetrical features set it apart. We designed the new asymmetrical lace-path Dual Zone Boa® with rugged looking TX laces and H4 Coiler™ Technology that customizes fit with precision instantly, the asymmetrical 3D-molded tongue keeps pressure off the ridge of your foot, and the sleekly redesigned Gold-Level ASYM Thermo Heat Moldable liner which features a new asymmetrical function this year, with harness closure adds to the overall level of superior heel-hold and precision fit. Developed with the trusted Vibram® sole found on the Talon with its legendary grip, the Falcon is the perfect balance of sporty looking and durable material for riders who want all-around performance with innovations that improve comfort during both the climb up and the ride down.
TRACER
(Middle Range – Redesigned with a Double Boa® Sequence configuration- men's model):
Meet the sleekly-redesigned Tracer. Ideal for surf style slashing, tree runs and rolling terrain. Built with high-performance materials and a rugged look, this boot is made for advanced riders who want a light, progressive, highly customizable, mid-flexing boot they know won't let them down. The Tracer is flexible enough to butter but responsive enough to boost turns. The B.F.T. Vibram® Ascent outsole makes the boot durable and lightweight. Total comfort, a pressure-free fit and perfect heel-hold are guaranteed by the asymmetrical brand new Dual Zone Boa® System combined with TX laces and the asymmetrical 3D Molded Tongue. What's more, the Silver-Level Liner is premolded on the FlowFit last, which will give you that cushy broken-in feeling right out of the box.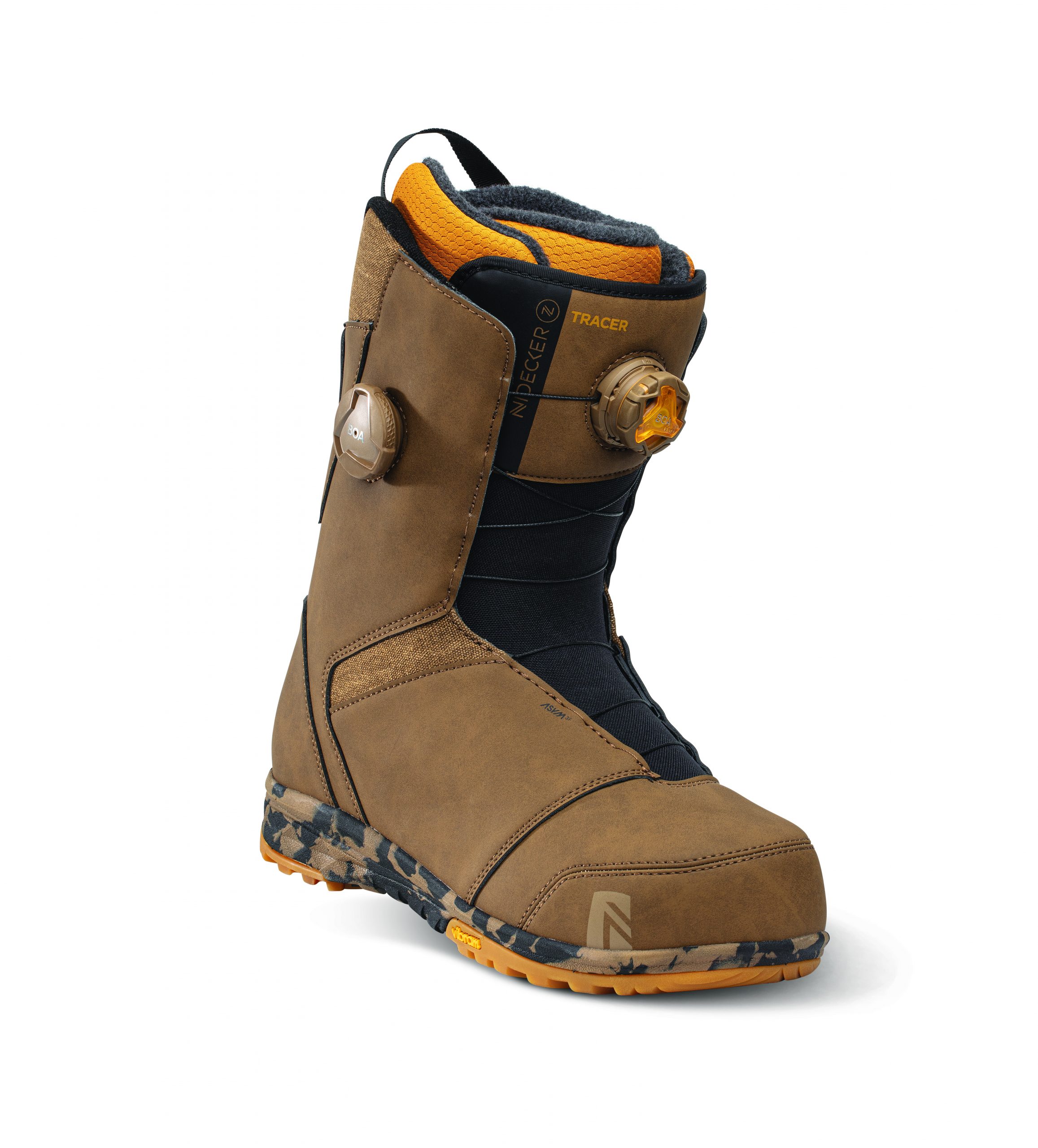 LUNAR
(High End – Redesigned with a Double Boa® Sequence configuration- women's model):
The Lunar is a mid-stiff yet mellow boot for advanced women riders who love challenging the mountain. Its detail-oriented design and deluxe materials give it an understated and brooding look. The B.F.T. VIBRAM® Ascent outsole makes it extremely durable and lightweight, while the asymmetrical Dual Zone Boa® closure with bomber, new-look laces delivers a pressure-free fit and perfect heel-hold. To complete the feature pack our much-loved asymmetrical 3D Molded Tongue and Silver-Level Thermo Heat Moldablee liner both guarantee the highest level of comfort that this model has ever offered.
Using any previously unseen materials (in build, cushioning, support or grip) or construction methods?
With our ergonomic focus on avoiding pressure points and improve the feeling of riding,  we redesigned the liner and outer Boots to give a better fit and perfect heel hold to ensure perfect all-day comfort.
This year we consolidate the categorization of Flex Stiffness range to allow soft and stiff  flexes in every category of the range. Because we believe this ''riding feeling'' component is one of the most important factors as much for beginners than for Advanced or Pro Riders. Look, it doesn't matter how fly your boots are or what secret ingredient they have behind the scenes if you don't feel good in them: Snowboard boots are there to do one thing: help give you a great day up the mountain. Our boots are designed to go on and be forgotten, just provide support, stability and comfort all day, every day.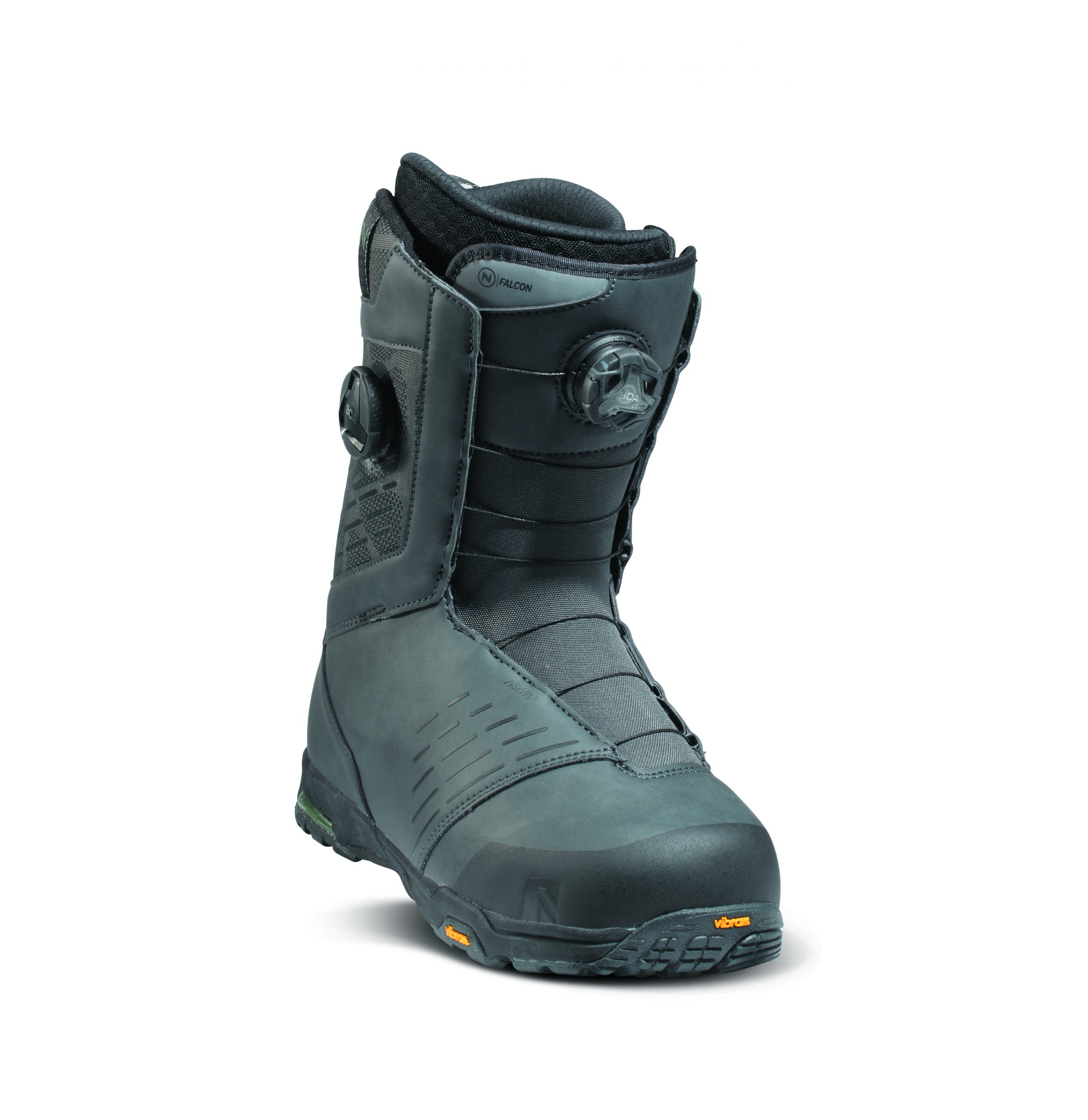 What's new in lacing – trad, Boa, something different? What do people want?
The new shapes allowed us to put the design focus on asymmetry to continue telling our asym story and finding new performance advantages for riders.
The asymmetrical Tongue linked with the NEW Boa® Dual Zone Sequence™ lace path used on Falcon ,Tracer, and Lunar Boots is providing  independent upper and lower zonal closure fit, achieves an even fit faster than traditional Boa lace crossings directly to the bottom of your boot. The parallel lace path and the NEW TX lace* offering a snug fit and perfect support exactly where you want it. This new Boa® Sequence™ configuration is featuring the NEW H4 High Power Boa® Coiler™ Technology* over the tongue that delivers custom and comfort fit with the best precision, within seconds. The mid power dial on the side provides strength and power by using a larger dial to draw tension on one lace. Purpose-built to allow for zonal adjustment, this dial is ideal for closure fit to the instep or the lower zone of more flexible snowboard boots.
TX Lace : The best of both worlds. TX3 is a flexible and low-friction textile lace used in high-power boots to provide a soft, modern design aesthetic with lasting durability and strength.
Imagine the overview section of your boot catalogue next year. What's the defining aesthetic, or overall theme? Talk to us about the colorways/prints/patterns/influences/textures you're using?
The overall Nidecker boot branding and aesthetics of the new 20.21 collection is really simplify, clean, performance oriented, sporty technical driven product range with mostly Ton on Ton subtle earthy colors. You will see more Brown / Leather Boots this year with lighter colorways.
I worked on the materials and prints textures difference to create subtle ton on ton effect.
While each boot model has its own carefully selected high-quality materials, technical details and aesthetic finishes, the whole range is unified by recurring asymmetrical technology in boot-shapes.
Which part of your range are you investing in the most? Freestyle, freeride, do-it-all, beginner…? Why?
This season we focused the most on the Better level (mid range) and Best level (high end) products,
We focused on the Fit, because we wanted to defend the Nidecker Fit as the most comfortable right out the box.
With Nidecker we want to focus on our core customer base, which is the do-it-all All Mountain riders. Whether this is a first-timer or an enthusiast with many years under their belt, an occasional rider or full on Subaru-driving season-pass grinder, we aim to have a boot in our range for each of their needs and demands. This new generation of Nidecker boots combines the renowned fit of Flow boots, the innovation and passion that Nidecker is known for, and culminates in the perfect storm of comfort, support and control with a boot-shape designed for optimum performance. Works best with Flow and Nidecker bindings, of course.
Which other footwear sectors do you follow which influence the line?
In my daily bases inspiration I'm really into innovative Footwear Concept, Sneakers trend design, Winter Sports, Medical Wrapping Technology used for maintain and support of the ankle, it's also really interesting for me to work directly with boot fitting professionals. As you can see the silver and gold liners silhouette change to give a better fit and also be more performant.  In combination with the new shell shapes we gain in maintain and stability.
Over the last few years, the footwear sector has really embraced ergonomical product design and focused on improving anatomical fit, which increase the level of performance and ability drastically in many sports. Compare how your sneakers this year feel to a pair ten, or even five years ago and you'll see straight away how fit and inner shape is key to a successful product.
Nidecker was the first to introduce full asymmetrical Boa Closure with 3D asymmetrical Tongue on the high end and Mid Range models last year, but with this 2020/2021 collection, we have really stepped it up: We believe we're the only ones out there right now who are blending future-first ergonomy with the best quick & easy lacing options out there.
What are your top marketing stories for next season? This will help us to put some focus in the right place.
NIDECKER BOOTS HAVE THE MOST COMFORTABLE FIT RIGHT OUT OF THE BOX
Anyone can design a snowboard boot, but to design a snowboard boot that gives all-day riding comfort is an entirely different thing. Our biomechanical engineers are constantly researching and developing new technologies to make sure our products meet the highest-performance standards. We build our boots with just the right amount of support for every riding style and comfort to make sure you have the best time possible every time you set foot on the snow.
FLOWFIT
Using Nidecker and Flow's knowledge and experience, we've revolutionized the fit of Nidecker boots by building them around the lasts and integrating the renowned fit of Flow boots. FlowFit guarantees the best fitting boots right out of the box with the perfect balance of comfort, support and control. FlowFit also combines great technology with a boot-shape designed for optimum fit and performance with both Flow SpeedEntry and Nidecker 2-strap bindings.
ASYM3F
The asymmetrical features that comes with the ASYM3F Technology help to have a best control of the FIT, FEEL and FLEX. This construction combined in an asymmetric shape and closure system that delivers optimum support and flex,  Lined up along the asymmetrical molded tongue, the Boa® Fit System lace guides are also asymmetrically positioned on the flatter areas of your forefoot for less point-loaded pressure and a more even closure, which increases medial arch support to reduce foot fatigue and cramping. This Nidecker innovation is co-developed with and approved by Boa®. The asymmetrical tongue is 3D molded and curved towards the medial side, following the naturally raised ridgeline of your forefoot to alleviate pressure points and give a more balanced feel of comfort and support. An anatomically correct and asymmetrical tongue performs better than a standard straight one.
Both the top cuff of the liner and the boot shell collar feature our reverse cut and asymmetrical designs to accommodate the calf muscle anatomy and guarantee a perfect fit, while providing great medial support and increased lateral drive.
HEAT MOLDABLE LINER
Our Gold, Silver and Bronze Level liner ranges feature specially developed foams called N-Foam, pre-molded on our FlowFit lasts for a perfect fit right out of the box. They will also self-mold over time or they can be thermo molded* in the shop for an excellent custom fit. Furthermore, these liners feature improved constructions for better heel-hold, and our Silvadur™ anti-microbial and moisture-wicking lining materials for a more comfortable feel and to keep your feet warm and dry. Both the top cuff of the liner and the boot shell cuff feature our new reverse-cut and asymmetrical designs, which accommodate different calf shapes and guarantee a perfect fit. To have a Ultimate Compromise between Comfort and Performance.
In addition to our regular Liner range we provide the  ASYM FIT PRO Thermo Heatmoldable Liner, ideal for Riders with unconventional foot shapes. This new accessories features an asymmetrical tongue that perfectly features the ASYM3F Technology with minimal stitching and maximum use of high density thermo N-Foam. It features a highly technical ergonomic design Ripper-lacing Harness  for optimal heel-hold and maximum comfort. Both the top cuff of the liner and the boot shell cuff feature our new reverse-cut and asymmetrical design, which accommodate different calf shapes. Aditionaly  guarantee a perfect fit with the Velcro PowerStrap.