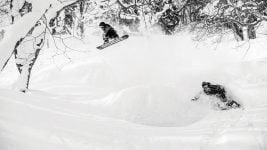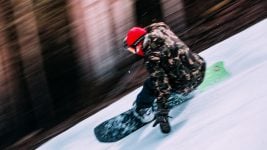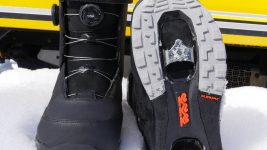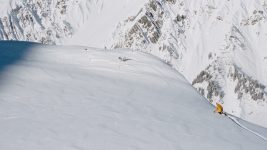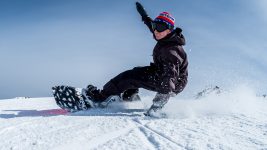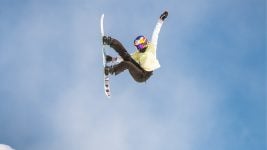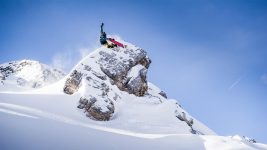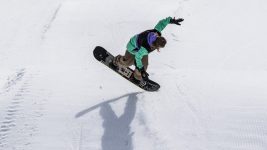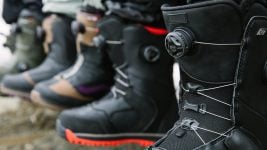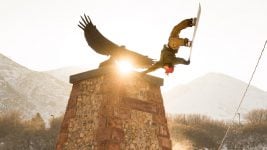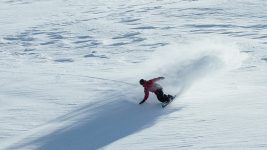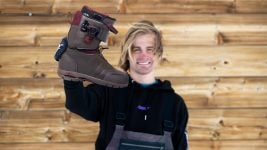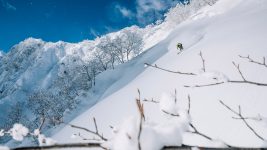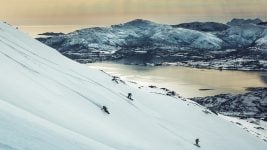 Are there still people out there who don't think that boots are the most important bit of kit for any snowboarder? As retailers, it's your sacred duty to identify said misguided souls, and set them straight. It isn't hard, fortunately – just remind them that having sore feet is shit, and direct them to sample the latest offerings from brands that have been falling over each other in pursuit of 'out of the box comfort' credibility. Then there's the joy of new-boot smell, as well as clever antimicrobial tech that ensures they stay that way for longer. How are things looking in the boot world? Short answer: good. Long answer: over to Andrew Duthie. 
IT'S THE ERGONOMY, STUPID
For anyone who's ever woken up somewhere strange and been required to make a sharp exit in the dark, the importance of bespoke left- and right-fitting footwear is painfully obvious. These days brands appear to be pushing this as far as they can, putting an asymmetric spin on as many individual elements (tongues, lacing systems) as they can afford to. Take Nidecker, for example, who claim that the asym liner for their new high-end offering, the Falcon, delivers an unbeatable fit. While many brands still take their lead from skate shoes, football boots and mountaineering equipment, Nidecker's Margaux de Mercurio cited ankle support tech found in the medical world as an inspiration, which we take as a promising sign.
There's some good news for female fans of Salomon – the 'Fit To Ride' design, introduced this year to the brand's men's range, will be extended to the Kiana and the Ivy in 2020/21. FTR features thinner, lighter elements that provide all the support you need, and is available in a variety of lacing systems.
Rossignol, meanwhile, have been mining their ski heritage as they revamp the liners of the Document, Cutback and Primacy models. Rossignol's Arnaud Repa explains: "We're gradually bringing 50+ years of expertise in ski-boot liner fit and technology to snowboarding for everyone's sake. And walk towards the fit and rebound to forward lean of a ski-boot liner mixed with the unique comfort of a snowboard boot shell.
This may mean that you need to dedicate a bit more time to staff training and supervised boot fitting. Each brand has a specific approach to fit, and customers will need their hand (or should that be foot?) held through some of it, so your sales staff will need to be on their game. Make sure they can adjust the laces and liners until they've got the kind of muscle memory that'd put a blindfolded rifle-cleaning squaddie to shame.
MATERIALS
A good fit starts with the liner, and both Salomon and Rome are expanding their use of Ultralon foam for 2020/21. Vans continue to apply sister brand The North Face's Flash Dry tech in their higher-end liners, but have now become the first snowboard boot brand to partner with Smartwool. The result is a new super-comfy lining that'll be found in mid-range models – package them up with Vans-branded Smartwool socks, and you've got a deal that'll sell itself.
Away from liners there have been a few advancements here and there, although perhaps nothing you'd call revolutionary. On the sole side, Deeluxe have toughened up the ones on the Edge and the Brainchild, and Head and K2 have unveiled new outsoles – the Treadlyt and Phylight, respectively – which offer additional weight savings.
After its well-received debut, the Thirty Two Mullair is back for more, and now features a pow-proof gaiter over the lower part of the boot. Meanwhile Nitro have embraced the more environmentally-friendly 'Ecostep' variety of Vibram rubber, which uses 30% recycled material. That's one to flag up to any customer worried about their carbon, ahem, footprint.
LACING
Likewise there has been no Back To The Future Pt. II-style great leap forward for lacing, but technology continues to creep forward in the direction of comfort, durability and (above all) ease of use. The Boa® Fit System remains ubiquitous; the aforementioned Nidecker Falcon and new Pro version of the Ride Lasso are two models where you'll see the new H4 coiler come into play, as well as the Burton Ion, K2 Estate, Nitro Cypress Dual Boa and Salomon Ivy Boa str8jkt Boa. The refreshed system features a textile lace made out of ultra-high molecular weight polyethylene and polyester and a dial that pops off on impact, so you're less likely to properly ding it and require a repair. Once you've recovered from your spill, just re-insert it and you're good to go. Ever tripped over a Macbook's magnetic power cable? Same idea. If things go really wrong and you snap a lace or break a dial, it's covered by the Boa Guarantee. The new H4 dial release mechanism allows for easier replacement and repair.
Looking elsewhere, Nitro are introducing new 45 degree 'Lacegliders' to their own TLS speed-lace tech, which will reduce friction and improve the overall fit. If you like a speedlace but aren't a fan of stashing the handles in those mini pockets you sometimes get on the side of the boot shells, Northwave may have the answer; they've licensed Fidlock, the smoother-than-Miles-Davis magnet system also seen in some helmet clasps. Once you've tightened your laces, just let the handles click into place automatically, and you're good to go. It'll only be available on the high-end Prophecy model at first, but we reckon this one could take off.
For traditionalists, Vans' latest high-end offering has the classic lace, although as it's a pro model for Sam Taxwood, that's probably no great surprise – the pros still love a chunky lace. DC are also going old school with one of their new models, which goes by the Ronseal-esque name of the 'Laced'. It's designed to have a skate-shoe feel, something that is very much in DC's wheelhouse.
CHANGES TO RANGES
Rome's line of boots was already fairly pared back, but this year the axe has swung for models like the Memphis and the Sentry. As of 2020/21, the entire line will consist of just four models: the Guide, the Libertine, the Bodega and the Stomp, all of which have been redesigned from the treads up. Before you go thinking that your options with Rome are limited, it's worth noting that all four models offer the choice of classic lace, Boa or Hybrid Boa system – "a big development for us," says Marketing & Team Manager Matt Stillman. "The freedom to choose is what's hot in lacing". It's the exact same for women, with the exception of the Guide. Just like that, gone is the need to compromise on your preferred lacing system in order to get the right boot for your style of riding – and vice versa.
Conversely, Nitro are expanding their range with four new boots next year, including the backcountry-specific Incline (see our splitboard goods roundup for more on that one) and the mid-range Futura women's model. Recognising that 'expert rider' doesn't necessarily translate to 'Alaska-bound hellman', Nidecker have reshuffled their range to offer a variety of flex patterns across all price points.
STEP CHANGES
As was announced last year, the 2020/21 season will see the debut of the first licensing deal for Burton's Step On boot/binding interface. DC are the ones stepping up to the (base)plate, so those who want the tech but whose feet don't get on with the B's boots now have another option. The first DC models to get the Step On treatment are the Control and the Lotus; as mid-range, all-mountain offerings with a broad customer catchment, that's a good place to start.
If you're a fan of K2's clicker system, then look out for three new models – Maysis and Boundary for men, Kinsley for women – released to complement the new Clicker X HB binders (see our binding preview for more).
TEAM COLOURS
Earth tones and black continue to dominate the range, with brands like Rome providing a few skate-inspired colourful accents to brighten things up. At the other end of the scale, we're intrigued by Burton's proposed use of "holographic materials." Will models like the 2020/21 Limelight Boa be the boot equivalent of getting a 'shiny' in a pack of football stickers? Got, got, need…
As ever, the best way to find something eye-catching to spice up your shelves is to check out the pro models. Deeluxe, for example, are keeping their limited-release Team ID Bloodline around for another year. "Our team riders are the heart of our brand, and our driving force to come up with what we believe are the best boots in the game", says Marketing Manager Florian Helm.
Over at Vans, Arthur Longo gets a bright orange colourway for the Hi-Standard in 2020/21, and the slice of wisdom written on the side ("small flakes make big snow fields") is worthy of Cantona.
There are exceptions to the rule, of course – Desiree Melancon's latest daubings on her Thirty Two Lashed are fairly muted, once again drawing inspiration from nature – but in general, pro models mean popping colours. We'll leave the last word to Northwave's Davide Smaina: "We made a pro model boot for Ethan Morgan, perfectly matching with his yellow van."
CONCLUSION
We may be past the days of sea changes in tech advancements, but we're definitely seeing a wider range of flavours. There's a danger that things can get overwhelming for the inexperienced customer, but with the right guidance (and that's where clued-up staff come in) there's literally no reason for anyone to be walking out of a snowboard shop with something that's not right for them.