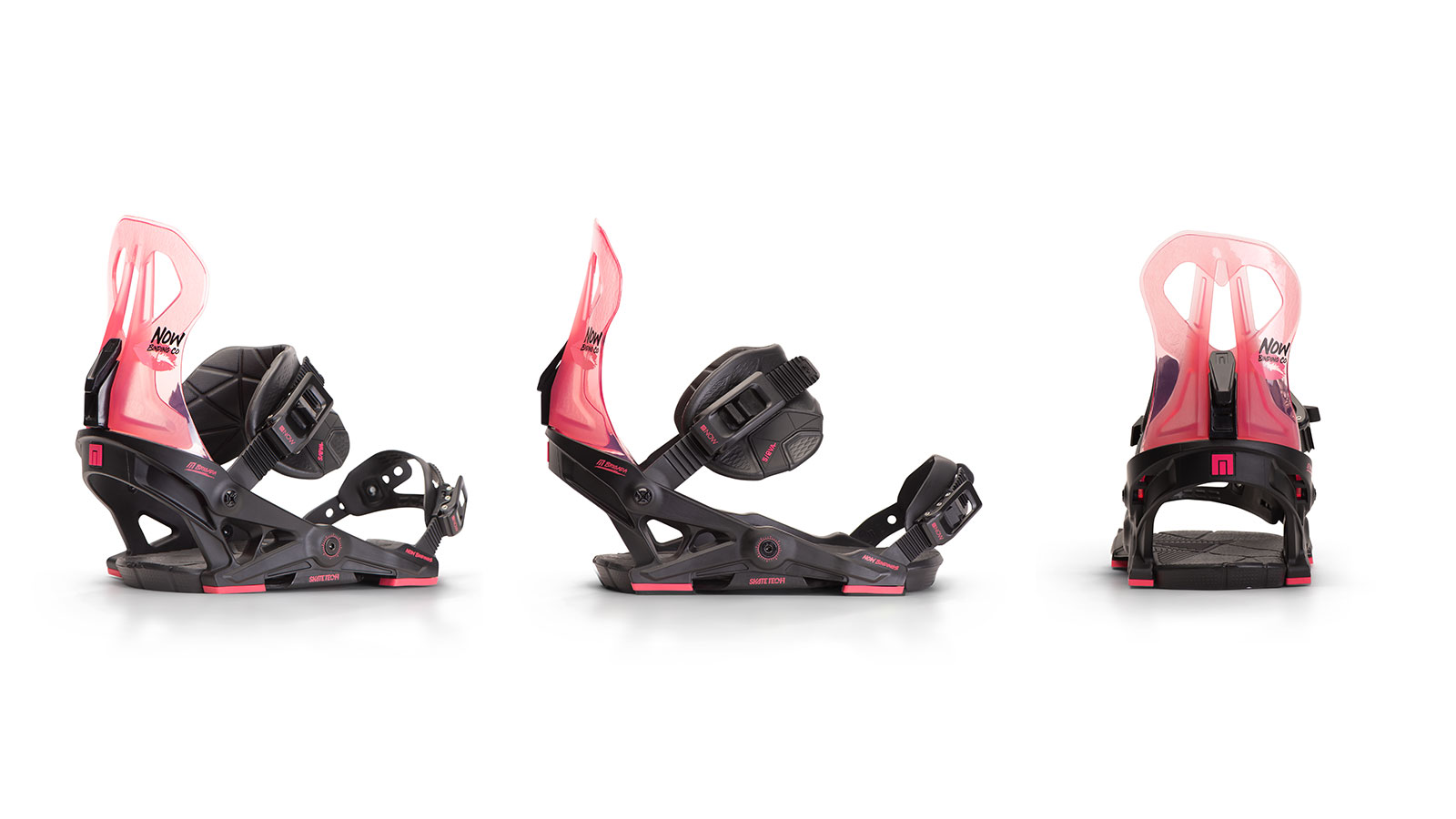 Now FW19/20 Bindings Preview
Retail Buyers Guide: Snowboard Bindings FW19/20
Brand:  NOW snowboarding
Interviewee:  JF PELCHAT owner/creator
KEY PRODUCT FOCUS: What are the top three most important products of next year's line, and why? Please tell us about them, and what makes them the highlights.
The Introduction of a new women's model, Brigada, there was a gap in the women's line so we set out to fill that gap. We've designed a new HB for the Recon model, the previous HB had been awesome for NOW but it was time to retire it with a new and symmetric freestyle shape that is more flexible. We also designed a new toe strap (3D contour toe strap), I wanted a strap that was more grippy, was less affected by the cold weather and a strap that could be worn on the tip of the boots as well as over the boots.
Which new materials are you using in your bindings?
TPU in the new women's Freestyle minimalist (FM) HB and PA66 Nylon reinforced with fibreglass for our NEW PA66-FG buckle lever.
Please tell us about the dominant colour themes in next year's binding line?
Black.
Prices: Where is your brand going? Higher? Lower?
Everything made in China is going up because of labour cost, cost of living, material cost and the western world affecting it, NOW is not sheltered from those changes, so prices are likely to go up in the next few years. We are a mid to high-end brand and for us, quality is our top priority and we are not in business to skimp on quality in order to save a few cents.
Any new ideas in buckles, straps, highbacks, bases?
Our NEW women's Freestyle Minimalist (FM) Highback is similar to the men's version where we set out to reduce weight, remove unnecessary layers and achieve more torsional flexibility while having a strong and rigid spine for support. Finally, the transparent TPU is great for this type of application and has an appealing look with its different mould finishes, plus we've incorporated a heart in the design of the HB just for the ladies.
Going for an easy-in, easy-out solution next year? If so, are you licensing or developing it yourself?
No, not yet but you will be the first to know.
Anything new in production wise? New factories, new assembly methods?
Because NDK now owns a good chunk of the snowboard segment, we have access to way more factories, resources and suppliers within the group so I would have to say yes.
What are your top marketing stories for next season?
Our top priority is still spreading the word about Skatetech and its advantages throughout social media. On a team level our top marketing stories are the recent signing of Norwegian and X-GAME medalist Mons Roisland and also the signing of three-time Freeride World Tour Champion Sammy Luebke. On a product level, we've licensed our tech to Jones Snowboards, they have two models in store right now and this will help communicate the NOW Skatetech story while getting new peeps on our product.