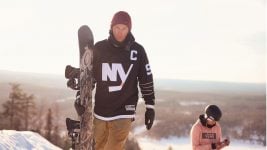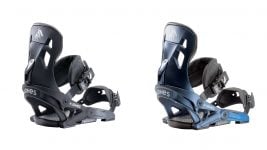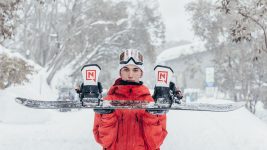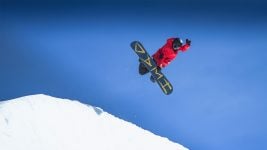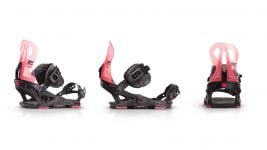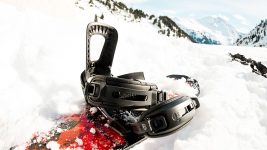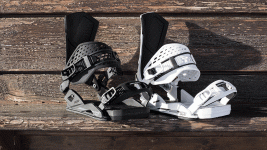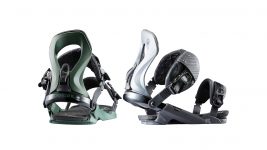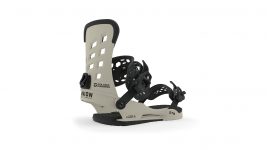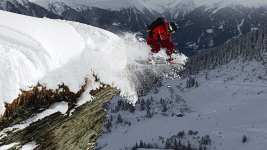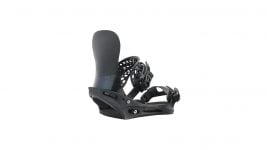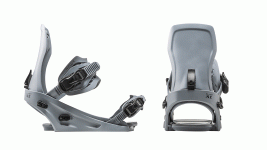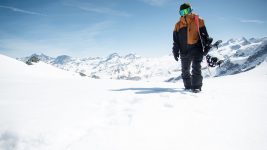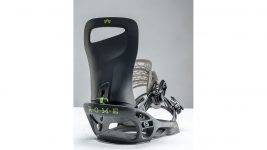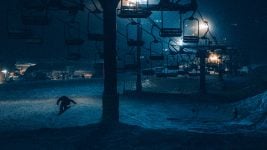 Snowboard Bindings FW19/20
Snowboarders are beginning to understand that the steering and control which a quality binding offers is definitely worth paying for, and the days of seeing sick decks mounted with vile plastic foot-traps are – for the most part – over. So, what's new in the binding world? Well, quite a lot, as it happens. It's your job as buyer to make a solid selection and build up a binding collection which is going to work appropriately with the boards you offer, look pimp and – hopefully – score you great sell-through. Tom Wilson-North separates the bangers from the junkers in next year's binding lines.
ANKLE STRAPS
The modern defined aesthetic for snowboard binding straps for 2019/20 has trickled down from Burton's defining Hammock Strap and, subsequently, Now's Sieva Strap. These injection-moulded masterpieces were the inspiration for most of what's on the market today, and the durability, eco-cred, low cost, comfort and high performance of the style are evident, accepted and understood.
Nidecker is using branded next-gen Now Hyperfuse straps in their Carbon binding, and Fix will be showing new Injected Gel straps on their Magnum and Opus models. Head have modernised their straps and come up with the new Comformance strap, which adapts well to many different boot shapes and is very low-profile once on the foot. We were also stoked on Drake's new injected strap with over-injected TPU built around a nylon frame, which provides long-lasting and stitch-free performance.
TOESTRAPS
Despite some mainly nostalgia-driven yearnings for old-school over-the-top toestraps, overwhelming consumer demand is firmly in favour of round-the-front capstraps. Next year there are some interesting takes on the tech coming out. "We are expanding the use of Vibram's rubber compound in our Übergrip toe straps to build a strap that perfectly wraps around any shape of toe box. The rubber makes sure the strap stays in place, even if conditions are wet or cold", explains Nitro's PM Florian Lang. Expect to see a new 3D Contour toestrap from Now, and Rome's AuxGrip toe strap will use a previously-unseen pattern to give mega hold and dexterity. Burton, who alongside Technine were responsible for the shift to capstraps in the first place nearly twenty years ago, will be using injected Supergrip and Supergrip 2.0 capstraps all the way across the line.
BASEPLATES
Union's Contact is responsible for a lot. That binding floated on a soft EVA panel to stabilise and support the chassis and minimise vibration and chatter. This floating format is a popular one for bases next year, expect to see it emerging from other brands too. Materials are evolving as well; Vimana are using Kevlar in their Scando Gold binding for faster edge to edge response, and Arbor will be eeking more power out of their burly Cypress binding, doubling up on the fibreglass in the System-X baseplate. That translates into high-speed, big-mountain performance. Union, meanwhile, are upgrading their Fused Vaporlite material used on last season's well-received Strata. The new Fused Vaporlite+ has all the same properties but is 20% lighter – find it on the Falcor and Ultra.
Flow have an interesting new asym baseplate design on their Fenix, Mayon, Nexus and Juno SKUs. "The entry point for the new baseplate is a little wider for easy access and exit, with a minimal footprint thanks to the slim waist and the design of the rockered corners – this allows the board to maintain a natural flex. And since bindings are mounted on a snowboard at an angle, we designed off-axis PowerBeams so that energy is channelled directly to the toe and heel edges of the snowboard. For an evenly balanced power distribution, we also offset the connection points of the PowerTriangle cables on the lateral and medial side of the baseplate to line up closer to the centre-axis of the snowboard," explains Flow's Senior Product Manager & Designer, Lucien Vink.
BUCKLES
Buckles have a tough life; if they work properly, they're forgotten, but the second they don't, they're subject to a foul-mouthed tirade. The takehome? Get the buckles 100% right and customers are happy. Ride introduced their new Linkage ratchet last year at their high end, and this year it's rolling out linewide. So no more chewed up ladders and flaccid buckles. It's the same story over at K2 with their RADchet, and Now will be introducing a fibreglass-reinforced nylon buckle lever called, catchily, the PA66-FG. And while they're not strictly ratchets, over at Rossignol they are bringing out new 3D-moulded, tool free length adjusters, which are perfect complements to their trusty binding ladders.
HIGHBACKS
A lot of a binding's identity derives from the highback. Next year sees cut-outs galore with creative highback shapes that show functionality through considered design. K2's Meridian, Formula and Lien AT are all gorgeous and ought to be high on your list at the on-snow demos. Meanwhile, Nitro's Phantom Carver highbacks are gnarled and wrapped things of great beauty with sensibly placed carbon inserts and airy cut-outs for maximum edge pressure and control, whilst Salomon's Highlander highbacks are geometric, scary and uber-minimal. Shape is important for comfort and performance in a highback, and the shape of Nidecker's Carbon highback promises to hit the sweet spot. The Jones Apollo – based on the Now chassis still – highback gets a tweak too, with the addition of a subtle wing at the top for better toeside response. And since asym is one of the big themes of the year, Flux's XF gets a new spoiler with symmetrical looks and asymmetrical function. "It has a different thickness layer inside, which becomes thinner towards the outside for more flex," explains Flux's Kyosuke Ogata. "More support backside, more forgiveness sideways."
We saw increased use of mixed materials in highbacks next year too. SP have an aluminium reinforced heel area for greater board control – it'll help the outsole to stay clear when the highback reclines too. Rome's brand new Black Label model will use an industry-first thermoplastic glass fibre composite material in the highback, and Drake have a carbon composite highback which is way more affordable than a full carbon piece – and much easier to 3D shape too.
We saw an interesting approach to adjustability from Head on their NX Six highback, which has been redesigned to accommodate their Flexmaster 3000 flex adjuster. This allows one binding to multitask as the carver, jibber or powder shredder with ease. This versatility is a great idea, we love it.
Finally, minimal forward lean adjusters (such as those seen on Union's Strata & Legacy, Nitro's all-new Team Pro or Rome's Slice) are trending – this is logical because it fits into the understated and smooth modern aesthetic of today, but it's important to remember that not providing enough forward lean options is extremely annoying, so remember the FLAD needs to work well enough when required.
GRAPHICS
Beyond the ubiquitous black-on-black, which is literally everywhere, we're seeing some space-age design in snowboard binding graphics. There's a movement back towards the printing of technical detail text on the product in a Designer's Republic-esque fashion, but generally art packages remain bare-bones and industrial. There's not too much consumer demand for self-expression via the medium of the snowboard binding, so chromes, ritzy glosses and unusual colours are out, presenting the possibility for doing more harm to the sale than good. Saying that, Nitro's Phantom Carvers look the shit in their reddy, shiny candy apple colourway. But the rest of their line is plainer, with only basic contrast colour blocking and some low-key monochrome hand-art on the Zero Worries model.
Earth tones remain strong (Union, Flow) as do muted neutrals and cool blues (Burton, Now, Salomon and Arbor). Pop colours are still fluoros and Lego primaries. But yeah – black kills it. "Our bindings are as black as our hearts", agrees Ride's Global Brand Director, Jim Linnberg. "We live in a horrible corner of the USA where the sun doesn't shine for six months a year, so we like black stuff. I think we have some other colours too, but why mess around when you can get black?" Why indeed.
Cross merchandising between boards and bindings where possible is clearly still a thing, with Switchback incorporating more graphic elements from sister brands Bataleon and Lobster. Burton's Woodgrain Jane colourway on the Scribe looks great with their Yeasayer, and the Mission Off White/Black colourway has big, bold branding for fans of the big B.
Bent Metal worked with Barrett Christy on their all-new Metta binder and for the artwork used snowboarder and artist Gianna Andrews on the black model, which merches amazingly with the Gnu Klassy by Kaitlyn Ferrington and Tim Zimmerman gave them the perfect shot to compliment the white colourway. Forest Bailey's Transfer binding is also one for your order sheets, where the "Freestyle Folk hero and gravity denier worked up some amazing Transfer binding designs that mis-match perfectly with his Gnu Head Space or any other board on the planet." Under the hood they are a 6/10 on the Mervin flex scale and the "engineered polymer highback, mini disk and the revolutionary cube make the Transfer a go to for shredders and pros looking for a binding that works and rips."
RANGE CHOPPING
As bindings become sleeker and cleaner, product lines are tightening up with unnecessary SKUs being zapped out in favour of cohesive and coherent lines as well. Amplid is a great example. "Our binding program is really very simple. Two bindings at two price points, one low one high, offering different levels of response and support. Any colour you like, so long as it's black. The Mutant will meet the specific needs of powerful and technical riders, and the versatile and wallet-friendly Santos is optimised for all-mountain snowboarding. The bindings are carry-over products which will remain in Amplid's collection until we're able to create something significantly better and offer real innovation," explains Amplid's marketing guy, Rich Ewbank. There's been a good clean-up at Flow too, with the product lines being simplified with more equal jumps between pricepoints and clear feature upsells as you go up the range.
CONCLUSION
So, what to make of all that? Well, with a multitude of shapes, innovation, great design and obvious functionality improvements, things aren't looking too tricky for next year's binding buy-in. Offer up a good mix of the key brands, make sure you get a couple of bags of spare parts to support everything, don't go too insane on the high-end stuff and you'll be sorted. Oh, and don't forget to buy a bit of black in there somewhere too.