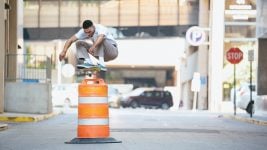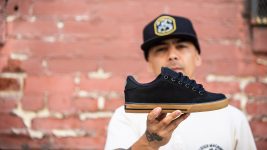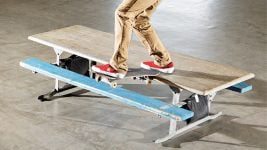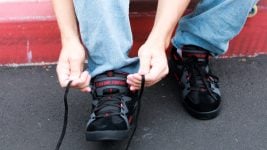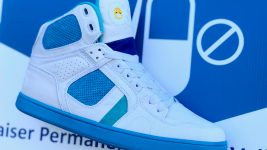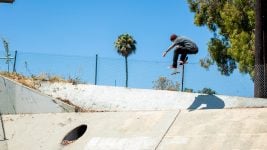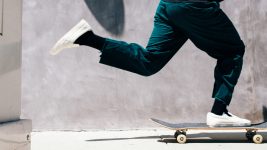 Skate hardgoods are flying off the shelves, so expect surging demand for proper shoes. For what's happening on shoe walls, read our Skateboard Footwear Summer 2021 Retail Buyer's Guide by SOURCE Skateboard Editor Dirk Vogel.
What a year! First, the pandemic shut down the entire world and postponed skateboarding's Olympic debut. But after the initial shock, the skate industry awakened to an all-out boom in participation. "It's obviously been a turbulent first half of the year with Covid hitting Europe. March especially was a tough month but going into April and May, business started to pick up for retailers again. The retailers with a good online presence have even been growing rapidly in May and June," said Bas Janssen, Senior Sales and Marketing Manager EMEA at etnies, adding: "We hear a lot of good news regarding hardgoods sales and our retailers' hopes are that more new avid skateboarders will keep skating and need shoes!" This trend is confirmed by David Atkinson, Senior Product Manager at Vans Skateboarding, Europe: "It's more stable than expected much in part to people picking up skating in quarantine and the well-established e-commerce of skate shops."
E-commerce is growing rapidly due to Covid-19. And with all major tradeshows cancelled, brands are shifting resources into digital marketing, also to support retailers: "Sell-in wise we're working on lots more digital assets to support our salesforce and retailers. Digital catalogues, video, multi-angle photography are a few examples," said Bas at etnies. Vans has generated more than $4 million for independent skate shops with the Foot the Bill campaign. State Footwear is running a special initiative to support retail: "We are offering a free pair of shoes to all skate shops from anyone who buys a pair of shoes on our online store," said State Founder Kevin Furtado.
Supply chains suffered an initial shock from Covid-19 when Chinese factories shut down in February, but most brands have since recovered. Nevertheless, the current boom exceeds even the most optimistic projections for 2021. "We're scrambling to get more shoes. Overall sales are up," said Brent Phelps, Brand Manager at DVS. Price points have remained stable despite the uncertainty. The main price window for skate footwear now ranges from €75 to €110 and retailers have a broad selection of models and brands to choose from this season. To help write those shoe orders, here are 3 Major Trends in Skateboard Footwear for Summer 2021:
Classic-looking shoes. Let's keep in mind that while the last big skate boom in 1999 mostly revolved around street skating, it's much more diverse today. A large cohort of new beginners choose casual styles of skating such as longboarding, pump tracks and surf skate. So they also want casual shoes, not necessarily the latest tech, which translates into a resurgence of vulcanized styles. For those who appreciate a classic look with some functionality under the hood, Vans completely re-designed the Pro Classics line, now called Vans Skate Classics: "These are the Vans skate staples, and we have improved fit, durability, performance and style. These were already some of the most loved and iconic shoes in skateboarding but we really focused on making them perform even better whilst maintaining the iconic Vans look." etnies is also going back to the classics: "With the introduction of the Windrow Vulc, we are pushing the Stylized E logo that was prominent in the early '90s etnies shoes like the Lo-Cut. We've added that logo on Trevor McClung's Veer and Barney Page's Marana Slip XLT colourway," said Rick Marmolijo, Director of Design at etnies. Emerica has the Tilt Vulc as a remastered classic that's based on the Emerican original "Tilt" now featuring a slimmer overall profile, Flick Shield, G6 Foam insoles, Desert Grip and a vulcanized outsole. Also watch out for classic styling in the Buckler 99 from C1rca, Pacifica Cup from State and Fallen Patriot model.
C1rca SS21 Skate Shoes Preview
Skate slip-Ons go viral. The trend towards skateable slip-ons has gone from a low simmer to a rolling boil. etnies goes all in with the new Marana Slip XLT, featuring "the very first Michelin vulcanized construction that is three times more durable and is also used on the Joslin Vulc that just hit the stores. It has the Evertoe rubber toe cap and the extra thick Pro Foam 2 footbed." Emerica has the Wino G6 Slip On, while Vans landed a hit with the skate-ready Slip-On Pro. For Globe, "the Liaizon is for sure the product for SS21. It is a nice trendy loafer slip-on available in both suede or leather."
White kicks. Back in 1995, the KCK model by DuFFS cemented the timelessly stylish combination of white leather upper and natural gum outsole in skate footwear. White shoes are back with a vengeance this season, and Globe references the classic style in the AUSSP20 model. Vans is getting an overwhelming response for the Off White colourway, especially in the Skate Classic Icons line. Fallen keeps it frosty with the Trooper model featuring an all-white upper and blue translucent outsole. etnies packs two trends into one sleek package with the Marana Slip XLT in a crisp white variation. And core brand OSIRIS makes a statement by releasing a Covid-19-themed version of their NYC 83 high-top in a white and baby blue colourway with a protective mask emoji on the tongue. Also keep an eye on the Emerica Gamma model in a crispy white colourway, and the éS Footwear luxurious White Jade pack with a focus on clean, wearable, neutral tones mixed with a trend forward pop colour.
SILHOUETTES: INNOVATION AND DIVERSE FITS
As a countermovement to classic shoe constructions, skate footwear brands are beefing up their performance tech. Look out for wedge soles, rubber panelling, visible air pockets, and deconstructed elements such as oversized logos and straps. DVS showcases athletic style in the Devious BLK model and Tech Comanche hero: "DVS is all about chunky performance. This is our niche and brand DNA, it's very clearly carved out and represents our volume." OSIRIS brings back the high-tech D3 model in a killer Black and Red Rum colourway, while Vans does an impeccable job at inserting technology into classic kicks. At etnies, it's all about offering a diverse range of fits, said Rick Marmolijo: "We understand that skaters have different foot shapes and shoe volume preferences depending on how they skate and what outfits they wear. The Marana and the Joslin are probably our most padded shoe which requires a wider last. The Veer is a silhouette that is a lever slimmer than the Marana and all our vulcanized shoes use our slimmest last to keep the upper and midsole close to the foot for better board feel."
COLOURS & STYLING: SUMMER FLAVORS
Warm weather seasons puts a pause on the disproportionate share of black sneakers on shoe walls. David at Vans is hyped on, "a Beatrice Domond colourway of the AVE Pro. Supreme and FA's first women rider designed her version of her favourite Vans shoe The AVE Pro. Not only a homage to her Boss Anthony Van Engelen but also the most technical Vans shoe." At C1rca, new footwear harmonizes with softgoods: "We are doing an apparel collection with some artists and a special model better for skaters, called BUCKLER 99." At OSIRIS, General Manager Brian Barber said: "The theme is really in the colour combinations and some cool graphic prints on both low and high tops! Even a COVID themed shoe will be available!" At Fallen, CEO Ronnie Mazzei is happy to announce the return of an iconic graphic: "For this season we brought back the Rising Sun model which a ton of our customers have been asking for. Fallen was established in 2003, so we always have a piece of history to tell in our collections." DVS is throwing it back to the 1980s with the Honcho Hero high-top in classic red, white and black, and releases the Devious in a cool black, camo, and orange suede version.
MATERIALS: NEXT-LEVEL AND SUSTAINABLE
Innovation is alive and well in the shoe game despite the crisis. David at Vans introduces Sickstick rubber: "Our new rubber outsole compound is even grippier than classic Vans rubber and lasts even longer. Overall we are most proud of not just one feature but the fast that we have been wear testing and gathering extensive consumer insights on these specific styles for nearly two years to make every part of them better." Brian at OSIRIS defines this season's key features as "comfortable insoles and upgraded materials." Rick at etnies said: "I'm very proud of the Michelin vulcanized outsole that we have developed. When it came to design the Joslin Vulc, we had met with the Michelin team and wanted to see if they can develop this construction, which is the first time they've done it." Fallen is glad to "announce our new Impact Foam2 Insole with the highest quality of PU with a 40-degree hardness, for all the shoes in our line-up. Regarding material, we have new Vegan friendly models but most of the collection are Suede combined with Cotton Twill." State keeps banking on Duraflick, "a thin perforated rubber layer underneath the toe and ollie area helps withstand the wear from griptape." éS Footwear is pushing Beyond Suede this season as a vegan and eco-friendly collection featuring non-animal leathers. Meanwhile, Globe is launching new and long-lasting Wolverine Leathers in the LAII and Surplus model, as well as organic cotton and eco leathers that are made from "bio-degradable and metal free pigskin nubuck."
So there you have it: The skate footwear segment is weathering the storm while offering innovation, skate performance and diverse fits for the new wave of riders. Looking ahead, Fallen CEO Ronnie Mazzei said: "At the beginning I think everyone felt as if it was the end of the universe, and now people are learning how to live with it and learning to adapt to whatever the new normal is going to be."