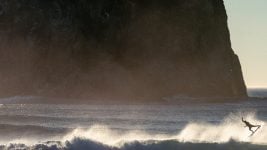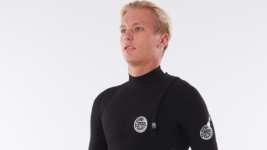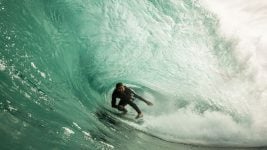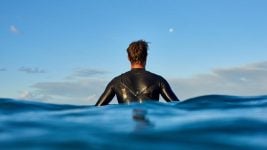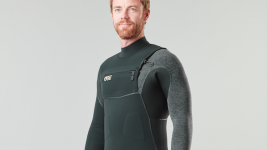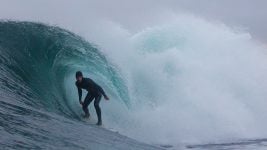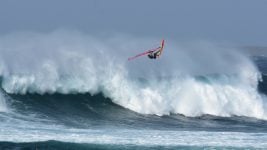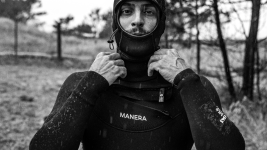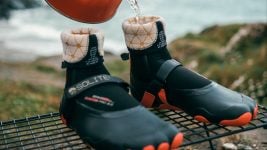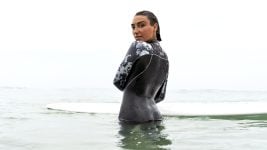 Wetsuits F/W 2022 Retail Buyer's Guide
It has become the black gold of the boardsports market: neoprene is hot property in shops and online, to the point where stocks are almost out. For fall-winter 2022/23 the mission remains clear: be warm, flexible and durable. Let's see if the recipes have changed at all… An overview of next winter's wetsuit range by David Bianic.
After two years marked by COVID-related caution in the neoprene category, the clouds still haven't cleared when you look ahead to winter 2022-23. However, brands are no longer happy with a passive attitude and have decided to move forward. "We are the only brand owning our own R&D lab and manufacturing facilities," says Léa Duquay, Assistant Product Manager at Rip Curl. "Which allowed us to keep launching new technology and refreshing the range each season". It's a similar story from Valerie Hill, Head of Global Swimsuit and Wetsuit Product at Roxy, announcing a total overhaul of their collections: new liners, recycling, warmer, softer and stretchier than ever.
Over the years, the demand for tackling winter surfing has also increased in Europe and all brands are noticing a rise in sales on their hooded 4/3s and 5/3s, a once-shunned product. "You can clearly see that the hooded Torch FX 5/4 is selling well in the southwest of England while the 6/4 is more appealing in the Northeast, Scotland and Ireland", says John Westlake, Wetsuit Designer at the British brand Alder. The media trend for cold water surfing has destroyed the aesthetic barrier around hood wearing and "Customers understand the importance of protecting extremities, and especially their head/ears", confirms Julien Salles, Brand Manager at Manera.
So, there are two different 5/3s that meet slightly different needs, says Marin Mauriac from Söoruz: "It would be so easy to have just one winter model…but from Norway to southern Spain, the requirements are just not the same." Claiming one's affiliation to cold water surfing has even become a marketing pitch, at Zion Wetsuits for example, designed "in the depths of a long, cold Tasmania winter".
Before going deeper into what's new for FW22/23, let's address the elephant in the room: yes, you should count on the inevitability of next season's public price increases because of the exorbitant costs of raw materials and transport, that is to say an invoice which has tripled reports the Hurley Europe staff. At Picture, they are quite forthcoming about it, announcing an average increase to the order of 3%. "If some brands manage to keep the same pricing in FW23 it means they don't have a healthy business or they decreased the quality of their wetsuits", warns Julien from Manera.
WETSUITS FW22/23: NEOPRENE
Fancy a little warm up stretch? Neoprene is not the only criteria of quality in a wetsuit, everyone knows that, but it's still a powerful sales argument. Rip Curl are stressing that in their Heatseeker they are replacing E6 neoprene with E7, which has 20% more stretch and less weight but just as warm as the E6. Another wetsuit giant, O'Neill are counting on the fourth generation of Technobutter (TB4) neoprene that "incorporates graphene to help keep you warmer for longer", assures Product Manager Tom Copsey.
Another label that speaks to surfers, Japanese Yamamoto neoprene (limestone) is a mark of luxury and second skin sensation, on offer at Saint-Jacques Wetsuits and Zion for example.
Oysterprene neoprene composed of oyster shell limestone continues to gain ground, now utilised by Adelio, Roxy, Alder (Luxe FX), C-skins (Halo X) and still at Söoruz who developed the technology. As for Eicoprene from Picture Organic Clothing (a mix of limestone and recycled rubber from used tyres), it's getting an upgrade to become Flexskin, still just as stretchy but more durable. The use of Yulex remains niche but has gained some converts under the impetus of Patagonia: here we're thinking of Oxbow who are combining it with recycled materials and solvent-free AquaATM glue.
WETSUITS FW22/23: LINERS
Together with neoprene foam, they form a duo to determine the flex/durability ratio of a wetsuit and they boost the heat-retaining properties like a third dose of Pfizer serum. The basic idea is to trap the air and drain water, like the cosy FDL (Fast Dry Lining) and Fireline liners from Alder do. On their more high-end models, O'Neill are introducing a TBX-4 Firewall liner, a top dog in terms of warmth/flex. For their part, Rip Curl are citing the betterment of their Flash Lining, the Flex Energy liners that "have the exact same properties as the flash lining plus an added warmth factor coming from friction.", explains Léa Duquay, making a gain of 1° to 2°C according to your activity level. We'll take all we can get! Comfort-wise, the likes of Yeti Wool linings, as offered at Zion, makes for an outstanding plush feel.
The performance of these liners is such that you can now go for thinner wetsuits, indicates Phil Bridges from Dakine, highlighting their Hexotherm2 on their Cyclone 5/4 hooded models. Another piece of good news is the trickledown effect of these thermal lining to Hurley's entry level models.
On the outside, the so-called "liquid skin" liners are also enjoying success, like on the Dark Matter from C-Skins, adding only a really thin layer of material around the torso to negate the wind chill effect, and with no extra stitching. 
WETSUITS FW22/23: CONSTRUCTIONS AND FIT
The different panels that combine to make a wetsuit and their assembly have long-since been segmented into three categories: flatlock (flat stitch, entry-level), GBS (glued blind stitched) in the mid range and GBS taped seams (more durable, more waterproof) for premium models. Nowadays we can see a "trickle down" effect with the use of GBS featuring more and more on lower range models. These lower categories have also been enriched by stitchless versions like the Pyscho Tech from O'Neill or the Wired+ 6/5 from C-Skins, often with the bonus of having a "liquid seam", a taped joint covering the "non stitches".
Moreover, for a long time brands relied on stretch to provide a good fit before noticing that this pressure exerted on the material affected its longevity. So changing this is now a top priority. This can be done in really simple ways sometimes: "In terms of fit and material, we've revised the crotch area on all our men's styles to reduce the likelihood of leaks and increase the suits longevity", explains John Westlake, Wetsuit Designer at Alder. But more and more brands are using 3D in the design phase to get as close as possible to a second skin fit. We're thinking here about Manera who use a computer programme that can then go on to produce 2D templates for fabrication "It represents a lot of work and it's not something you can easily notice in the shop, but we're all about how you feel in the water instead of using expensive marketing gimmicks to impress the customers in shop". Others prefer the more old-school, handmade option to the high-tech solution. At Quiksilver, the Highline Pro model is assembled by hand in Japan using only five panels.
"It is also crucial to work on cut and the placement of reinforcements," Maurin from Söoruz reminds us, even though "these details are often hard for customers to see".
WETSUITS FW22/23: FINISH AND DETAILS
You do know where the devil is don't you? The details when it comes to finish are anything but details – they are capable of elevating an OK wetsuit to an excellent one. The designers have really used their grey matter for FW22/23. Let's start with the zips (where front entry is still popular). At Adelio, Brett Vergou explains to us that they have added a new double-entry to their chest zips, "for those that like a centred, even feel". At Roxy, this zip zone has been redesigned "to avoid unnecessary water entries and rashes". And Stan Bresson from Saint-Jacques reveals that backzip models are more popular amongst the female surf population, to the point of almost selling out. At Circle One, Business Director James Trevelyan explains that they have lined the panels on the shoulders with nylon, "so less susceptible to stretch on the hanger (when drying or storing the suit)". Good idea.
Finally, it's difficult to talk about wetsuits for cold water without mentioning their obvious accessories: hoods, gloves and booties. Solite have made significant headway in this market in the last few years, enhancing the whole category. Business Director Europe, Dee Caldwell highlights their 8mm booties with one-piece sole and cosy thermal liner as well as their extra millimetre around the toe for extra warmth without sacrificing the tailor made fit that the brand is famous for. Solite will soon be extending its range to gloves, four innovative models between 2-6mm. Endemic brands are responding too, for the benefit of the final consumer, in the shape of 5/4 Cyclone booties from Dakine for example (5mm and 4mm on the sole for more feel on the board), containing the same Hexotherm2 as on the Cyclone wetsuits and double texture sole for grip. 
FW22/23: THE GREEN WETSUIT, THE UNICORN
Yulex, Oysterprene, recycled polyester, solvent-free glue, dope-dyes…All the effort made by brands can't detract from the fact that final consumers mostly favour wetsuits that are scarcely eco-friendly. Not wanting to break the "customer is always right" rule, but aren't they at fault here? "The gap between what consumers say they're going to do and what they actually buy is still too big", reckons James from Circle One. For JL, Technical Designer at C-Skins, customers are no different from brands, in that they are simply not prepared to sacrifice on performance. Nevertheless, it is the brand's responsibility to offer at least one natural neoprene model, believes Julien from Manera, to get higher volumes and therefore lower the price of these types of wetsuits.
In the meantime, the lifespan of wetsuits remains a priority. Most of the brands we talked to estimated that the average lifespan of a wetsuit is three years if it has been carefully rinsed and dried. "With the right care we'd expect the top-end suits to last at least 5 years", assures James from Circle One. Nowadays many brands are taking a product's afterlife seriously by delaying it in the first place. Rip Curl have their own repair centres and similarly O'Neill are using a network of certified repairers while Patagonia design their models to be repaired in the first place, like their easily-replaceable zips for example. "We recently opened a second European repair partner in France", adds Gabe Davies, Ocean Marketing Director.
Let's leave the last word to Marion Bertrand from Picture Organic Clothing whose objective is to do their "fair share" in the fight against climate change, in line with the report from Carbone4, the French carbon consultants on the power and responsibilities of individuals, businesses and the State: "Thus, the best that we could expect from voluntary individual lifestyle changes would be a decrease of approximately 5%-10% of the average personal carbon footprint" so "in order to win this battle, we need to look beyond the individual level and reach a new level of collective action". All for one and one for all!