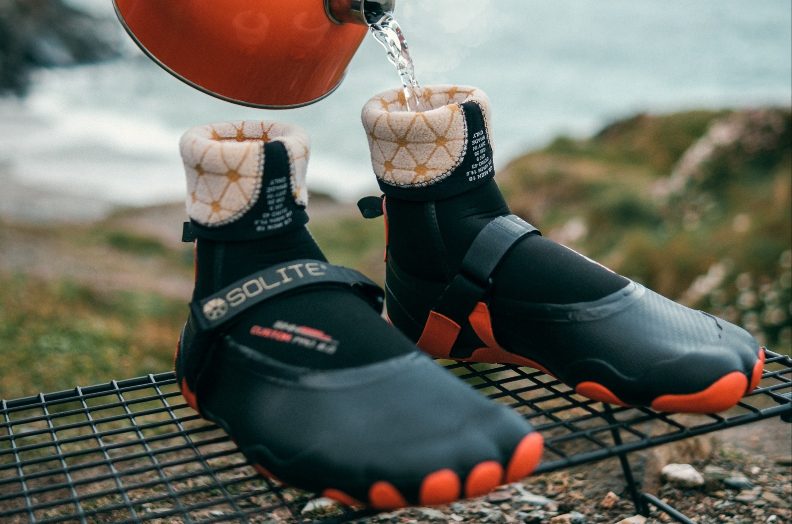 Solite F/W22 Wetsuit Bootie Preview
Retail Buyers Guide: Wetsuits F/W 2022 Retail Buyer's Guide
Brand: Solite
Interviewee: Dee Caldwell, General Manager Europe
As far as the European market is concerned, which categories among winter wetsuits are on the rise, which ones are fading? (top end vs entry level, supple 4/3 vs hooded armor, backzip vs chest zips…
Perhaps it's an age thing or is the world in fact changing,  why buy rubbish kit ? buy equipment that gives you a better experience and lasts longer. Fit should be your first priority, then performance, warmth, durability and price. If you want to be the cheapest you'll never win, there is always someone willing to go lower.
Is there a sweetspot as far as winter wetty prices? On that matter, is an increase of the retail price to be expected due to the costs of materials/shipping?
Look at wetsuits and accessories compared to other sports, say Athletics and the cost of a decent pair of running trainers, all watersports products are still well underpriced, so with Freight still super slow and expensive, with factory prices continuing to skyrocket and while inflation continues to gather momentum, Boot/Gloves/Wetsuits prices will rise further.  We have been underpriced for 40 years and now is the time to change. Lets allow for a sustainable margin.
Please sum up your key innovations in FW22? (rubber, lining, seams, constructions, entry system…)
8mm booties get all the love for F22, the new one piece sole is added, what with a Thermal rebound plush liner and a 1mm neoprene round-toe heat booster sock, this is the boot to stay warm in and yet still offer the ultimate performance with a custom fit.
Steaming ahead in the market, now is the time to launch our Glove program with 4 styles 2-6mm. It's not going to be a custom fit, but just the best fitting and highest performance Glove on the market. We're rolling out a Dura-Grip Tatex-coated Supratex Palm laminate and a Hex Shield back panel on all 4 models and they are,  2 five fingered Gauntlet models and 2 Split-Mitt models, watch this space as we may be able to launch earlier than anticipated.
As sustainability is key, can you estimate the lifespan of your winter models? (considering a proper use, rinsing and drying)
If you can get an extra season's use out of your boots then that's the right direction with regard to sustainability,  meanwhile note our thermo moldable boot material does not take on water, therefore dries quicker and leaves less opportunity for stink.If the environmentally friendly material performs as well as the current options, then they should be used, it's as simple as that.
3 Key Products
5mm Custom Pro with either Orange or Black sole
·       Custom Fit Thermofoam sole
·       Full-Wrap 3 point strap under ankle and arch
·       Warm quick dry Thermal rebound plush liner
·       3-D molded natural rubber grip sole
·       1mm Internal Split-Toe
·       5mm neoprene upper, with triple seal seam
·       Reinforced On-Off Hook Strap
·       Tatex  Flex Spine on heel
·       EZ-O Easy on – easy off cuff
·       Split toe Heat Booster sock in the box
3mm Custom Pro with either Green or Black sole
·       Custom Fit Thermofoam Sole
·       3D-Molded natural rubber grip sole
·       Mini Fit 0.5mm internal Split-Toe
·       3mm neoprene upper, with triple seal seam
·       Reinforced On-Off Hook Strap
·       Tatex Flex Spine on heel
·       EZ-O Easy on – easy off cuff
·       Split toe Heat Booster sock in box
8mm Custom Fire 2.0
·       Custom Fit Thermofoam sole
·       Full-Wrap 3 point strap under ankle and arch
·       Warm quick dry Thermal rebound plush liner
·       3-D molded natural rubber grip sole
·       Round Toe with 1mm neoprene heat booster sock
·       Triple seal seams for increased durability
·       Reinforced On-Off Hook Strap
·       Tatex Flex Spine on heel
·       EZ-O cuff for Easy on – easy off cuff