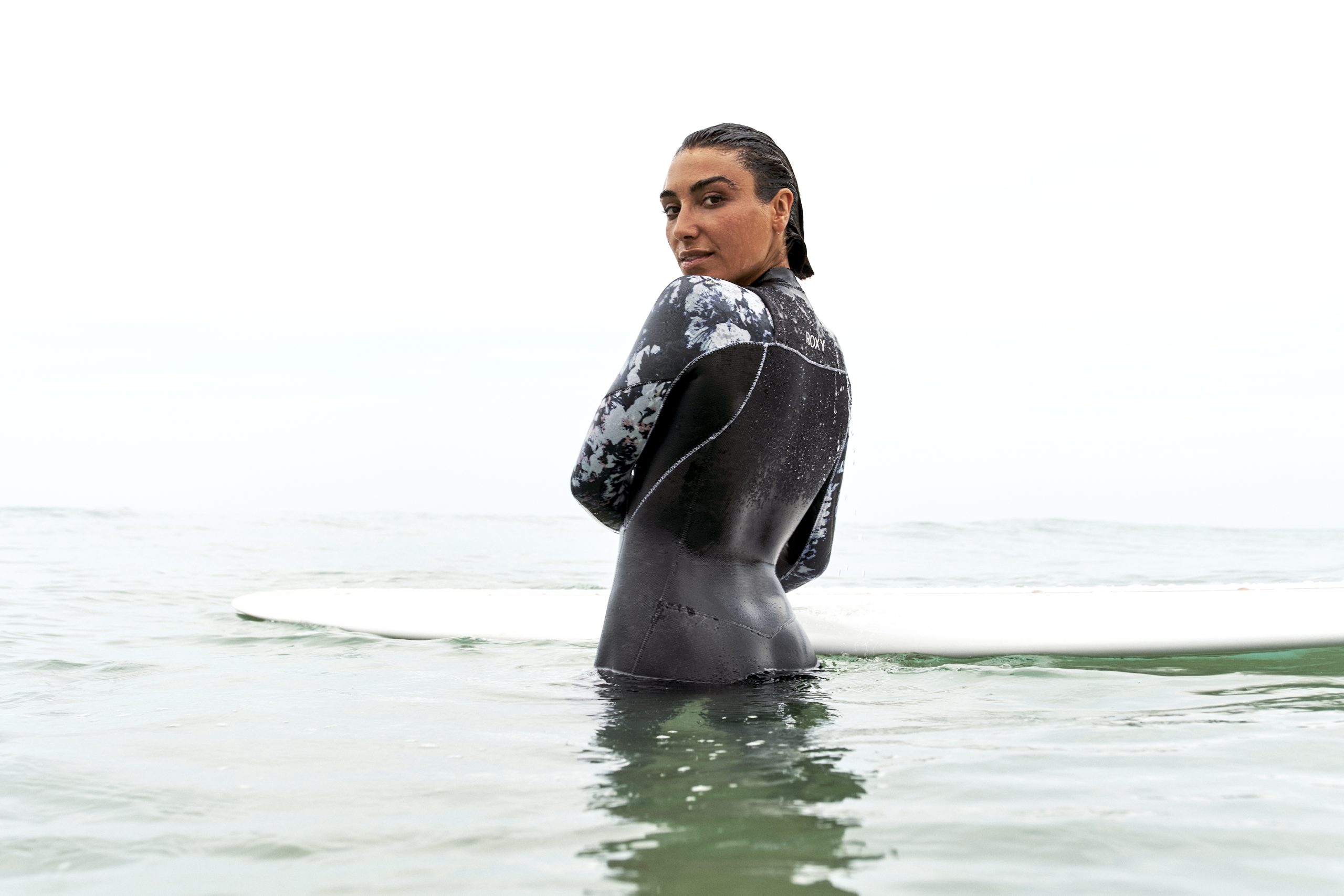 Roxy F/W22 Wetsuit Preview
Retail Buyers Guide: Wetsuits F/W 2022 Retail Buyer's Guide
Brand: ROXY
Interviewee: Valerie Hill, Global product manager swim & wetsuits
As far as the European market is concerned, which categories among winter wetsuits are on the rise, which ones are fading? (top end vs entry level, supple 4/3 vs hooded armor, backzip vs chest zips…)
The balance between top end vs entry level hasn't really changed in the last year, same for the different thicknesses no major changes, but we see a clear increase of chest zip versus back zip, and also for a feminine brand like us more prints and colorful products than classical black.
After a couple years spent coping with the storm, will 2022 be the year of progression with innovations aplenty?
We are not necessarily bringing real big innovations but we have totally rethought our collections.  We are using new linings, recycled, warmer, softer and more stretch than ever, especially on the top end of the range but also in the middle part of the range. We have also revisited lots of different details, such as the positioning of the warm panels, the entry systems, the right finishes. The collection was redesigned in a more efficient way, less seams, simple design, with better fabrics following perfectly the women's body.
3- Is there a sweetspot as far as winter wetty prices? On that matter, is an increase of the retail price to be expected due to the costs of materials/shipping?
This is really hard to tell, properties of wetsuits are so different from the entry level to top end, that we would say that there's different sweetspots depending on what the client is looking for. Yes a retail price increase is expected, like in all other industries today, to cost increase of materials, shipping, labor, is really deeply affecting product costs. When we redesigned the collection we worked closely with our supplier in order to try to reduce cost by thinking the product in a more clever way, with less seams, less fabric waste but unfortunately this was not enough to compensate with the cost increase we got from the effect of the actual situation.
Please sum up your key innovations in FW22? (rubber, lining, seams, constructions, entry system…)
Oystershell powder, new neoprene with oyster shell powder that replaces partially the limestone component. New textured lining, that improves the overall feeling/stretch of the wetsuit. New thermal linings, they are now partially recycled, softer and warmer than before. Re-designed entry systems with less cuts to avoid unnecessary water entries and rashes. Re-designed suits, made with our athlete/world champion Stephanie Gilmore : feminity and technicity without unnecessary cuts.
5- As sustainability is key, can you estimate the lifespan of your winter models? (considering a proper use, rinsing and drying)
This is a very difficult question, even if we consider the wetsuit is looked after the way it should, if it's used everyday or once every 2 weeks, the lifespan will be totally different.
Key Products:
1 ELITE LINE-UP EXTRA STRETCH SERIES
·       Fabrics: Eco Xtra-stretch
·       Seams: GBS glued and blind stitched seams
·       Inside taping: Xtra-stretch taped at full suit excepted shoulder cuts and knees
·       Thermal lining: Eco sleek warmflight at full body expected overflap, underarms and calfs
·       Technology1: Water based glue used for lamination
·       Technology2: Recycled polyester and nylon used for linings
·       Temperature: 09-13°C / 48-55° F
·       Chest Zip entry system with PK#8 plastic Zip
·       Print placement may differ slightly
·       Features: Flush lock 2.0 seals at wrist and ankle
·       Fused Edges at neck, wrist and ankle
·       Supratex knee pads, durable, lightweight & flexible
·       Glideskin neck seal
·       Key loop
2 POP surf 3/2 FZ GBS
·       Fabrics: Eco stretch flight
·       at top body without front/side/back panel and Eco stretch flight starting from chest until ankles
·       Seams: GBS glued and blind stitched seams
·       Inside taping: Xtra-stretch taped at front, back and top legs
·       Thermal lining: Eco sleek warmflight
·       Technology1: Water based glue used for lamination
·       Technology2: Recycled polyester and nylon used for linings
·       Temperature: 13-18°C / 55-64° F
·       Chest Zip entry system with PK#8 plastic Zip
·       Print placement may differ slightly
·       Features: Flush lock 2.0 seals at wrist and ankle
·       Supratex knee pads, durable, lightweight & flexible
·       Glideskin neck seal
·       Key loop
3 SWELL SERIES 3/2 BZ GBS
·       Fabrics: Eco stretch-flight
·       Seams: GBS glued and blind stitched seams
·       Inside taping: Xtra-stretch taped at front, back and top legs
·       Thermal lining: Eco sleek warmflight at bust (front, sides, back) and wrist
·       Technology1: Water based glue used for lamination
·       Technology2: Recycled polyester and nylon used for linings
·       Temperature: 11-14°C / 52-57° F
·       Back zip entry system with YKK™#10 plastic zip
·       Print placement may differ slightly
·       Features:
     Supratex knee pads, durable, lightweight & flexible
·       Glideskin neck seal
·       Key loop