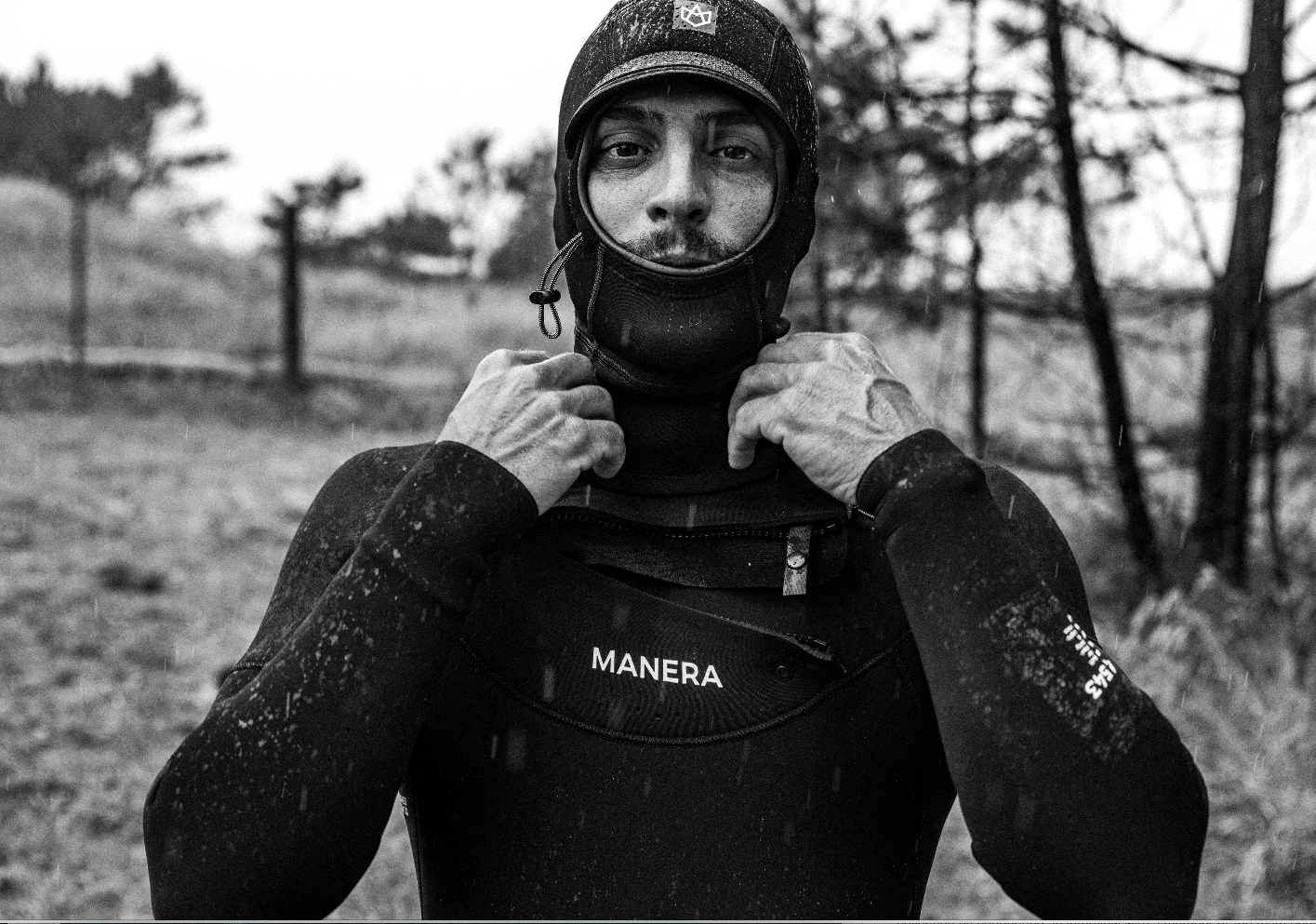 Manera F/W22 Wetsuit Preview
Retail Buyers Guide: Wetsuits F/W 2022 Retail Buyer's Guide
Brand: Manera
Interviewee: Julien Salles, Brand Manager
As far as the European market is concerned, which categories among winter wetsuits are on the rise, which ones are fading? (top end vs entry level, supple 4/3 vs hooded armor, backzip vs chest zips…)
We only offer higher quality wetsuits, and mostly frontzips so we can' really answer that question. But in terms of models, we are working in both Surfing and Windsports (wing, kite), we can clearly see that windsports users are mostly using 5mm suits and surfers focus more on 4mm. That can be explained by the fact that windsports require a bit less flexibility but more protection against the strong winds.
We also find out that there are more and more people accepting to wear hooded wetsuits and neoprene accessories. Customers understood the importance of protecting extremities, and especially their head/ears. We sell as much MAGMA as X10D, which means people are ready to buy a more expensive model if it provides more warmth.
After a couple years spent coping with the storm, will 2022 be the year of progression with innovations aplenty?
We tend to innovate every year in terms of models and fit, changing only the colorways is not our job, we're not into fashion. We came out this year with new fitting, new sizes, new models… But in terms of fabrics, I don't think we will see huge innovations this year, as the main challenge in the last two years was to produce and have stock.
Is there a sweetspot as far as winter wetty prices? On that matter, is an increase of the retail price to be expected due to the costs of materials/shipping?
We're only offering premium wetsuits, so our customers are ready to pay the price if quality/durability/warmth and comfort are there. Yes, there will be an increase on wetsuit prices in the next season, we're trying to absorb it as much as possible but there's a point when we need to keep a healthy business. If some brands manage to keep the same pricing in FW23 it means they don't have a healthy business or they decreased the quality of their wetsuits to keep an attractive price, which is not something we are willing to do.
Please sum up your key innovations in FW22? (rubber, lining, seams, constructions, entry system…)
Our main tech is the 3D DESIGN, we keep improving our fit every season. It represents a lot of work and it's not something you can easily notice in the shop, but we're all about how you feel in the water instead of using expensive marketing gimmicks to impress the customers in shop.
In terms of models, we have developed three new styles:
The MAGMA 6.4 Hooded men & MAGMA 5.4.3 Hooded women, which are the best choices for cold water in the north countries.
The X10D 4.3mm Hooded men, which allows for the best flex in cold water (our cold-water crew favorite for mid-season).
As sustainability is key, can you estimate the lifespan of your winter models? (considering a proper use, rinsing and drying)
Very hard to say because even with a proper use, there's a big difference between someone surfing two times a day and a weekend warrior. Our athletes must change their wetsuits every 1.5 year, when most customers can push them up to 3 years. 
More environmentally-friendly options exist out there regarding materials, yet they don't account for the bulk of business. Is the consumer to blame?
The consumer is never to blame J
Natural rubber is a great option with proof that it has less environmental impact than limestone, we have already planned a production of Yulex wetsuits with 100% recycled jerseys for FW23 and we will develop this range as much as possible in the next seasons.
It's the brands responsibility to use natural rubber in at least one model in order to increase volumes and then decrease its global price. Right now, its price doesn't allow us to switch to natural rubber for our whole range, but I wish we can replace all neoprene foam by natural rubber in the years to come.
Key Products:.
MAGMA 6.4 hooded men : The MAGMA HOODED is the northern warriors best friend. Featuring our innovative MAGMA+ fleece, an improved 3D-designed fit, and recycled jersey, you can hit the spot all year round even in the worst conditions. The Magma+ is one of the best material out there, acts as an insulator and heat generator. You will enjoy a dry suit as it dries 30% faster than a classic fleece.
X10D 5.4.3: Everything about the X10D is focused on lightness and flexibility: The X10D+ inner fleece brings warmth without compromising flex & lightness. Our Airfoam neoprene features the best stretch & insulation of the market, while staying extremely light thanks to its inner cells structure. If you are looking for lightness and freedom of movement, this is the wetsuit you need.
X10D 4.3 hooded : Best of both worlds, the 4.3mm X10D hooded allows unrestricted movements while keeping you warm.