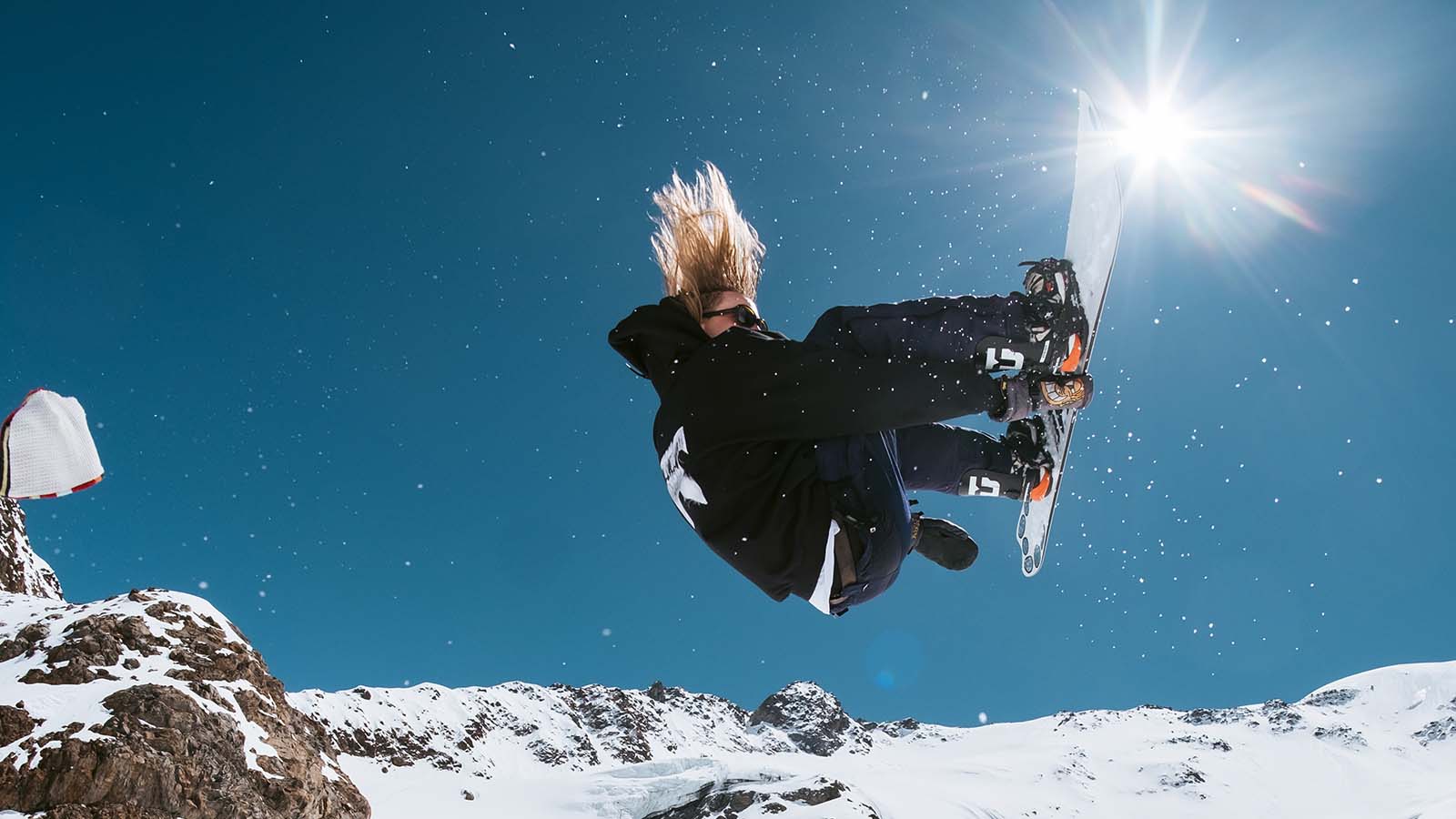 Slash 2022/23 Snowboards Preview
Retail Buyers Guide: Snowboard Boots 2022/23 Retail Buyer's Guide
Brand: Slash
Interviewee: Gigi Rüf, Owner & Founder
Please provide an overview of how 2022/23 is shaping up for your brand. 22/23 is shaping up to be another bumper year for Slash. We've seen great momentum in the brand building over recent seasons. People weren't fully aware that it's me now fully in control of the company, so we've done some marketing around this, to ensure end consumers and retailers know when they buy from Slash, they're buying from a fully pro rider owned and operated company. We've got an awesome update to our best all mountain board in the world, the ATV and I've tinkered with other parts of the line to aid me in my mission of making snowboarding more accessible for everyone.
Everyone has been affected by impacts from Covid-19 in one way or another. Have you had to change manufacturing or sourcing processes and can you explain any good examples of how your business has pivoted effectively?Yeah, we've been affected in the same ways that all snowboard companies have. Hiccups in the supply chain along the line's meant our manufacturers had to tweak certain parts and processes, but we were stoked to be able to have boards in shops on both sides of the Atlantic in good time. Being a small brand has its advantages for having a chance now as bigger brands seem to struggle more.
Carry-over was a hot topic for 21/22 boards. Where did your brand sit on the matter and has this changed for 22/23?
We are carrying over our Vertical & Vertical Split graphic. Our line has been naturally flowing through carry-over in recent years even before Covid happened. We try and roll over some models each season to help promote sustainability.
The bricks and mortar model is changing rapidly. How are you working with retailers and your ecommerce channel to ensure as little conflict as possible?
Our ecommerce store works as a live stockfeed for our retailers. If they run out of stock during the season, they can re-order and it comes from our slashsnow.com ecommerce stock. We also ship all our orders to retailers as a priority over our own production at the start of the season. Any customer queries that come in through social media or our [email protected] are replied to with a retailer-first focus as well.
What's your company doing to improve its carbon footprint/eco consciousness?
Manufacturing everything as close to home as we can, in Poland and Tunisia. These are relatively short routes with collective deliveries by truck. In the production process there will be little to decorate, except that certified wood, which is domestic to Poland. In Tunisia we've removed the clear varnish used purely to beautify the board's surface. So you'll see we now work with a matte finish, which is clear to see not only in aesthetics, but you'll also see it reflected in our prices. This ultimately reduces the toxins and microplastics exfoliated through the repeated sanding of clear varnish.
Are you using any new materials in your hardware for 22/23? If so, what, and why? We're interested in anything new in inserts / edges / cores / sidewalls / glue / resin/ wood types / base material etc here.
(See above answer Re. removal of varnish) + We've shifted production of our entry price freestyle board, the Happy Place to Poland. Now manufactured to an even higher standard and made purely with BIAX fiberglass, to make it torsionally softer (and in sizing starting at 135cm right up to a 163cm), we are really ramping up the accessibility of the Happy Place to the masses. As my sons grow, they're needing bigger and bigger boards so I'm opening up our cam-rockered park board to the younger punks and smaller women.
What about shapes? Anything new for 22/23? Does anything remain unexplored, or are there still advances to be made in shaping specifically?
The ATV's seen great traction in recent seasons and last season (21/22) we saw phenomenal sell-through. But not resting on our laurels and wanting to continue to push the envelope in what's possible with board design, I've updated the tip and tail with 3D technology, which we successfully introduced with our new model, The Vertical two seasons ago. Once I'd seen my manufacturers could successfully handle this through production, I've used this tech to add – what I call – Dog Ears to the tip and tail of the ATV. It's not quite the same amount of scoop as the Vertical's 3D nose, but just enough flick to not only improve the handling on snow with added lift and more butterability, it also makes the ATV look more interesting as well.
What new items do you have that are specifically aimed at entry level? Has this increased/decreased due to COVID-19? Please also mention anything new that'll be aimed at the youth market.
You can take the answer for our Happy Place from two questions previous here. I am really trying to make snowboarding more accessible to all. With this (insert Happy Place answer here), but I've also noticed a trend towards bigger feet, so you can insert my answer from the previous question here about bigger feet on boards and an increased width in the ATV.
And then to finish, talk of my kid-specific board, the Splash. As my two lads spend more and more days with me on the mountain each year, the more first-hand R&D feedback I get on our Splash board. Knowing the fundamental basics that turn kids off snowboarding – edge catches and unforgiving rides – I work with a number of features to help make snowboarding easy and accessible for kids. With a soft and simple flex the Splash helps initiate easy arcs and encourages proper foot control. Its mid-sidecut Traction Bump maintains edge hold from first turns to fast fall line riding. The twin tip shape offers a bed where freestyle moves can grow, and its rockered tips reduce edge-catch. The Splash comes with a high-quality Sintered base to give best advancement of momentum. Our reliable Forever wood core can take on seasons to come, too.
Prices: Which area of the market do you primarily cater to, price-wise? Have you revisited this after the uncertainty of this past winter?
We have stayed consistent even throughout these difficult times due to a performing Market.
Park? Freeride? All-mountain? where will your primary focus be in 22/23, and how much has that changed since 21/22?
21/22 skewed towards Park and All-Mountain with good carving abilities as a primary focus and this continues for 22/23. We pride ourselves on making freestyle-oriented boards with an incredible amount of quality and production value for their price.
Best Sellers/Hero products
ATV: The ATV's been a stand-out performer in our line for over a decade now. And it's GiGi's constant tinkering that's kept this board at the cutting edge of board design. For 22/23 he's been at it again! Two years ago, we introduced a 3D nose when presenting our Vertical shape. Now tried and tested, we've implemented and adapted this tech into the tip and tail of the world's best ALL MTN board, the ATV. GiGi calls it Dog Ears… Not quite the same amount of scoop as the Vertical's 3D nose, but just enough flick to not only improve the handling on snow with added lift and more butterability, it also makes the ATV look more interesting as well. We've introduced a hybrid camber design with flat sections that add pop and response to this highly trusted cambered board. By utilizing a deep singular sidecut, it stays as reactive and responsive as before. We've spotted a trend towards bigger feet on boards, so you'll notice we've also beefed up the width a little too.
Happy Place: In Gigi's mission to make snowboarding more accessible to the masses we've got some huge news for our Happy Place snowboard. Now manufactured in Europe using only BIAX fibreglass to make it torsionally softer we're now also starting production at a 135cm ride going all the way up to a 162W. As Gigi's boys are growing, they're needing bigger boards and Gigi's seen it as a good excuse to open up our cam-rockered park board to the younger punks and smaller women. This hybrid shape has all the pop you can ask for with camber between the feet and the carbon stringers are positioned to give you that amazing pop of camber while retaining the forgiveness of rockered tips. The progressive sidecut allows for swift slashes and gives this board a real flow of movement.
Portal: The Portal is our all-out powder rocket. Its nose, reminiscent of a snow plough, elevated and oversized for cutting through the white gold like a hot knife through butter. Its tail, beautifully tapered and akin to that of a swallow, allows the rider to steer this magnificent beast through powder as gracefully as you like. Also benefitting from a slight re-tune for 22/23, those with a keen eye for detail will notice a slightly looser ride for this winter thanks to a reduction in wood in all the right places. Equipped with our Float set of inserts, when the snow's extra deep, set back, relax and enjoy dropping pillows, slashing banks and staying afloat with our supreme flotation device.