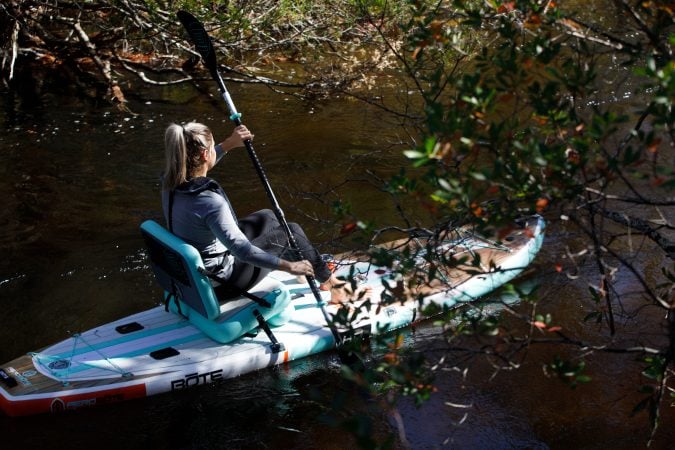 BOTE S/S 2024 SUP
Retail Buyers Guide: Surf Robes and Ponchos 2023 Retail Buyer's Guide
Brand: Bote
Interviewee: Lex / Watersports World UK / Marketing
How are you dealing with the overstock issue this summer?
This summer has been great for us! BOTE an American brand but had the advantage of launching, in the UK and EU, post covid and so we never had any overstock to deal with.
As the sport grows up, do you notice a trend for customers to lean towards more evolved products? (allround > touring or other specific use)
Absolutely. Most people dip their toe in with the classic BOTE Breeze Aero SUP, and if they stick with it, then they are all in. We then see their passion flourish as they spend more time on the water, and their curiosity deepens. Then a whole new world of products opens up for them to choose from, and our products really do stand out on the water with their unique colours, designs and features!
The shipping costs are back to normal, what about materials? Can you tell whether pricepoints will be maintained, reduced?Many factors come into play here; supply and demand as we've seen one way, production costs, and trends. But one thing is that we are always dedicating time to building better products with new and innovative technologies, to make sure we deliver the best possible products to the customer.
Single or double skin, fusion, welded, cross-stitched, multiple chambers… Technologies and constructions are still very opaque for the average Joe, thus benefiting to the no-name brands with cool graphics or colors. How can we solve this?
BOTE solved this with Gatorshell. Gatorshell Technology is a game changer. BOTE's quest to constantly improve on their own products led them to this very technology, its incredibly strong, stunningly beautiful and the new line of Gatorshell boards are the toughest they've ever made. And on the inflatable side, our products are made with AeroULTRA Technology, which is military grade single layer PVC. This makes the product extremely durable, and lightweight so it's easy to transport and manoeuvre.
Inflatables: Which new technologies & models are you implementing in SS24?
The Inflatable Rackham has a been updated and settles a couple of battles! It can be used as a recreational paddle board, OR it can be completely specked up to cater for the keenest of fishing enthusiasts! It also can be adapted with a fully inflatable seat and the APEX Pedal Drive, which can turn your SUP into functioning like a kayak, which makes the decision easier if you're going back and forth between investing in a SUP or a kayak. Problem solved!
Hardboards: Which new technologies & models are you implementing in SS24?
Fresh off the press we have the new Rackham Bug Slinger™ Backwater Paddle Board. This Gatorshell paddle board just got a HUGE upgrade and can now house the APEX Pedal Drive! This means pedal and paddle power for this ultimate fishing platform. This takes the Gatorshell Rackham to a whole new level for those wanting to upgrade their fishing and expedition adventures!
What kind of support do you offer for retailers? (pre-orders sales terms, in-season restocking, demos…)
We offer the support they need. A great example of this is that we have just returned from the Orvis Saltwater Fly Fishing Festival where we had the BOTE Lono fleet available for the attendees to demo and master their boat fly fishing from, which was a great event for people to experience the crafts in action.