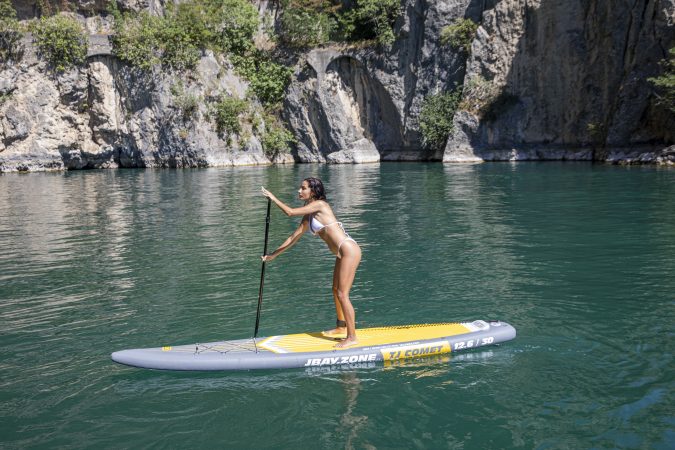 JBAY.ZONE S/S 2024 SUP
Retail Buyers Guide: Surf Robes and Ponchos 2023 Retail Buyer's Guide
Brand: Jbay.Zone
Interviewee: Massimo Vanzin
How are you dealing with the overstock issue this summer?
We decided to change the price list to offer quality products at extremely competitive prices.
As the sport grows up, do you notice a trend for customers to lean towards more evolved products? (allround > touring or other specific use)
Not really. As far as we are concerned, we are noticing a greater diffusion and demand for low-cost products than to more advanced items
The shipping costs are back to normal, what about materials?
Can you tell whether pricepoints will be maintained, reduced? As mentioned above, at least for the moment, the trend is to meet consumers' demand, lowering prices where possible.
Single or double skin, fusion, welded, cross-stitched, multiple chambers… Technologies and constructions are still very opaque for the average Joe, thus benefiting to the no-name brands with cool graphics or colors. How can we solve this?
 We hardly find the right technical expertise in a consumer before buying a board, consequently, the right attention is not paid to the construction techniques. Customers should be better informed about everything behind the creation of a board in order to really understand what they are dealing with.
Inflatables: Which new technologies & models are you implementing in SS24?
We are still working on SS24 but the collaboration with a new international street artist is ready to go!
What kind of support do you offer for retailers? (pre-orders sales terms, in-season restocking, demos…)
We support our retailers in various ways, from after-sales assistance always performed by us to various benefits on pre-orders and sales targets achievement. We are trying to make SUP well known as much as possible in our country, and this activity also brings indirect benefits to retailers. For some years now we have been organizing events throughout northern Italy with the aim of promoting the discipline of Stand-up Paddling, letting those interested try out the boards, with the possibility of excursions guided by our qualified instructors. The events gain some success and are always highly appreciated by the public.