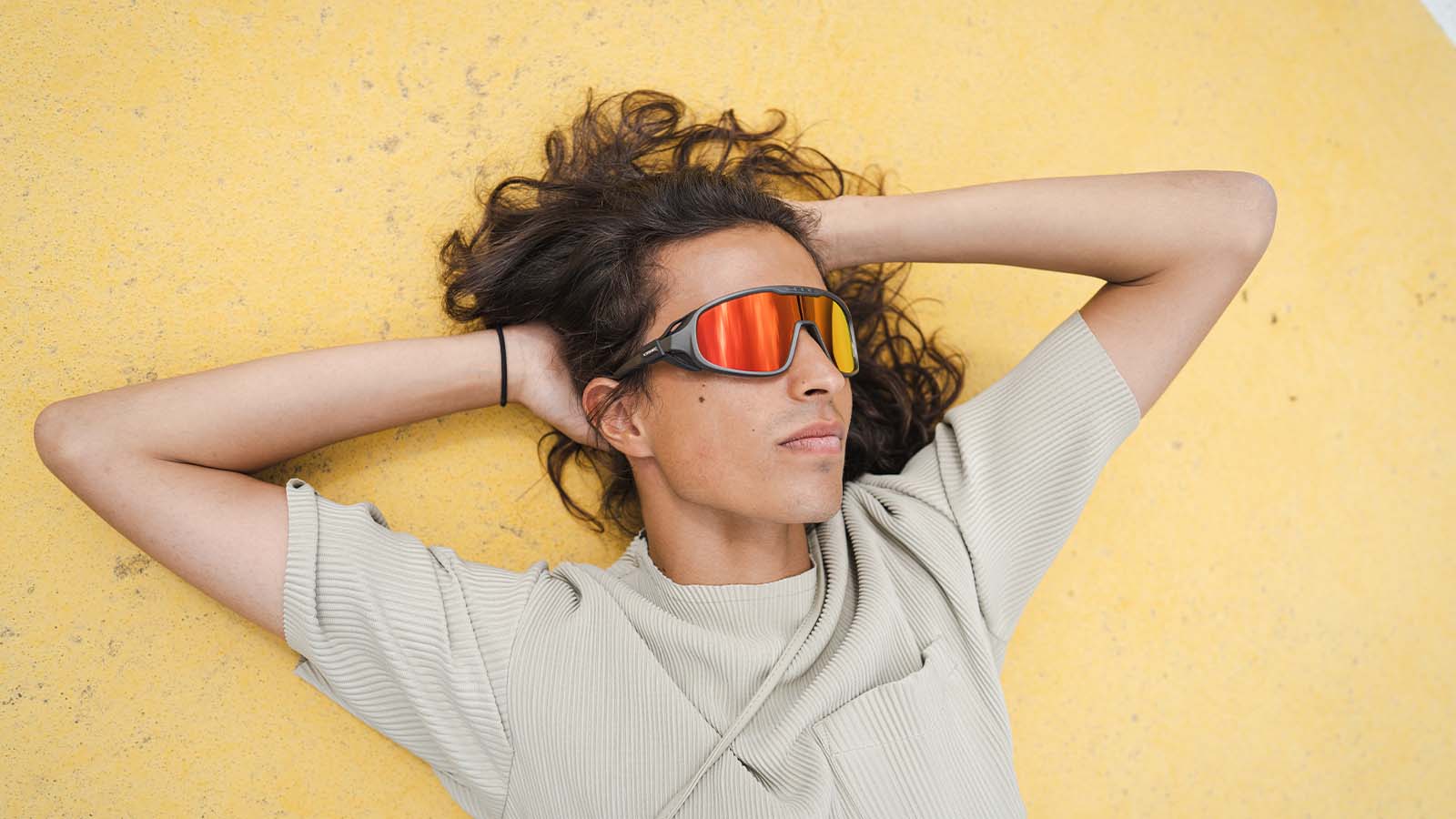 Cebe 2022 Sunglasses Preview
Retail Buyers Guide: Sunglasses 2022 Retail Buyer's Guide
Brand: CÉBÉ
Interviewee: Awena Jouannic, Marketing & Communication Manager, Adélie Gaillard, Eyewear Product Manager
What are the key trends in sunglasses for board sports for 2022?
For SS22, less and less distinction will be made between sport and lifestyle shapes. The mix and match predominates, especially among young people who no longer hesitate to wear sunglasses with sporty lines in their everyday life. As for parents, they are mainly looking for trendy sunglasses for their toddlers (round or rectangular shapes, 4 or 6 base) without compromising on protection. Finally, ecological awareness, whether for the materials used for the products or for the packaging.
How are you segmenting your sunglasses and what are your main price points?
Yes, we're segmenting our collection. At Cébé® we are committed to offering qualitative and innovative products at a reasonable price point (with no compromise on quality or protection) to make the outdoors accessible to as many people as possible. Here are our main price points: Sport = from 100 € RRP, Lifestyle = 40 € RRP non pol / 60€ RRP pol, Junior = 30-35 € RRP
Where do you expect your biggest growth in 2022?
The range of sunglasses dedicated to sport is Cébé's strength. With flagship models like the S'Track 2.0 and  the Asphalt, exclusive technologies like S'Tech™ and a wide range of lenses (photochromic, high-contrast, polarized…), it's here that we expect the biggest increase for 2022. Cébé is also the leader in the Junior optical segment. All our models benefit from Blue Light technology to protect the eyes of the little ones from harmful blue light. This year, the product team has developed an even more trendy range, by offering frames inspired by adult lifestyle models. So we also have big ambitions for this collection.
What frame shapes are most popular from your offering and why?
In our sector, we cater to the demand for protective design with XL frames and enhance the sportive flair of the racer frame with mirrored lenses. Pantos shape is also particularly trendy this season. Finally, angular frames are still on the rise.
Are you introducing new frame shapes this year? If so, describe.
Yes we're introducing a new frame shape for SS22. Following our launch of the Sportstyle collection last summer, we've decided to go for iconic pantos styles: rounded, with a keyhole bridge and unisex colorways.
What are the main materials used in your current sunglasses offering and why?
For our frames, we use nylon TR90 for our frames for its lightness, flexibility and solidity. Regarding lenses, we mainly use polycarbonate as it offers good impact resistance and lightness. It's the perfect combination of protection, performance and visual comfort. But we also use mineral lenses for our mountaineering sunglasses. This material is the best for optical clarity, it ensures maximum scratch-resistance and durability and is perfect for environments subject to exceptional light intensity. Cébé® is one of the rare brands to offer this type of lens.
What lens technologies are you currently working with?
We don't have any new lens innovations for SS22 but we'll for sure capitalize on Cébé®'s existing technologies:
Sensor High Contrast lenses  Available in category 3 or photochromic category 1 to 3, Sensor lenses have a unique transmittance curve that aims to increase contrast and to give a better colour definition in order to highlight obstacles on trails.
Photochromic lenses  They function by darkening or lightening depending on the amount of UV rays emitted by the sun. With our Zone Vario lenses (Cat.0-3 and 2-4) Cébé offers a real solution in providing premium vision and comfort under diverse light conditions.
Peak lenses  Made of mineral, the best material for optical clarity and durability. They are available in category 4 and thus are perfect for high-altitude or other environments subject to intense light and weather conditions.
Blue Light lenses  These lenses excel at preventing eye strain and damage to vision in children, filtering up to 94% of harmful blue light while offering 100% UV protection. Available in category 3, they improve visual acuity and provide better colour perception. Made of PC they also ensure maximum impact resistance and lightness. In short, the perfect lens for children to enjoy their outdoor activities!
Which frame colours and graphics will you be offering this year?
What makes Cébé so specific is the combination of neutral/natural colored frames (black, tortoise, gray, brown, beige) with pop flashed lenses (blue, silver, red, green, pink, gold). 2022 will be the brand's 130th anniversary year. For the occasion, we have also developed specific colors, inspired by emblematic Cébé models or old school color codes.
Have you implemented any sustainable practices in your production and shipping processes ?
Yes, at Cébé®, we want to take care of nature because it is our playground and our main source of inspiration. Climate change is the most important issue facing humanity for a generation, and so it is more important than even before to ensure we take steps to minimize our ecological impact.
So for SS22, Cébé is pleased to present its new origami box. Inspired by the Japanese craft, these boxes are made of FSC certified cardboard 100% recyclable, without any glue, with less printing and without compromising on the protection of the Sportstyle and Kids & Teens sunglasses. We've extended the packaging system for goggles and helmets for AW22 and will introduce sustainable material in our products from SS23. Stay tuned!
What are your marketing stories?
For SS22, less and less distinction will be made between sport and lifestyle shapes. The mix and match predominates, especially among young people who no longer hesitate to wear sunglasses with sporty lines in their everyday life. Part of our communication will therefore focus on 2 new products related to this trend: the Outline and the Kult. Inspired by iconic frames from Cébé, these 2 styles are also an opportunity for the brand to celebrate its 130th anniversary!
The exclusive S'Tech™ technology will also be a line of communication for Cébé this season, whether in the adult sports or kids segment. This key technology is engineered with a spatula on the inside of each temple curving to a V-shape creating 2 additional contact points. This results in a better balance of the weight of the sunglasses and ensures a perfect hold on the face.
Finally, we'll push our new pantos model dedicated to teens (Altaï model) to meet their needs in terms of trend and those of parents in terms of protection.
How are you supporting retailers to sell this category?
For all of our product categories, we are working on 2 main pillars to support retailers:
Go-to-Market strategy: Training of in-store teams about technologies and products, definition of ideal assortments, development of new merchandising tools…
Brand visibility program: Increase of our presence in the field with the organization of product testing days, visibility of the brand supported by our ambassadors (athletes, influencers), presence of Cébé key visuals in the press, on poster campaigns… the objective being to create demand leading to retail sales.
Have you suffered stock issues or delivery problems due to supply chain bottlenecks? If so, what solutions have you put in place?
We did not encounter any delivery issues because we anticipated potential delays in product design, production … linked to the health crisis. We were therefore able to deliver our customers perfectly in time for the start of the SS22 season.
Best Sellers
Outline
Inspired by our iconic monolens frames, Cébé Outline sportstyle sunglasses offer a wide field of vision with a stylishly bold look. With the ability to go from the city to the trails and the ski slopes, Cébé Outline are sporty sunglasses that provide better vision and clarity, no matter where the adventure takes you.
Kult
To celebrate our 130th anniversary, we turned back the clock and remastered our historical frame. Cébé Kult combines our glacier eyewear heritage with modern technology to rise to any challenge. The Kult is ideal for both outdoor and urban environments, making it the pinnacle choice for sports lifestyle sunglasses.
Altaï
We're breaking from tradition with our first pantos shape. The Cébé Altaï is the perfect blend of trendy and protective. Flexible hinges ensure comfort and durability, and our Cébé Blue Light lenses keep eyes safe from harmful conditions.