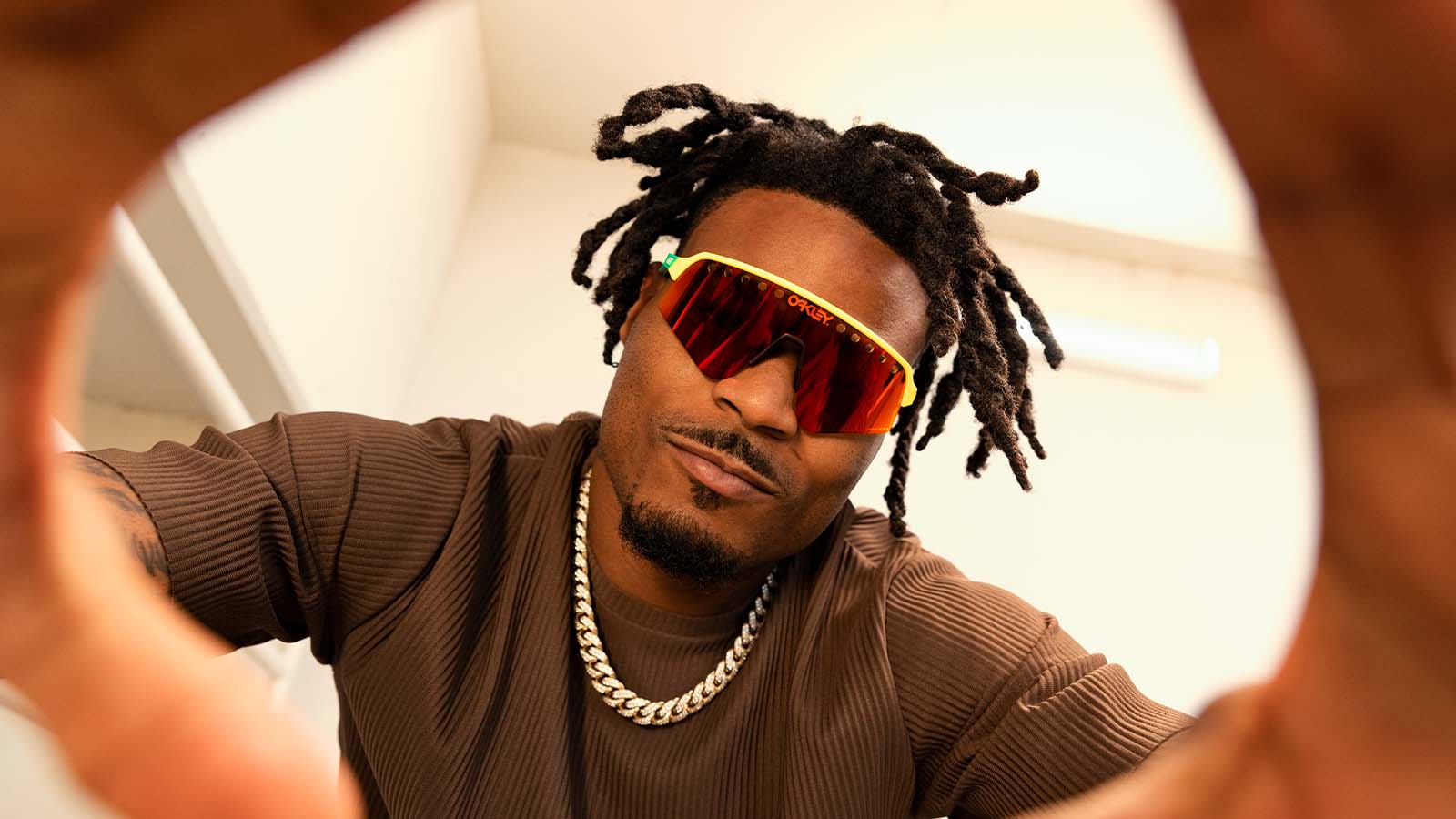 Oakley 2022 Sunglasses Preview
Retail Buyers Guide: Sunglasses 2022 Retail Buyer's Guide
Brand: Oakley
Interviewee: Mirco Trendel, Brand Business Manager DACH
What are the key trends in sunglasses for board sports for 2022?
Oakley is building on previous products that have spawned from action sports and is maintaining it's roll as leader of innovations with ground-breaking technology.
When introducing Oakley Kato in 2021 the brand has once again changed the face of the industry with the ground breaking physiomorphic technology and will continue to push further in 2022. In May 2022 Oakley will extend its portfolio of products with physiomorphic technolgy which offers new possibilities in lens shapes and design.
Oakley is introducing BiOmatter as a next step towards sustainable product offering after presenting first products in the apparel collection for SS22. BIOmatter is a bio based O-MATTER that maintains the same characteristics of Oakley's trusted O-MATTER material but is molded with a plant based resin made from castor beans.
How are you segmenting your sunglasses and what are your main price points?
Oakley is segmenting it's sunglasses into two pillars. Sport Performance offers a wide range of frames for everyone who seeks for performance. The segment Performance Lifestyle connects the best from two worlds. No matter if on or off the playground. This segments offers a wide range of styles to bridge the gap between sport and lifestyle.
We will continue to offer a collection of new models that caters to price points from 110€ – 270€ SRP.
Where do you expect your biggest growth in 2022?
The brand will elevate the relevant subculture of surfing to inspire a collection of products that deliver to a core consumer & scale to a broader cross section of surf enthusiasts. With that, we also see a big opportunityin our AFA (Apparel Footwear Accessories)category to be able to offer a full assortment from head to toe.
Furthermore, we still see a relevant potential around cycling and expect a growth in all bike-related fields like MTB, Gravel and Road Cycling.
What frame shapes are most popular from your offering and why?
When introducing the Sutro in 2019 the hype grasped instantly and over the past years Oakley has developed a whole family around it, including Sutro Lite and the all-new Sutro Lite Sweep. Shield-lenses are the must have on and off the playgrounds and we still see this trend across all sport pillars.
Are you introducing new frame shapes this year? If so, describe.
For the 30th anniversary of the legendary Subzero, Oakley® will launch a reinterpretation of the original shape, taking the iconic silhouette to a new dimension. Leveraging on the PhysioMorphic geometry, which enables eyewear to be designed without limitations. Moreover the unique shield lens shape is etched to give it a dual lens aesthetic.
What are the main materials used in your current sunglasses offering and why?
Our proprietary O-Matter frame material stands for durability paired with minimum weight and provides all-day comfort to keep up with life on-the-go. No-slip Unobtainium nosepads and earsocks help keeping the frame to stay in place without compromising on style.
Are you introducing new materials this year? If so, describe.
Oakley is introducing BiOmatter as the next step towards sustainability. The technology is a bio based O-MATTER that maintains the same characteristics of O-MATTER but is molded with a plant based resin made from castor beans.
What lens technologies are you currently working with?
Oakley Prizm, is a revolutionary lens technology, grounded in decades of research and innovation, that fine-tunes individual colors to enhance details for an optimized viewing experience. With ordinary sunglass lenses, the world looks dull and flat, but Prizm lenses are designed to make everything look vivid and vibrant, revealing nuances that would normally be missed by the naked eye. For Oakley, Prizm isn't simply a technology, it's a way of life. It gives wearers the confidence to be more than they ever thought they could be, allowing them to live life in a brighter, more colorful, and distraction-free world.
Oakley Plutonite lens material blocks 100% of UVA and UVB rays up to 400nm
Will you introduce any new lens technology this year?
PhysioMorphic is a new lens geometry that allows design progression in a way that drive brand & industry forward and which enables eyewear to be designed without limitations.
Which lens colours and tints will you be offering this year?
With PRIZM lens technology we´re able to offer a great variety of individual lenses to fulfill all our customer's needs. Whether it be on the bike (Trail/Road), on the water, field or golf course, we´re able to make all athletes see clearer. Not to mention that our everyday lenses are there to help when picking your next ice cream.
Which frame colours and graphics will you be offering this year?
Oakely offers a great variety from classic black (monochrome) to color mix and retro designs. The all-new Sutro Lite Sweep is celebrating its heritage with bold retro colours in pink and celeste.
If you do prescription glasses: What are the main trends here and what will you be offering this year?
First of all: yes, we do offer prescription glasses. There is a dedicated collection of frames, and we are also producing prescription lenses through our OAP (Oakley authentic prescription) program. This also includes our PRIZM lens technology so consumers can also enjoy the benefits of PRIZM in their prescription eyewear. Furthermore, it is also possible to get prescription lenses in your favorite Oakley sunglasses styles like Frogskins or the all-new Leffingwell. It's also available in many of the sport performance shades like Plazma or Jawbreaker.
Also, Oakley is stepping into the world of Gaming with signing some impactful e-sport athletes like Scump. With that we´re offering Prizm Gaming lenses in your prescription and from next half ´22 also with plano lenses.
Have you implemented any sustainable practices in your production and shipping processes ?
Sustainability is a very important topic that has been discussed very carefully to take the right actions. We already started with looking into our packaging using now sustainable wrapping for apparel and also introduced our first sunglasses with BIOmatter. A technology that meets the same qualitative material standards as our well-known O-MATTER but which uses plant-based resin made from castor beans. See and try it yourself with the new Oakley Leffingwell or Reedmace.
What are your marketing stories?
Oakley is continuing the "Be who you are" campaign with impactful storytelling and different chapters around all our verticals (Bike/Lifestyle/Snow/Surf/Skate)
The campaign celebrates self-expression and encourages people to believe in themselves, to "Be Who You Are".
Furthermore, we´re continuing our narrative about product innovations and technology (e.g.: Kato, Re:Subzero / PhysioMorphic technology).

How are you supporting retailers to sell this category?
Our goal is to offer a full 360° package to our retailers for every vertical. From classic campaign visuals at the POS with seasonal in store tools to Social Media support or even permanent shop in shop installations. We want our retailers to have everything to bring our storytelling to life or better to their customers.
Simultaneously we support with dedicated trainings on technology and product through our Technical Representatives or our open digital training platform.
This year we also started with our Sports Expert Program in Germany, a program that´s dedicated for our optician brick and mortar landscape.
The sports market is still booming and with our decades of expertise, we´re offering a program to help our brick and mortar optical partners to become the most competent sports experts out there possible.
Those who want to stand out in the market must focus and respond to individual needs of their customers. With the Oakley Sports Expert program, opticians benefit from the brand's know-how to have an advance in knowledge over competitors. There´s a huge potential in that segment as only 5% of the people wearing glasses use dedicated sport eyewear!
The year-round program offers all the necessary tools: dedicated range of sport eyewear with a broad selection of lens colors and sports-specific lenses for different activities and light conditions, Trade Marketing Tools for the Point-of-Sale, Social Media support and even dedicated local events to reach the consumer base. Lastly we offer dedicated training sessions with our Technical Representatives on the latest technologies and products.
Have you suffered stock issues or delivery problems due to supply chain bottlenecks? If so, what solutions have you put in place?
This year we were able to deliver in time due to planning adjustments and detailed forecasting. We´re very optimistic to keep our service level at a high scale for the rest of the year as well.
Best sellers
Oakley Kato: 
Oakley Kato's purpose-built design features an innovative, frameless lens, crafted with an extended wrap and built-in retention to mimic the structural properties of a typical frame. The result is a product intended to fit close to the contours of the face, creating a mask-like feel. When paired with Oakley's unparalleled optics and clarity of vision, this product removes limitations and provides the wearer with the confidence to be at their best, unlocking their inner superpower.
Oakley Leffingwell:
Leffingwell features a full rim, square lens shape infused with design inspiration taken from the craftsmanship and finishes of surfboards and the lifestyle around surfing. The plant-based BiO-Matter frame has antique-finished decorative elements and textured temples. The subtle Oakley logo on the temples is designed for those who gravitate toward subtle, elevated design aesthetics. Leffingwell comes with PrizmTM Lens Technology designed to enhance color and contrast to see more detail across the water and beyond.
Oakley Sutro Lite Sweep:
Sutro Lite Sweep blends the sweep lens shape first made popular by Eyeshade with the Oakley's popular Sutro frame design. A functional sport design with optimized coverage, extended field-of-view, retention and impact protection makes Sutro Lite Sweep the perfect choice for durability and all-day comfort while making a bold statement. Select colorways come with vented lenses for increased airflow to help keep you cool no matter where the day takes you.