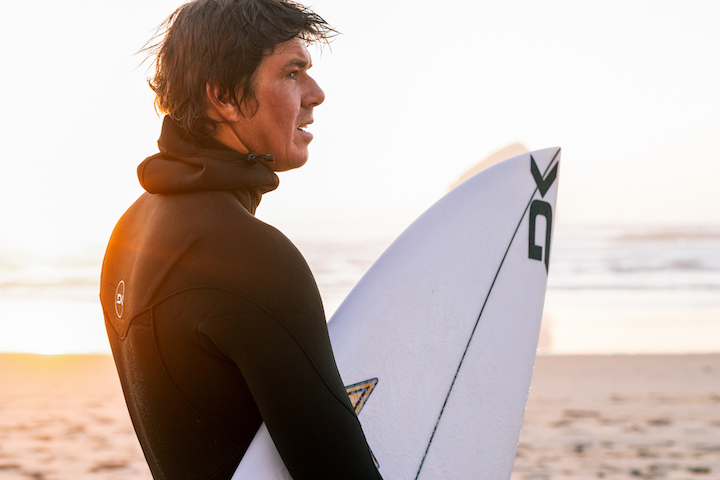 Dakine 2023 Wetsuits S/S Preview
Retail Buyers Guide: Wetsuits S/S 2023 Retail Buyer's Guide
Brand: Dakine
Interviewee: Phil Bridges, Designer
To cut a long story short: Will the Spring and Summer 2023 wetsuits (3/2mm to springsuits and neoprene jackets) suffer from shortages, as in other segments of the boardsports hardware market?
It's unlikely. We're still seeing upheaval in neoprene but demand and supply should level off in the coming months
The surge of smaller brands has been shaking up the market for a handful of years. What would be your analysis of the phenomenon? (Is it for the best or did the biggest players lose their grip?)
Availability of manufacturing, easier access to marketing channels, widening audience base, diversity of selling points. There's lots of influencing factors. For us, we found we couldn't buy a wetsuit that performed how we wanted and lasted as long as we wanted, so we designed one.
If you were to name the biggest evolutions in recent years within the Spring-Summer wetsuit market, what would they be? (technologies, cuts/fit, buying practices, designs, durability…)
For us it's durability. That was our whole ethos coming into wetsuits – the lifespan of wetsuits was unacceptable, especially given the very long term impact of neoprene in landfill.
Secondly it would be our Friendly Prene – Biodegradable neoprene which we've pioneered to solve the long term impact of all the neoprene.
Can you briefly sum up how your Spring-Summer ranges are built, so we can understand how they are distributed in terms of performance, constructions, prices?
We have good, better, and best from a performance point of view. Then above that, our flagship Malama using FriendlyPrene from Yamamoto.
Which are your key innovations for SS23? (materials, constructions, styles…)
FriendlyPrene, developed with Yamamoto and EcoLogic LLC with enhanced biodegradation. Lab tests show 30% degradation in 522 days so we're looking at complete biodegradation of the neoprene within around 5 years (only occurring once in landfill). That's a huge shift – if all the neoprene made today could be gone from landfill within 5-10 years, instead of the hundreds or thousands of years it usually takes.
Even if graphics are less prominent nowadays on wetsuits, what is your take for SS23?
We draw Dakine prints across from the apparel and equipment lines to ensure brand coordination. In the high end suits it's about function not fashion so we keep it simple graphically and focus on the performance.
Sustainability and wetsuits: how do you keep up with the environmental efforts while price inflation is stressing out the market?
Ultimately we need to cooperate. We see far too much really good innovation being closely guarded by brands for competitive advantage. We are encouraging all brands to use our FriendlyPrene with no exclusive rights or cost added by us. We're also taking the technology to our other manufacturers to expand the availability. The more brands adopt this, the better the impact and the lower the cost, which leads to wider adoption, lower cost, greater impact and so on.
Key Products:
Malama
Available in all thicknesses in Men's and Women's. First and foremost, this is a high end performance wetsuit. Based on our APEX fit pattern with a zip free design pioneered and proven on our Cyclone range, using Yamamoto #39 rubber the Mālama fits, feels and performs at the highest level. In line with our durable design concept, the Mālama continues our mission to recalibrate balance; putting durability at the centre of wetsuit design to make longer lasting products. The Mālama, goes one step further to solving the problem of post consumer neoprene waste; FriendlyPrene with enhanced biodegradation, developed with our friends at Yamamoto and EcoLogic LLC.
Cyclone
Available in all thicknesses in Men's and Women's. Our brief was clear – the best performing wetsuit for fit, stretch and warmth, to match or exceed the best in the market, and incorporating a level of durability to challenge the expected lifespan of most high end wetsuits. From creating an all new wetsuit pattern; our Apex Fit, to developing our own thermal linings and industry first innovations, the Cyclone was our skunkworks of ideas. Featuring all of our best materials for optimum performance: the Cyclone now comes entirely in Oysterprene, a lower impact neoprene using waste oyster shells, plus low impact processes like Dope Dyed yarn and solvent free lamination, the Cyclone is the pinnacle of our wetsuit program's development.
Quantum
Available in all thicknesses in Men's, Women's and Kids'. The Quantum is not entry level, budget or cheap. This range embodies our game changing approach to performance wetsuits; performance and warmth combined with next level durability at an affordable price. The build quality on Quantum matches our standards set throughout the range – all seams are 3D stitched and taped or critically taped for maximum security. All panels use DK limestone neoprene and our specially developed linings – stretch zones feature our top end S type neoprene lined with FLX lining. Internally THERMO is used in all upper body panels where wind chill is a factor. The body makes use of NPM, our flex lining with very high surface resistance and our high modulus D foam neoprene. Using our super high end Apex Fit pattern for perfect fit and extreme freedom of movement and available in our 'Easy In' chest zip entry. The Quantum will change your expectation of a what an affordable wetsuit can be.