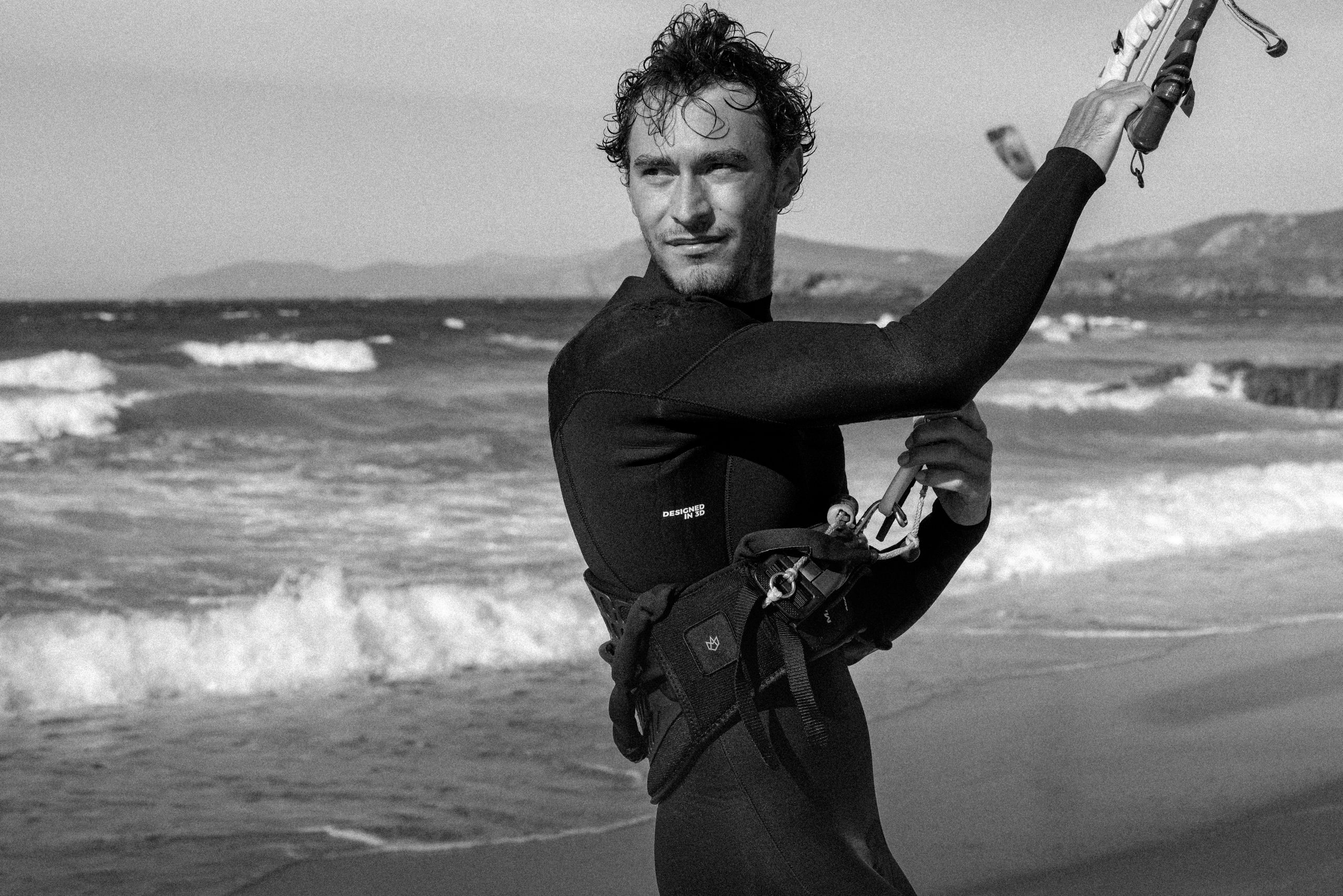 Manera 2023 S/S Wetsuits Preview
Retail Buyers Guide: Wetsuits S/S 2023 Retail Buyer's Guide
Brand: Manera
Interviewee: Julien Salles, CEO
To cut a long story short: Will the Spring and Summer 2023 wetsuits (3/2mm to springsuits and neoprene jackets) suffer from shortages, as in other segments of the boardsports hardware market?
I don't think so! The bigger brands delivered their Fall/Winter goods quite late, so most retailers are now left with high inventory levels of thick rubber. For the same reason, I believe that they will be left with excess inventory of spring goods this fall. I hope these brands will focus on cleaning their actual stock in a sound manner so that we can get back to a "normal" market. On the supply side, factory capacity is getting better, so it shouldn't be a problem to have enough goods.
The surge of smaller brands has been shaking up the market for a handful of years. What would be your analysis of the phenomenon? (Is it for the best or did the biggest players lost their grip?)
Of course, as a smaller brand, I am happy about it! There are probably many reasons I don't even know about, but in my opinion, there are two main rationales to this: First, both retailers and customers have a harder time dealing with big corporations that are purely business focused. At the end of the day, people are looking for quality and values, and I believe smaller brands have done a better job at providing that recently. Second, the smaller you are, the better you adapt. During these last three years dealing of the Covid-19 crisis, smaller brands have been able to adapt to this new market. We booked and paid our wetsuits more than a year in advance to get delivered on time. Moreover, we adapted our pricing and sales strategy all along. Finally, we supported shops that were having a tough time. Being small and responsive allowed us to make room for us on the shelves in a very healthy manner. These two phenomena gave us a chance to prove to retailers that we can move volume, and now that we're in, we're not moving out. So, things might be changing, and we could finally see new logos on the wetsuit's racks!
If you were to name the biggest evolutions in recent years within the Spring-Summer wetsuit market, what would they be? (technologies, cuts/fit, buying practices, designs, durability…)
Grab one of our wetsuits and put it flat on the ground next to any other competitor. You will immediately see the difference, as our wetsuits are preformed and made to fit a human body. We design our wetsuits in 3D, and you can learn more about our 3D DESIGN technology and software on manera.com. Most of the "technologies" that you've seen coming out of the wetsuit industry in the last few years have been developed by the main global neoprene supplier. Brands claim that they innovate but they pretty much only pay for exclusivity to this supplier and then market it like their own stuff. The way we design our wetsuits is a MANERA in-house innovation, and we worked hard to develop it.
Can you briefly sum up your Spring-Summer ranges are built, so we can understand how they are distributed in terms of performance, constructions, prices?
Our focus at MANERA is to make high-quality wetsuits. We do not think that the quality of a summer wetsuit should be minimized. We can keep people warm during the worst winters, so why would they be cold in summer because we made a cheaper wetsuit? Our range includes 3.2 steamers, 2.2 shorties, 3.2 hybrids and 2mm Bikisuits in the 200€-300€ range that will keep you warm for summer, and even through the spring and fall.
Which are your key innovations for SS23? (materials, constructions, styles…)
I would say the launch of our women's Bikisuit! As a hard-goods-only brand, we are really focused on technical wetsuits, and we are far from the fashion industry. So, every design that we have launched is made to spend more time on the water.  Designing a short wetsuit like the Bikisuit was really interesting. We packed the same technologies that we use for steamers and realized that such a minimal wetsuit could actually do a great job at keeping people warm. 
Even if graphics are less prominent nowadays on wetsuits, what is your take for SS23?
Graphics are not really our thing; as I said, we tend to stay away from the fashion industry and its vision. We do consider wetsuits as hard, technical goods, so our focus is more on the fit, design, construction, and fabrics rather than on temporary graphics. 
Sustainability and wetsuits: how do keep up with the environmental efforts while price inflation is stressing out the market?
Making more sustainable wetsuits is a great marketing asset, but it's first and foremost a personal conviction for our whole team. Each of our wetsuit features every single carbon reduction technology that our supplier can provide in terms of recycled fabrics, aqua-based glue, recycled raw material, etc. You can learn more on manera.com/staygreen. We just deal with the price increase; we're not afraid to cut our margin a bit for something we believe in. We also thought about circular economy by setting up a broad repair network, and an upcycling process for wetsuits that can't be repaired. That way, less wetsuits are ending up in landfills. We will also launch a new YULEX model in October for our FW23 collection. We decided to work on this wetsuit without thinking about any target price. We implemented the most sustainable technologies available, while keeping performance in mind. It will feature 100% YULEX foam, recycled jerseys, recycled fleece, FSC hangtag and packaging, etc. The final product will be more expensive, but the more we invest into these technologies, the cheaper they will get. In turn, the more we will be able to offer sustainable wetsuits at an affordable price. The goal is to feature more and more of these techs in our whole range. 
Key Products
The SEAFARER HYBRID 2.2mm protects your body and legs with high quality neoprene while letting your arms completely free. Great for any discipline that requires upper body freedom of movement. The SEAFARER brings us back to the essentials of what makes a good wetsuit : warmth, stretch, durability. It's a no-bullshit wetsuit with Manera's renowned fit and construction.
Make no mistake, the Bikisuit is not a swimsuit! It's frustrating to get cold in the summer, therefore the Bikisuit only uses high-quality 2mm neoprene and blind stitched seams. Paired with the renown MANERA fit, the Bikisuit keeps you warm during chilly summer days.
The Meteor X10D is the ultimate performance wetsuit. In addition to excellent thermal protection, the X10D fleece interior gives flexibility and lightness while providing great confort. It is perfectly adapted to any discipline where you need maximum flex because of its ability to follow the body's movements. If you are looking for lightness and freedom of movement, this is the wetsuit you need.