Roxy Wetsuits S/S 2023 Preview
Retail Buyers Guide: Wetsuits S/S 2023 Retail Buyer's Guide
Brand: ROXY
Interviewee: Hill Valérie, Roxy Global product manager
To cut a long story short: Will the Spring and Summer 2023 wetsuits (3/2mm to spring suits and neoprene jackets) suffer from shortages, as in other segments of the boardsports hardware market?
In 2023 we should not be going through the same shortage as we did in 2022. Capacities in the factories have been increased and we anticipated buys in order not to have the same delays we could have had in 2022.
The surge of smaller brands has been shaking up the market for a handful of years. What would be your analysis of the phenomenon? (Is it for the best or did the biggest players lose their grip?)
To be really honest it doesn't affect our business which has never been as strong as it is at the moment. 
If you were to name the biggest evolutions in recent years within the Spring-Summer wetsuit market, what would they be? (technologies, cuts/fit, buying practices, designs, durability…)
We clearly see a higher trend in fashion products for Spring- summer. The traditional spring suit, above the knee with short arms design is being replaced with the fashionable spring suit with cheeky bottoms and long sleeves, the vintage long jane, the racer back one piece, and the cute little jackets worn with neoprene or basic swim bottoms.
All over prints, bright colours are still really strong for Roxy.
Can you briefly sum up your Spring-Summer ranges are built, so we can understand how they are distributed in terms of performance, construction, and prices?
Our collection is divided into 3 different segments starting with a basic colour blocking price point segment (Prologue), focusing on comfort and quality, then a middle price range with a higher focus on warmth and more sophisticated design, more options of entry system (Swell Series), then we have the top of the range with Elite, strong focus on warmth and stretch properties with a very clean design, our range designed in collaboration with 7  times world champion Stephanie Gilmore.
Which are your key innovations for SS23? (materials, constructions, styles…)
Without any major innovation, we have totally rethought our collections starting FW22 so following SS23. We are using new linings, recycled, warmer, softer and more stretch than ever, especially on the top end of the range but also in the middle part of the range. We have also revisited lots of different details, such as the positioning of the warm panels, the entry systems, the writs finishes…
The collection was redesigned in a more efficient way, with fewer seams, a simple design, with better fabrics following perfectly the women's body. Really big focus on products designed by women for women.
Even if graphics are less prominent nowadays on wetsuits, what is your take on SS23?
Roxy is still standing for bright colours and strong prints, this is what we are known for, wetsuits collections and capsules are following
Sustainability and wetsuits: how do keep up with the environmental efforts while price inflation is stressing out the market?
Sustainability in all products that are touching our playground, ocean and mountains, is really crucial to the brand, so we had to accept a margin hit in order to be able to propose a collection mostly sustainable.
Key Products:
Roxy Rise Short Jane
Fabrics: Eco stretch-flight, light & flexible 
Q-lock stitched seams. 
Temp: 21C-23C / 70F-73F
features: Silicone leg lock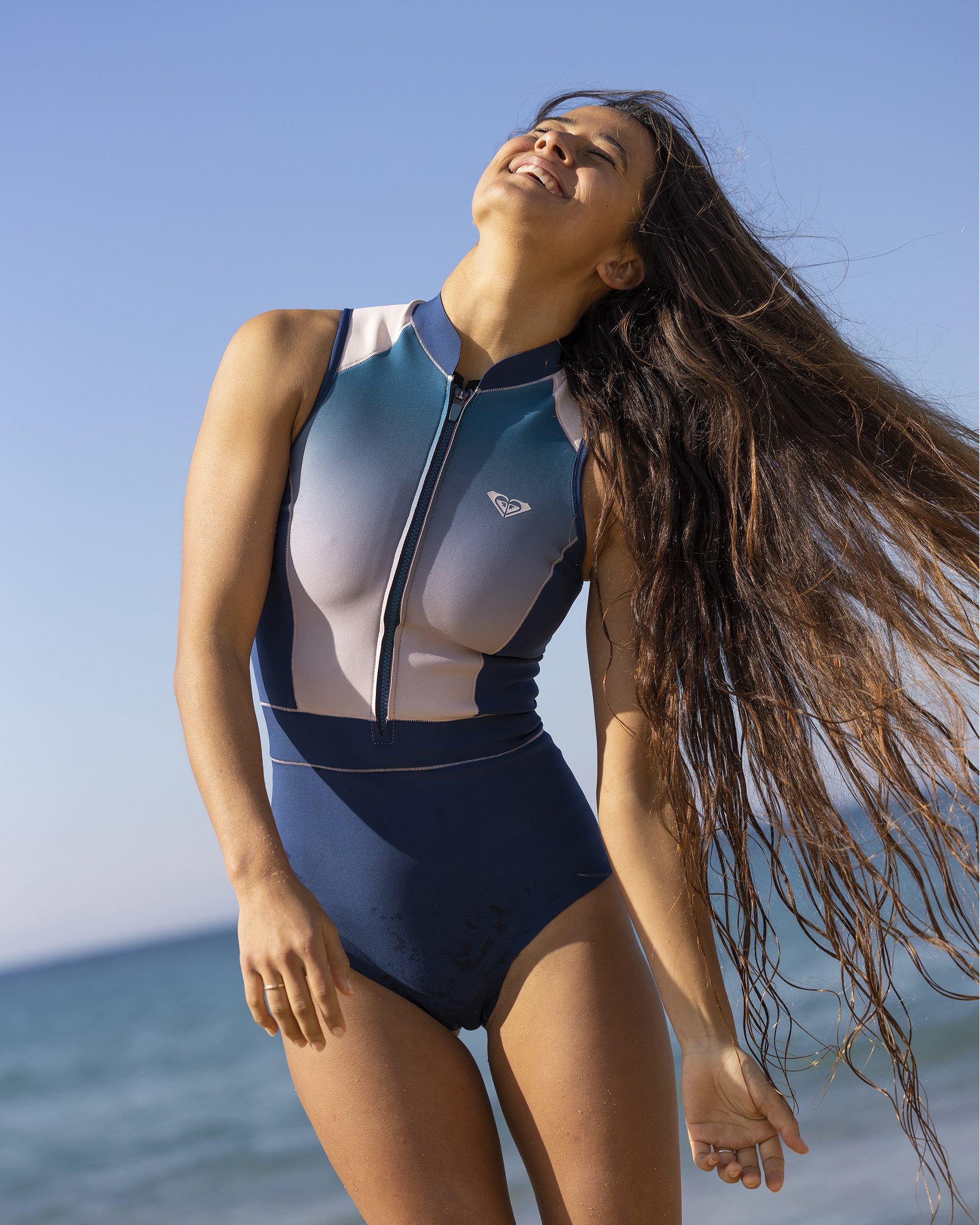 Current of cool Long Sleeve Cheeky
Fabrics: Eco stretch-flight
Seams: Qlock stitched seams
Water based glue used for lamination Recycled polyester and nylon used for linings
Temperature: 21-23°C / 70-73°F
Vertical front zip entry system, with YKKTM #5 semi-autolocking plastic zip
Soft Glideskin neck finish
Silicone finish inside leg in order to keep the product in place.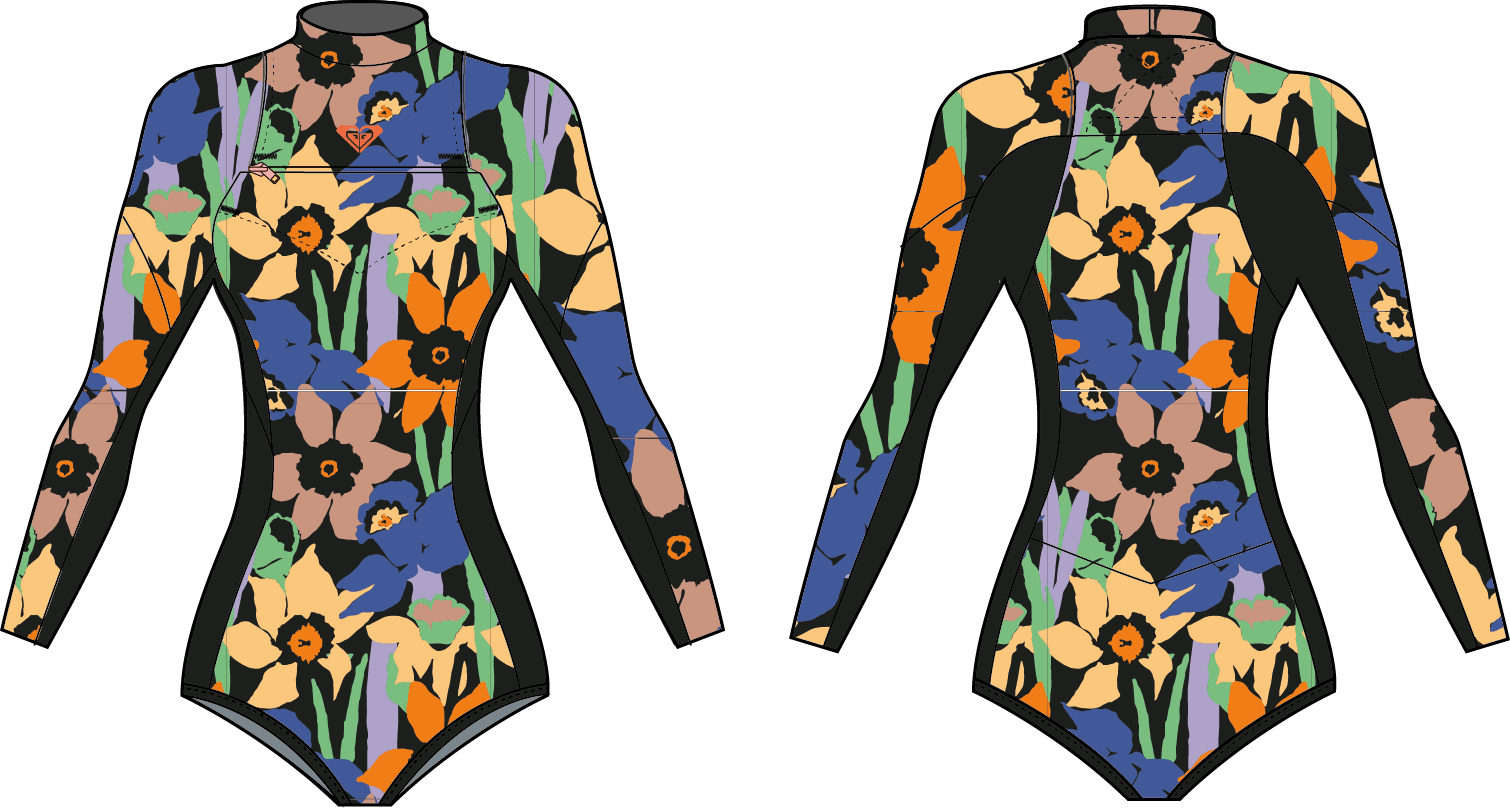 3 current of cool 1,5 mm Long jane.
Fabrics: Eco stretch-flight
Seams: Qlock stitched seams
Water based glue used for lamination
Recycled polyester and nylon used for linings
Temperature 18-21°C / 64-70° F.
Print placement may differ slightly
Supratex knee pads, durable, lightweight & flexible