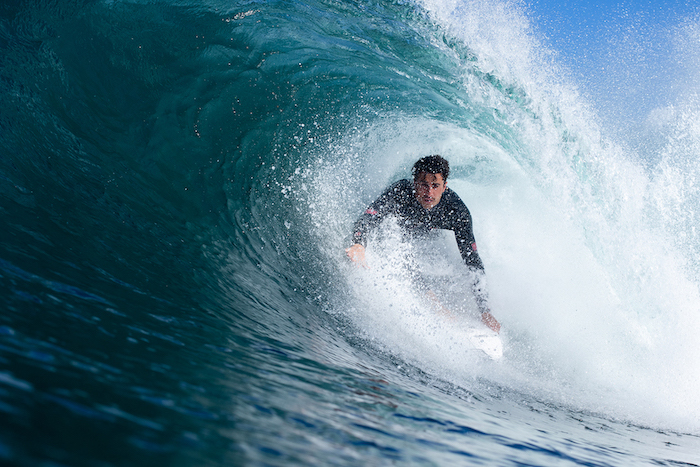 Ion 2023 Wetsuits S/S Preview
Retail Buyers Guide: Wetsuits S/S 2023 Retail Buyer's Guide
Brand: ION
Interviewee: Christian May, Int'l Sales Manager & Michael Schuster, Product Manager Neoprene
To cut a long story short: Will the Spring and Summer 2023 wetsuits (3/2mm to springsuits and neoprene jackets) suffer from shortages, as in other segments of the boardsports hardware market?
CM: I don't think the bottlenecks from last year will persist in the same form from a production point of view. Due to extremely long lead times and detailed planning, the brands will be able to produce enough wetsuits. However, the freight route remains an incalculable factor. Unfortunately, there are always drastic delays that cannot be foreseen.
The surge of smaller brands has been shaking up the market for a handful of years. What would be your analysis of the phenomenon? (Is it for the best or did the biggest players lose their grip?)
CM: Unfortunately, I must disagree here. I have the feeling that more and more smaller brands are giving up. A very high financial risk with very long maturities makes life very difficult for the small brands.
We see the same phenomenon in many countries around the world: small brands cannot deliver and are thrown out of the retail range.
On the other hand, it is often the case that even small brands present themselves extremely well in today's media world and appear much stronger to the outside than sales figures show. Those small brands, who shake up the market, were able to take market share last year when availability was the most difficult due to unseen demand. During these times, the brand that could deliver wetsuits, was the one to access many shops in which other big brands would have been placed usually. This way small brands were able to enter new retailers. Today the challenge is to persist in the shops by ensuring quality and supply.
We experienced the same development. As we were able to deliver quite well during that time, Ion was able to enter many new doors.
If you were to name the biggest evolutions in recent years within the Spring-Summer wetsuit market, what would they be? (technologies, cuts/fit, buying practices, designs, durability…)
MS: We think that stretch and comfort is an ongoing topic that all brands on the market are trying to improve. It just makes sense to give your customer the most comfortable wetsuit that you can make. With our ongoing engagement in R&D, we concentrated our energy towards this common goal and I think we are on to something here 😉
In terms of design it is quite obvious that summer styles are more colorful, and people like to wear during the warmer months some more color. Therefore, we see that most of the brands are offering more and more color options.
Can you briefly sum up how your Spring-Summer ranges are built, so we can understand how they are distributed in terms of performance, constructions, prices?
MS: In general we have 4 wetsuit lines for men and women. In each line you will find a 4/3 or 3/2 for those colder summer days, or a shorty or Overknee for the warmer days. Most of them use our glued blindstitch construction to keep them watertight.
Element is our basic line which is for the one who is looking to get a good quality wetsuit for small budget. Then we have our Core level, which uses already our Plasma Plush inside lining to keep you warm and also comes in a lot of color options. Our Amp level wetsuits have a higher price point than our Core level but they are for sure our most flexible and comfortable wetsuits that we have ever built.
And on top we have the Select wetsuits. With the Select level we created our warmest and most flexible wetsuit with our Graphene inside lining to keep you warm and our Max_Flex outside lining to keep you moving even in cold weather.
Additionally, we have our Amaze Summer Collection for women. In this collection we bring everything that you need in the water during spring or summer. Long Jane´s, Shorty´s, Leggings, Crossback shorties, long arm Shorties and so on. Also, they do come in 2 color options.
Which are your key innovations for SS23? (materials, constructions, styles…)
MS: We introduced Max_Flex to our Select and Amp level wetsuits and also to our Ballistic boot line. Max_Flex is our completely new outside lining material with superior stretch properties. It stretches around 30% more compared to our standard linings. This is not only extremely nice in terms of freedom of movement, it also adapts really well to your body. That means whatever type of body shape you have the material will wrap around your body with ease and you don't feel uncomfortable at all. That is why we also added Max_Flex to our Ballistic Footwear construction.
The instep area of our Ballistic Boots/Socks/Shoes/Toes is now constructed with our super stretchy Max_Flex and feels therefore super snug and super comfortable at the same time.
Even if graphics are less prominent nowadays on wetsuits, what is your take for SS23?
MS: We are confident and stick to our brand image. In 2023 the wetsuits' styles will be available in colorful designs highlighted with graphics. All styles will be available in more subtle colorways too. Every consumer will find a color they like.
Sustainability and wetsuits: how do keep up with the environmental efforts while price inflation is stressing out the market?
MS: We do a lot of different things to be as sustainable as we can without compromising the quality and performance of our products.
We use Oystershellpowder / Limestone Neoprene, recycled yarns for our linings, solvent free glue and much more. A big impact has the packaging of our products.
If you reduce the size of the packaging and replace necessary bags with recycled options you save on raw materials and also on shipping space. That means you need less fossil fuels for boats, less shipping containers and less Boats/trains to do the trips. I think this is a crucial point that needs to be addressed. A boxed and spacious packaging looks nice but is most of the time not very effective during shipping, because of this we got rid of our single boxes and reduced the packaging as much as possible.
Key Products:
Seek AMP FZ 3/2
Amaze Core FZ 3/2
Seek Core Shorty LS 3/2