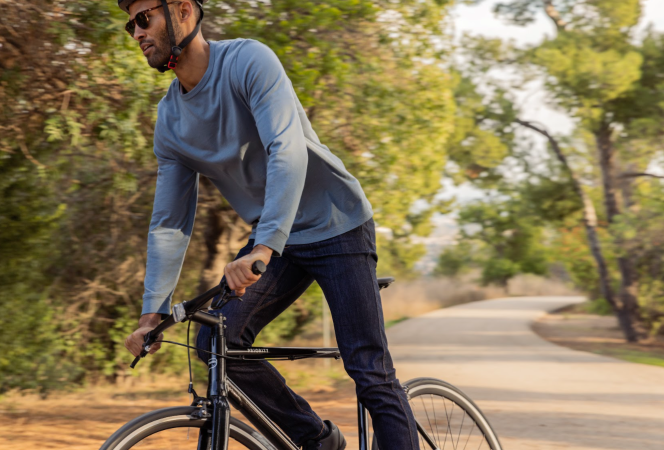 Duerr SS24 Great Outdoors Preview
Retail Buyers Guide: Great Outdoors SS24 Retail Buyer's Guide
Brand: Duer
Interviewee: Pascal Wehr, Director of Sales
What's the status of the Outdoor Market after that long hot summer 2022?
Many of our retail partners reported high inventory levels of stock in general. DUER has been able to maintain growth due to steady demand for our products – a result of an ongoing outdoor and casual clothing boom – and the strength of our supply chain which allows us to have the right goods at the right time.
How did war, economy, global warming, overall inflation affect your SS22 sell in plans (delays/ range cancellations/ carry over/stock)?
DUER saw strong demand in S22 in both pre-book as well as in-season orders. Demand in the North American market, where we have wide distribution in the Outdoor channel, maintained strong until about August, when sales softened. We saw a softer sell in for S23 but still grew double digits over S22.
What are the major trends in the Outdoor Apparel market next Spring/Summer?
Functional fabrics that are light and breathable continue to trend, but we're seeing these paired with more elevated styles. People want to dress up more and look put together, but without giving up comfort and functionality. We're also seeing more Outdoor apparel brands prioritize natural performance fibres as sustainability remains a key factor for consumers and will no doubt continue to trend in that direction.
What are the most important technical features & materials?
As consumer awareness around the environmental impacts of synthetic fibres continues to become more prevalent, as mentioned above, we see a strong trend away from petroleum-based fabrics towards plant-based alternatives. Eucalyptus-based TENCEL Lyocell is a natural fibre we use in many of our collections, and contributes to our fabric's moisture wicking and anti-bacterial properties. As outdoor brands continue to innovate, a challenge is to source natural materials with the same strength and longevity as their synthetic counterparts.
What colours and prints are you featuring in your SS2024 collection?
We maintain a somewhat muted colour palette across all our collections as much as possible to allow for versatility, but each season we do introduce a few new tones and washes. In S24 you'll see warm earth tones, including beige and a rusty red.
What about silhouettes, looks & styles? Which style(s) do you expect to grow the most in SS2024?
As a bottoms focused brand we're seeing the growth of more sophisticated men's styles in modern taper and modern straight silhouettes. Our Flex Pant for example is an evolution of the classic jogger without the gathered, cinched cuff. They look more polished so he can dress them up or down (hence the Flex Pant name), but won't have to compromise on comfort. On the women's side we continue to see the trend of looser fits and high-rise waists. As our customer appreciates a variety of styles, we expect to continue to see these silhouettes gain traction.
What marketing stories and themes are you telling in your Outdoor Apparel line for SS2024?
DUERs appeal to the customer who appreciates the combination of function and style we offer. We want to make getting dressed as simple as possible, offering our customer the ability to embark on an adventure and do everything they want to do in a day without having to change their clothes. A key theme is "taking the scenic route", whether that means deviating from your regular route to work and allowing new experiences to present themselves, rarely does a memorable experience happen on your everyday path, but rather on the detour you make.
Anything to add or shout out?
When we talk about sustainability and the use of natural fibre-rich fabrics, not only are they less impactful on the environment, they are also simply more comfortable to wear. From day one, DUER has chosen plant-based fabrics for their natural breathability, softness and moisture absorption. Currently, across our fabric collection, we rely on 85% plant-based fibres, with synthetic or plastic fibres making up the final 15%. Sourcing a natural alternate that's easier on the environment, with strength to ensure longevity, is the end goal.
Key products for 2024
NuStretch
The NuStretch 5-Pocket Pant is our latest men's style in a brand-new fabric category that blends natural fibres with performance, sophisticated style, and everyday wearability. With stretch fibres and our signature motion gusset working behind the scenes, these pants are a gateway to style, comfort, and functionality.
Performance Denim
The product that started it all. Our bestselling Performance Denim offers the look of classic denim with the integration of stretch, DUER's signature gusset and performance fibres for incredible comfort and ease of movement. Complete with temperature regulating and moisture wicking COOLMAX® fibres and antimicrobial properties to stay fresh feeling, cool and dry.
Adventure Pant
A 2-in-1 hybrid pant and jogger that's packed with features including adjustable snap cuffs, sleek zippered cargo pockets, and a surface application to repel water. With stretch and our signature gusset, the Adventure Pant combines comfort with performance and style.