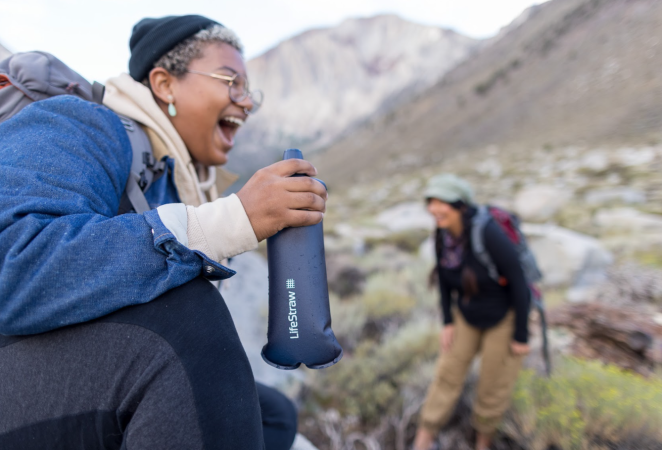 Lifestraw SS24 Great Outdoors Preview
Retail Buyers Guide: Great Outdoors SS24 Retail Buyer's Guide
Brand: Lifestraw
Interviewee: Gil, Director of International Sales
What is the Current Status of the Water Bottle Market after that long hot summer 2022?
a. At LifeStraw we continued to grow each year. The potential of filtered water is still important.
b. For LifeStraw, replacing single use plastic bottles is part of our goal. In 2022, 152 million single use plastic water bottles were offset by the purchase of LifeStraw Home pitchers and LifeStraw bottles in 2022
How did war, economy, global warming, overall inflation affect your SS22 sell in plans (delays/ range cancellations/ carry over/stock)?
a. Seen our growth potential, the impact of those elements were not a major issue for us as a company.
b. Also, helping people in need to provide access to safe water in case of emergency is part of the company mission so we increased our level of support across the globe. See CSR report.
What new trends can customers expect from bottles & flasks?
a. More "accessible" products (easy to use and easy to travel with)
b. Offering the highest level of safety for the consumers making sure that are filtration system is responding the highest standard of quality.
Sustainability is a major reason why customers purchase bottles & flasks, what practices are you bringing in to produce more sustainably?
a. We strive to create products from sustainable materials that offer healthy alternatives to more wasteful options. Our products eliminate the need for single-use plastic water bottles. We also create sustainable packaging that minimizes plastic and maximizes use of recycled materials.
b. LifeStraw is a Climate Neutral certified company. We fully measure and offset all greenhouse gas emissions associated with our operations and products annually. We have also set science-based targets to reduce our emissions across our entire supply chain by 2030. We monitor, measure, and mitigate effluent water in our operations.
c. The responsibility to reduce our environmental footprint and our accountability to be transparent about our greenhouse gas emissions and our efforts to mitigate them. Please find all explanation into our CSR report
What is new in your collection for next season?
a. Peak Series line extension: Peak SOLO and Peak Gravity Purifier
b. new Go Series range.
What new technologies / features are you bringing into your bottles & flasks collection? Which materials are you using?
a. LifeStraw's team of engineers work carefully to create optimal membrane density and design to maximize flow rate. This is why you will find several of our products can operate off of simple suction directly from a mouthpiece without the need to squeeze or apply additional pressure. We also test our flow rate performance with highly turbid water (40-60 NTU) to ensure our filters perform well in silty and sandy conditions. Other membranes fail in these conditions.
b. The only accepted scientific evaluation of microbiological filtration performance is log values (the number of 9s in 99.999999%). PERIOD. All internationally accepted protocols from ANSI, WQA, NSF International, the US EPA, and the World Health Organization evaluate performance through log removal testing. None of these bodies will certify anyone based on pore size; it is ACTUAL PERFORMANCE that matters.
c. LifeStraw exceeds all log standards AND performs both internal and independent laboratory tests which are fully available as evidence dossiers on our website.
d. We are the only brand that publishes all of the test results substantiating our claims, by product. !!
What are the main marketing stories behind your new bottles & flasks for next season?
a. Actually not a marketing story but rather our mission as a company, we will continue our efforts to make a positive impact on people and on the planet
b. For every product sold, LifeStraw provide 1 year access of safe water to a child in need.
How are you segmenting your collection and what are the main price points in your collection?
Outdoor, Travel, Home and Emergency
Key products for 2024
Peak SOLO
Peak Gravity Purifier
Go Series