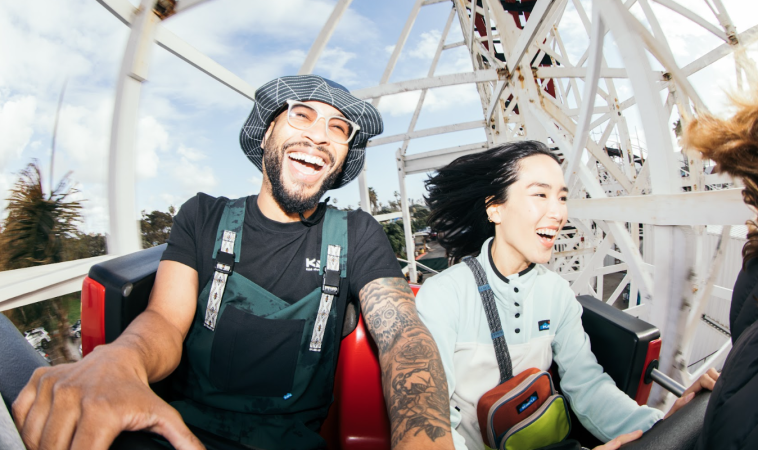 KAVU SS24 Great Outdoors Preview
Retail Buyers Guide: Great Outdoors SS24 Retail Buyer's Guide
Brand: Kavu
Interviewee: Jeremy Goodman, International Sales Director
What the status of the Outdoor Market after that long hot summer 2022?
In summer 2022 the market benefited from pent up demand after a couple crazy years. I think most of us expected to see a slight correction which we're experiencing now. In the long run I think this is healthy for the industry so all can gather realistic trends to better plan our respective businesses.
We're hearing that demand is stronger in soft goods compared to hard goods which benefits us as an apparel brand. The appetite for the public to get outside isn't a trend but a lifestyle shift. This continues to be great news for us.
How did war, economy, global warming, overall inflation affect your SS22 sell in plans (delays/ range cancellations/ carry over/stock)?
There are many external factors that impact business in real ways. It's been difficult for all. As a small family business, we don't chase arbitrary sales targets to please a board of directors. We offered a more consolidated line and encouraged our distribution partners to continue to buy smart and stay quick.
What are the major trends in the Outdoor Apparel market next Spring/Summer?
Conscious spending from consumers. More and more, consumers are interested in story while making buying decisions. We are taking steps to better communicate our brand story, our 30-year history, purpose for being, and philosophy of life.
What are the most important technical features & materials?
We use lots of cottons and blends with stretch. We still lean heavily on our favorit material – cotton canvas. It's the first fabric that we started with in the early 90s. Most of our canvas styles are still made in the same factory in Seattle, but now we proudly use organic cotton canvas. Our kind of outdoors is hanging by a fire and sleeping in the dirt. A single ember will burn a hole in my 300€ down jacket. If an ember lands on my canvas throwshirt, I just brush it off and have another sip of beer. This is what we mean when we say ¨true outdoor wear¨.
What colours and prints are you featuring in your SS2024 collection?
Lots of color block and fun prints featuring everything from mountains, birds, fish, and of course our favorite resident of the US pacific northwest, Sasquatch.
What about silhouettes, looks & styles? Which style(s) do you expect to grow the most in SS2024?
Our t-shirt, shorts, and hat programs have been super strong, and we expect continued growth. Also, our bags and accessories are getting some traction which we're excited about.
What marketing stories and themes are you telling in your Outdoor Apparel line for SS2024?
KAVU is about Good Times and Fun. We thrive on the Busy Livin' lifestyle and everything we do circles back to this philosophy to life. The SS24 line is sprinkled with beach and mountain vibes which call back to our home in the US Pacific Northwest.
Anything to add or shout out?
I'd like to give a big shout out to our customers and team in Europe. It's been a few difficult years and we genuinely appreciate their support and partnership.
We continue to grow because we've connected with like-minded people, all across the globe, that share our vision and zest for life. And we've been super fortunate to have been plugged into this
Key products for 2024
Chilli Lite Short
The Chilli Lite was one of the first clothing styles we made in 1995. After all of the these years it's still a best-selling short, an office favorite, and just as feature-packed as ever. So much so, the silhouette has inspired multiple short styles. Still, this is the granddaddy of them all. We call this OG Outdoor and for good reason.
Throwshirt Flex
Our winter throwshirt is a classic design created in the early 90's. Now we a pleased to offer the same great silhouette in a 12.5oz 12 wale stretch cord. We're excited to offer this classic styling in as a great shoulder season piece for 2024.
San Blas
Designed to be worn for pretty much whatever your heart desires, these relaxed fit overalls do not mess around. Wear them in the garden, at a music festival, or on the trail. The lightweight, quick dry spandex material is meant for adventure. *WARNING* – Prepare to be friendly; you'll get compliments every time you wear these.
Organic Strapcap
The secret to the Strapcap lies in its construction and materials including the beefy organic cotton canvas, the nylon tubular webbing with 4,000lbs breaking point, five 43-stitch bar tacks, and a tough polyurethane bill. I bought mine 12 years ago. The organic cotton canvas patinas beautifully and the four panel crown forms to the head with use. My favorite part? After nearly 30 years the Strapcap is still hand-cut and hand-sewn in Seattle by the same family.