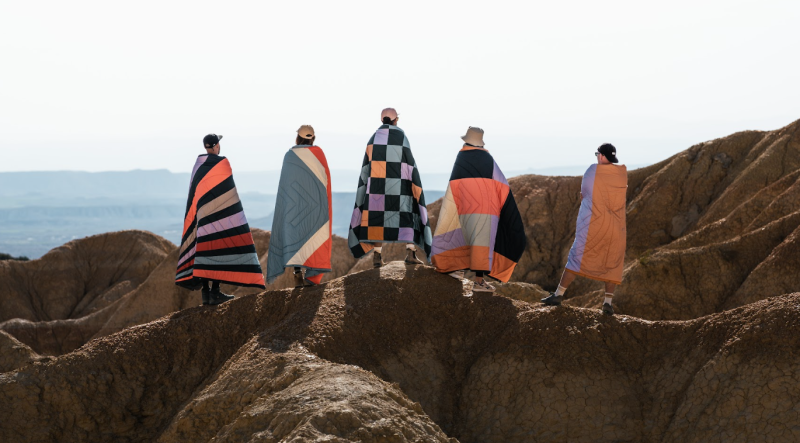 Voited SS24 Great Outdoors Preview
Retail Buyers Guide: Great Outdoors SS24 Retail Buyer's Guide
Brand: Voited
Interviewee: N/A
How did war, economy, global warming, overall inflation affect your SS22 sell in plans (delays/ range cancellations/ carry over/stock)?
We keep a very close eye on sales and re-forecast on a regular basis to react to demand, therefore we have not found ourselves in an overstock situation. Sales have continued to be strong and as awareness of our brand grows so does the love of the brand from the consumer. As we continue to build our brand and grow sales it is important to us and our wholesale partners that we maintain RRP. We are very fortunate that we have a short lead time and close relationship with our factory so we are able to react quickly to increases and decreases in demand. This meant we didn't have any issues this year with deliveries and were also able to react to in season wholesale re-order requests.
What are the major trends in the camping segment in spring/summer 2024?
With travel costs to far destinations continuing to be high, many people are still committed to short-term traveling. Rather than venturing too far from their home base, they make use of the close outdoors and enjoy opportunities in their immediate surroundings. For such travels, smart and versatile outdoor products like the VOITED range remain popular. These products not only help people make the most of their time outdoors but also make their trips more comfortable and enjoyable. As such, products like the VOITED range will continue to play an important role in their equipment choices.
What efforts are you implementing towards sustainability?
We are committed to making a positive difference by sourcing environmentally responsible materials. We believe that it's not just about what we make, but how we make it. That's why we upcycle millions of discarded plastic bottles every year, transforming them into synthetic insulation and polyester to create our best-selling products. We also use all-natural, biodegradable coatings to reduce our impact on the environment. We only work with trusted suppliers who meet our high standards for fair and safe working conditions. At VOITED, we care about the environment and the communities we serve. We periodically support local and grassroots causes that actively protect the environment and promote well-being through outdoor activity.
Which items should every nature lover take with him on the next outdoor-adventure?
For every nature lover, there are a few key items that should be taken on every outdoor adventure. VOITED offers a range of products that cater to the needs of outdoor enthusiasts, providing comfort and warmth during epic adventures. Firstly, the world's most versatile PillowBlanket™ comes in various options such as Ripstop for practicality, Fleece for extra warmth, Cloudtouch® for luxury, and Travel Blankets for personal shelter on-the-go. Secondly, packable, insulated, and quick-drying Changewear is perfect for après surf, camping trips, unpredictable hikes, and extreme sightseeing. It is the lightest, most versatile, and eco-conscious Changewear designed for the user to get active outdoors whilst staying dry and warm in any climate. Thirdly, VOITED Rainwear is a must-pack item for outdoor enthusiasts as it is built to endure the elements and is great for city adventures or time spent outdoors. Fourthly, eco-conscious Footwear, designed to provide warmth for the feet during outdoor expeditions, in a camper van, mountain hut, or at home. Lastly, VOITED Accessories are great to mix and match with VOITED gear to support outdoor adventures and help organize your luggage. They are all created from recycled and ethically sourced raw materials, including upcycled fabrics to reduce waste.
What marketing stories and themes are you telling in your gear line for SS2024? Which item(s) do you expect to grow the most in SS2024?
Our collection is designed to inspire adventure and embrace color. With bright, bold new prints, we're bringing a fresh and exciting twist to outdoor gear. But we're not stopping there; we're also continuing our existing range of products, ensuring that there's something for everyone. To help people truly identify with our products, we feature them in the environments they were meant to be used in, such as on the beach, camping in the mountains, or enjoying watersports. By showcasing our products in these settings, we're making it easy for people to envision themselves using our gear and embracing their adventurous spirit.
Key products for 2024
In development: Extending our blanket line with new design collaborations, expanding our use of sustainably sourced and recycled materials and Changewear line extensions.
The Slumber Jacket
Designed from the ground up to have a coat and a sleeping bag in one, this is the perfect combination of a warm, full body, comfortable sleeping bag that offers maximum mobility. Fully convertible, you can wear it as a puffy coat (it has arms!) around the camp grounds, while using the retractable feet box to convert it to a sleeping bag without leaving the warmth of your coat. Using PrimaLoft RISE, a compression resistant, vegan insulation that maintains your warmth in combination with 50D Ripstop recycled Repreve® polyester outer shell with 13.000mm water repellency and 5000mm breathability coating, a cozy, thermal balance is created between breathability, warmth and protection from the outside elements. Perfect for outdoor travel, camping, music festivals, jumping in after snowboarding, surfing, or any other activities.
Best Sellers
Slumber Jacket: as above
The Classic PillowBlanket™
The world's most versatile blankets. Choose Ripstop for all-round practicality, Fleece for extra warmth outdoors, Cloudtouch® for indoor/outdoor luxury & Travel for your personal shelter on-the-go. Insulated, machine washable and made from 100% recycled plastic bottles, the Classic 4-in-1 PillowBlanket™ is the ultimate blend of technicality and comfort. The 4-in-1 is much more than just a blanket. It transforms into a pillow. It folds into a sleep sack and snaps to become a waterproof cape. All made with 100% recycled 50D Ripstop REPREVE® fabric or with the addition of micro fleece or CloudTouch®, it is eco-conscious as well as durable. The water and stain resistant material makes the Classic Ripstop PillowBlanket™ a perfect companion for van life, hiking, picnics & the beach.