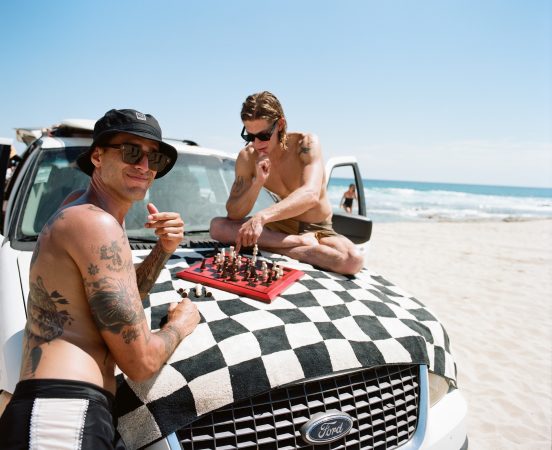 RAEN 2023 Sunglasses Preview
Retail Buyers Guide: Sunglasses 2023 Retail Buyer's Guide
Brand: Raen Sunglasses
Interviewee: Lara-Joy Balzer, Marketing Manager RAEN Europe
What are the current trends in sunglasses for board sports?
There are many different trends going on at the same time. Our classic styles continue to perform strong both in the regular shapes but also in junkier versions and in very thin versions. Female sun and optical continue to go oversized and sculptured. On the sun side there is a trend to more
wrapped frames and our take on that is our style Ynez.
How are you segmenting your sunglasses?
We segment sunglasses by gender, by frame material, by lens category and from a styling perspective we have three segments: classics, contemporary and fashion. For Fall 23 we are adding an active outdoor segment.
Where do you expect your biggest growth in 2023?
We have our roots in acetate and that segment continues to excel in a range that grows in every single segment. The last two years we have been successfully adding female fashion styles and that categories is our fastest growing segment.
What frame shapes and colors are most popular from your offering and why?
The Remmy is our calling card, and they will never let you down. We took a note from what we know works inspired by retro round sunglasses that captured our eye, the Remmy carries the look with a modern flare. Available in two sizes: the original 52 is a touch larger and conquers the perfectly oversized look for women, while the 49 is a slightly refined fit suited best for males. Their ultra-light construction features a slight horned temple and a notched bridge.
In its top-selling color "Honey", a Havana tone, it is our classic sunglass frame.
What lens technologies are you currently working with?
MIRROR
Mirrors are cosmetic effects coming from the deposition of metals on the front of the lens.
Mirrors only have the goal of adding an aesthetic quality to the lens, they do not add any
additional performance benefits.
SOLID TINT
Solid tint lenses provide a uniform look and feel for the user. We offer a wide range of tints
to ensure our customers have no lack of options to choose from. Some of our top sellers
include the bottle green and green polarized lenses.
POLARIZED
When intense sunlight is reflected off a glossy surface (e.g. water, glass, asphalt, snow)
the reflected light is polarized and can cause glare. Polarized lenses absorb the rays that
cause glare, while the remaining light is transmitted.
GRADIENT
We offer a variety of gradient lens tones. Gradients are created by dipping the lenses in a
bath. These lenses offer a look that is undeniably on trend and works in a variety of light
conditions.
Which lens colors and tints are you offering this year?
This year we continue to focus on our classic styles and tints that are usually solid tints. The colors:
green and smoke are commonly found in our bestseller styles and multiple color combinations. In our more fashion-forward style, we use gradient tints to add another element to the frames.
What are the main materials used in your 2023 sunglasses offering?
Our products in the sun and optical collection are made of either Acetate, Titanium, or a combination. This year we are adding a new bio acetate and a recycled acetate to our material variety.
Do you offer prescription glasses?
Besides our Sunglass collection, we offer a range of optical frames. Ranging from the modern classics to our fashion styles, there is a wide selection of models for male and female customers. The frames come with demo lenses. We currently do not offer prescription lenses.
Anything new in terms of sustainability?
We are offering a Bio Acetate collection for the first time this spring/summer season. For our Bio Acetate collection, we use Mazzucchelli's M49 Bio Acetate, which is both biodegradable and compostable. Instead of traditional petroleum-based plasticizers, this bio-based acetate uses natural materials and renewable sources to create a high-quality product that performs as well as any other acetate. Plus, we're incorporating new Zeiss Sustainable Polyamide lenses into the collection, which are made partially of bio-based materials and produce 50% less CO2 emissions in production. The Bio Acetate Collection is the evolution of our brand to become more technical and sustainable, allowing us to produce exceptional eyewear with a smaller carbon footprint. Additionally, we are now updating our black acetate styles and incorporating recycled
acetate for the first time. As the name says, Recycled Black is a new acetate made from 100% recycled materials, utilizing leftover materials from our acetate producers to create a rich black acetate. With this initiative, we'll begin to transition all our black SKUs to Recycled Black, furthering our mission to create premium frames with a lighter footprint.
How are you helping retailers sell this category?
Our sales representatives receive training regarding our new materials, which they can directly pass on to retailers. We also offer information in our spring-summer collection catalog where the highlights of the bio acetate and the recycled black color are featured and we are producing a combined POP counter card / bullet point selling tool for staff.
What's your situation regarding stock and deliveries?
We usually ship within 24 hours and our fulfillment levels are very high. Even during the Covid period we had no big logistics and stock issues and for us everything is normal or back to normal.
Best Sellers
Remmy:
The Remmy is our calling card. We took a note from what we know works inspired byretro round sunglasses that captured our eye, the Remmy adds a modern flare. Available in two sizes: the original 52 is larger and conquers the perfectly oversized look for women, while the 49 is a slightly refined fit suited best for males.
Nikol:
Nikol takes our upswept Modern Classics to another level with a thicker, more
sculptural design, creating an elegant look that's remarkably comfortable. The
large, square temples compliment the elegant curves, and robust triple-dot hardware adds just the right amount of sophistication.With new colors like Ginger and Papaya, Nikol is the perfect mix of fashion and
play.
Rune:
Rune redefines our best-selling Modern Classic frames, enhancing a familiar
silhouette with distinctive angles and unique sculptural touches around the keyhole bridge and temples. The hard angles perfectly juxtapose the curved lenses, and new colors like Cove add depth and versatility. Rune is a guaranteed hit for any man or woman.