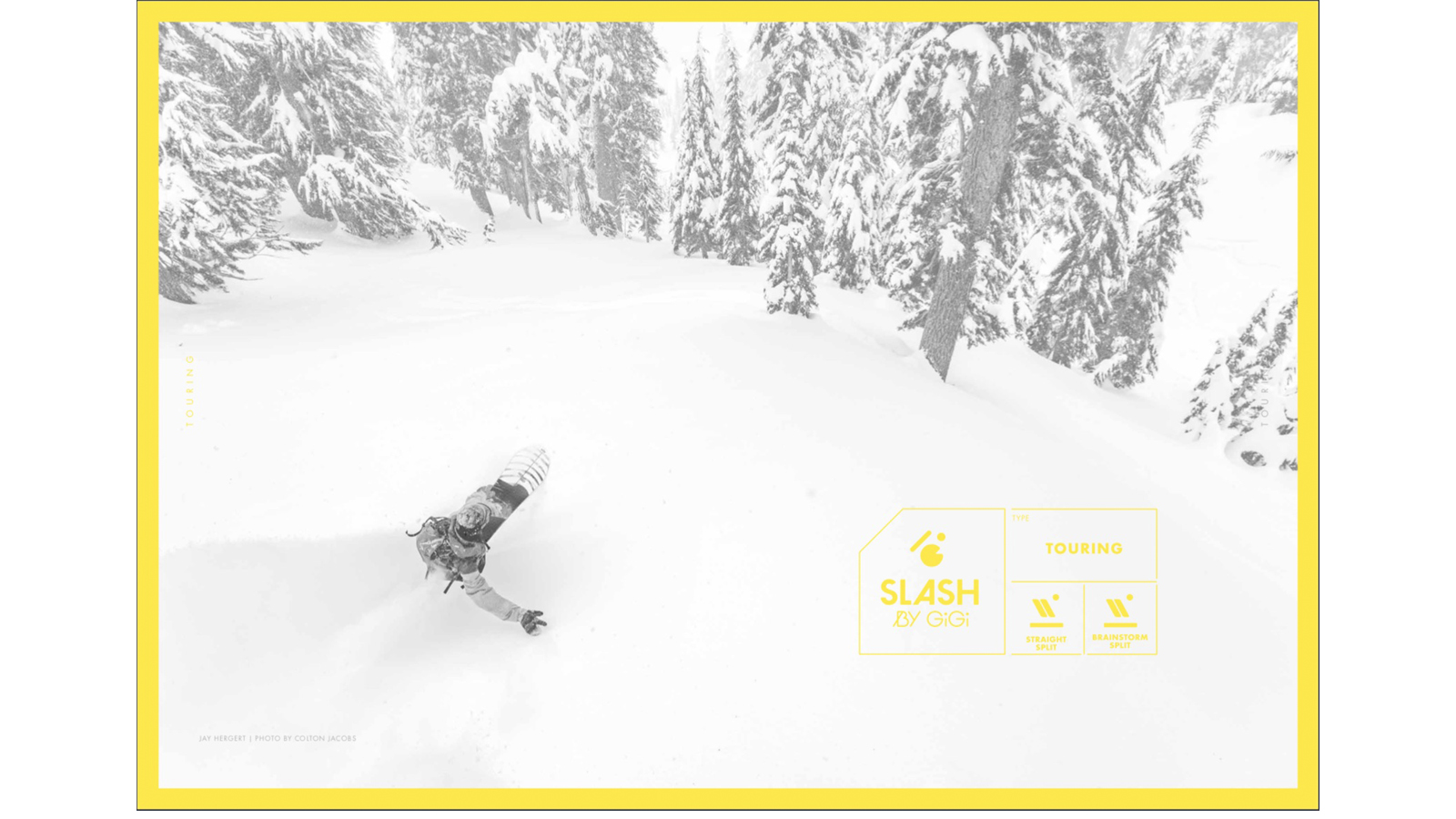 Slash FW20/21 Splitboard Hardgoods Preview
Retail Buyers Guide: Splitboard Hardgoods FW20/21
Brand: Slash By GiGi
Interviewee: Gigi Ruf, Owner & Founder
Please outline up to three new key products of interest to splitboarders in your line, and tell us what makes them so great.
The Straight Touring Board is the component addition to my household Freeride model. I carried over the characteristics of this Model such as the Ultimate traction in the deep of the sidecut for added bite on the skin tracks. For the same reason I used a subtle 2mm S-line down the middle split of the board. The only significant difference is that I used less taper here and slightly wider specs to give solid edge pressure in climb mode and extra float in untracked terrain.
Construction. This is the place where you can talk to us about what's going on under the hood in your gear, and how you are building it.
My Split Board has its own dedicated molds with a finely tuned wood core of alternating beech hardwood and paulownia inserts. Tip-to-tail in each of the skis there's Carbon and Kevlar reinforcement for power and stability.

Onto functionality now; how do you make your stuff work better during skinning, during transitions and riding?
I've less taper than on the Freeride Board model this split option is coupled to, that plus the 4cm setback puts the rider in the back for increased speed, float and landings in pow while maintaining the best balance when skinning. For next season I also got to upgrade to Union Binding hardware with inserts instead of bolts which make it a clean and easy to handle system that works.
Which price point is seeing the most action at retail? Are splitboarders prepared to spend money on gear, or is this a discount/budget marketplace?
My last year's twin shaped Brainstorm Linehiker came in from the bottom. Now I am making the next step with this newly manufactured Straight directional Touring Board that's definitely special. I believe in the market as being quite conservative with experts still able to push this marketplace to new heights. Not only from an innovative stand point it's interesting to provide better solutions – it's not just a trend more like an option.
What unique or new features will splitboarders dig about your gear next year?
It works for any rider but my investment and aim is going towards the female, who could ride this board all winter and have the most versatile approach to take on what the day brings – be it in the resort or when needing a time out from the crowds.
How are graphics evolving in your splitboard-focused lineup? Any particular trends happening here?
The graphic needed to show the connection to the Straight model underlining my commitment to providing an option for human-powered adventures.
What's the ideal-world distribution channel for your gear as splitboarding evolves? B2C, speciality retail or wider? Do people still need advice on this stuff?
Certainly people need advice because all the components are making this special like immersing in a new hobby. There is so much that is interesting for us board builders to tinker with still. Specialty retail also provides the best way to make users aware of the dangers and exchange local knowledge for your touring destination.
In terms of size, which are your top three European markets for splitboard equipment?
It would be Italy, Austria, Sweden and surprisingly also Netherlands.