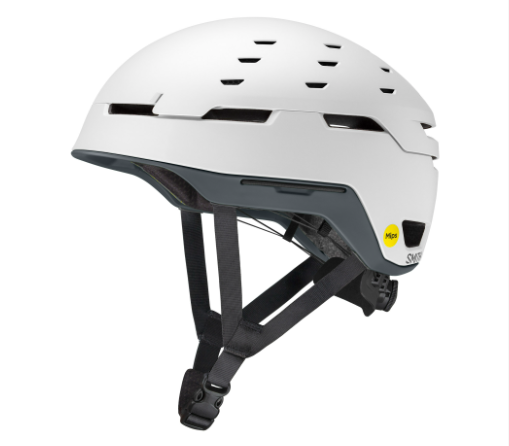 Smith 2023/24 Snow Helmets Preview
Retail Buyers Guide: Snow Helmets 2023/24 Retail Buyer's Guide
Brand: Smith
Interviewee: Tucker Barney, Global Snow Category Manager
What are the key trends in the snowboarding helmet market?
The out-of-bounds trend continues – with many riders looking to get outside the ropes for splitboarding, or bootpacking. This leaves riders looking for lightweight, ventilated, and easy to pack helmets that can take a beating and perform in multiple environments.
Are your products targeted to specific customers / rider types?
At Smith, we're proud to offer helmets across our collections that appeal to all
types of customers and riders of any skill level. While we pay close attention to the products, trends & topics that drive different consumer types – we also make sure to understand how these consumers work together and influence one another. We build our collections to ensure we have something for everyone, and that our technology and integration stories are consistent throughout our entire line as consumers evolve and try new products from Smith.
What were your biggest sellers in 2022/23 and why?
Our best seller's were Smith's premium hybrid shell helmet offerings in the Van-tage and Level models. By combining a durable ABS top shell with a lightweight PC bottom shell – these helmets offer a lightweight, ventilated protection option with an exceptional fit. Each model is also offered with zonal Koroyd® protec-tion to ensure maximum protection in key impact zones without sacrificing weight.
How are you segmenting your 2023/24 snow helmets and where do you expect the biggest growth?
At Smith, our helmets are segmented by use-case and discipline, along with style preference. We offer a full assortment of race helmets for adults and juniors who aim to compete, pinnacle products for in-resort and the backcountry like the Nexus and Summit helmets, and feature-rich, budget-friendly helmets with offerings that appeal to alpine-focused or lifestyle-oriented styles for weekend warriors and new adopters who value protection and design, and trust the heritage and innovations that Smith has offered for almost 60 years.
Do you have any innovations in terms of design or materials for 2023/24?
Our new helmet introduction, the Method MIPS, offers an updated lifestyle fit system from Smith. Taking inspiration from our longtime, existing lifestyle fit system – the updated version delivers on the same great fit with improved beanie compatibility.
What colours and designs are you featuring in your 2023/24 collection? Any standout collaborations?
Smith x Oyuki Collab – centers around the idea that our products combine Oyuki's Japanese big snow story with Smith's world leading technology. We'll bring this idea to life by showcasing what Japanese big snow culture is all about and put our products to the test while on the search for big snow in Ja-pan. Big snow culture is more than just pow days in the mountains. It's about the quest for ultimate deep powder experience. The travel to far away and re-mote destinations to meet and ride with locals, explore the culture, experience the landscapes and of course search the mountains for pow to smash. The new Method helmet will be the featured product within the collab.
Smith x The North Face Collaboration across the co-branded Code helmet. Aligning with TNF's key initiatives and gender-free snow kit, this collection was designed to reach younger snowboard consumers at a conscious price point. The goal of this campaign is accessibility and inclusion, so we will tie into the hero athletes' initiatives to bring more women and more youth to the sport.
Are you implementing sustainability in your products and production processes?
Smith is pleased to announce the discontinuation of plastic waste across new packaging of wintersports products beginning rollout in Fall 2022. This includes the removal of polybags and internal plastic protectors across the new packaging. In addition, all new retail boxes are now produced from post-consumer recycled cardboard that are designed to easily fold flat for compact storage for reuse and/or disposal. The move signifies an incredible reduction in waste including 1.2 million polybags eliminated annually from helmet production. Smith is also removing foam blocks and pads from its helmet boxes – used to protect the product during transportation – and re-engineered the box with an insert that adjusts at the corners to help cradle the helmet. The new box is robustly designed to be shipped as is, reducing the need for a secondary shipping container.
Are you offering any accessories to your helmets?
SMITH snow helmets are designed for integration and compatibilty with the
Smith x Aleck audio systems (available in wireless and wired versions).
All of our racing helmets have an optional slalom chinguard, sold separately.
What are your marketing stories for 2023/24?
Collab opportunities with Oyuki and The North Face as described above.
Campaign collaboration with the High Fives Foundation spreading the mes-sage "Helmets are Cool" to continue to advocate for helmet use among snow-sports enthusiasts. A co-branded Altrus helmet will be featured in the campaign, and supported by key athletes promoting the messaging.
How are you supporting retailers to sell this category?
Staff training and retail support is incredibly important to SMITH. We rely on shop employees to effectively communicate our design features and technology benefits to customers, and utilize several programs – including ENDVR – to provide training tools and incentives for promoting SMITH within their locations. In addition, we've added signigicant resources to our trade marketing division to support retail displays, graphics, and point of purchase opporunties to continue driving the SMITH message in store.
Is your production impacted by raw material scarcity or cost increase? If so, what solutions have you put in place?
Via great work with our world class partners and development teams – we've been able to minimize material scarcity via good communication and planning. When cost increases do arise – our team works diligently to find a solution that minimizes the impact while still offering affordable products to our customers.
Best Sellers
New: Method Helmet
Minimalist design in a lifestyle-forward style, featuring hidden technologies including MIPs and Koroyd for use all over the mountain, from park laps to big lines, freeride or freestyle.
Hero Product: Nexus Helmet
Smith's pinnacle helmet offering performance and protection with complete Koroyd coverage and best in class helmet technologies including MIPS® Brain Protection System, BOA® 360 Fit System, sweat-wicking Ionic+™ antimicrobial liner, and quick release Fidlock® strap buckle.
Hero Product: Summit MIPS Helmet
A triple certified, lightweight backcountry helmet. Designed in conjunction with Smith athletes, this maxed out minimalist helmet will keep you protected on-piste or off.