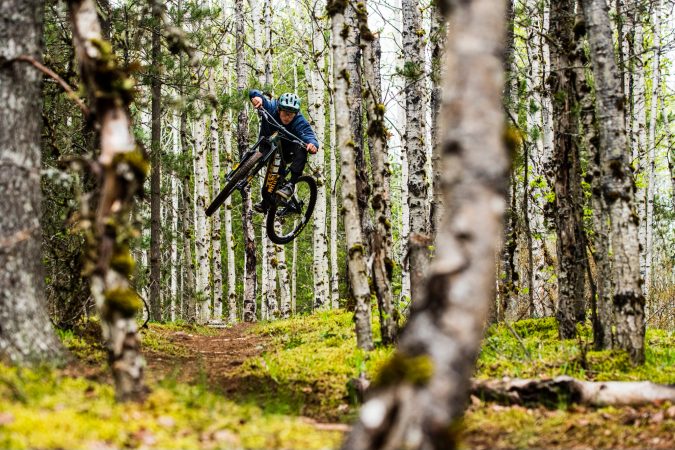 Spektrum 2023 Sunglasses Brand Preview
Retail Buyers Guide: Sunglasses 2023 Retail Buyer's Guide
Brand: Spektrum
Interviewee: Robert Olsson, co-founder
What are the current trends in sunglasses for board sports?
There are, as always, multiple trends going but I think some of the strongest in our sector are still performance and sustainability which both are things we naturally include in all our products.

How are you segmenting your sunglasses?
The collection really only has one segment, all styles are based on performance and sustainability and the prices range from €100 to €230. The one concept that stands out a bit is RAW, 90% biobased products where we use a totally new biobased lens from Carl Zeiss and include an exclusive soft case made in Sweden from recycled wool as well as a spare low-light lens.
Where do you expect your biggest growth in 2023?
I think our biggest growth is looking to happen in the sunglasses segment, the products are quickly picking up momentum due to the original design and leading sustainability story. We have a lot of room to grow on all markets and expect the biggest volume to come from the Nordics and the biggest growth from Italy, Benelux, Switzerland, Spain and Germany/Austria as well as the US where we are entering with a new strong partner.
What frame shapes and colours are most popular from your offering and why?
We have a wide range of different frames and I would say our more performance oriented shield styles are a bit more popular than the more classic or liefestyle frames. We do introduce two new frames for SS23, Enan and Fröå.
Enan gives you classic style fused with high-end performance and is a true all-rounder for your everyday mission.
Fröå is designed for a smaller face but with all the demands for the highest performance and functionality. A versatile companion for any activity on the mountain and beyond. As for colours we are building a strong foundation with the black, green and grey where we find the volume. The seasonal spice comes from a cool grey tortoise pattern, a dusty pink and cobalt blue.
What lens technologies are you currently working with?
We are working mainly with Carl Zeiss optics and use their Impacto lenses that endures a lot more abuse than regular polycarbonate. Of course, we also implement Zeiss's state of the art oil and water repellency treatments to ensure lenses are always kept clean and distortion free. The big news this season is that we are introducing a new Zeiss technology called LightPro. LightPro is an exceptional new lens technology that reduces glare while letting through the positive carrier portion of light, offering up to 80% more contrast and high-definition vision in all surroundings. LightPro combines the best of two worlds: the clarity of a polarized lens and the natural perception of standard lenses. LightPro lenses also reduce environment-specific predominant light colors, providing more balanced color perception with the ability to see shades and contrast that would otherwise be indistinguishable. In our RAW concept we use a new high-performance bio-based lens from Zeiss to further reduce our environmental impact. We are super excited about this project and are proud to have reached 90% bio-materials in the RAW concept.
Which lens colours and tints are you offering this year?
For the tints we base our selection solely on performance and the end use, like a purple or brown tint for enhanced contrast in wooded and mountainous environments, clear tints for nighttime use or the new LightPro from Zeiss where glare reduction is needed. The all-time best seller though, is the neutral grey tint that filters all colors equally and give great comfort in slightly stronger light conditions. We also use Infrared and Gold multi-layer mirror coatings to reflect undesired wavelengths of light a bit more as well as a stunning look.
What are the main materials used in your 2023 sunglasses offering?
As always, we only use bio-based materials derived from sustainably grown castor beans for the frames throughout our range. We have been doing this from day one and besides the pleasant effect on the environment compared to fossil plastic our bio-material also out-performs conventional materials in durability, flex and weight.
Do you offer prescription glasses?
Yes, we are launching prescription glasses for SS23 and we are doing it with a premium partner here in Sweden. This will be offered primarily through opticians and our own website.
Anything new in terms of sustainability ?
We are continuing to lead sustainability with a 100% sustainable range and a bio-content ranging from 64 to 90%.
How are you helping retailers sell this category?
We work with PR agencies in the markets where we do direct sales or through agents. Also, we are doing a local support program where we promote our local retailers via social media in their geographical area, we also do online ads and a bit of print. Retail is extremely important to us and we do what we can to help with brand awareness and sell through.
What's your situation regarding stock and deliveries?
We are not having any issues and expect to have 100% on-time deliveries as well as healthy stock-levels for re-orders and in-season sales.
Best Sellers
Lom.
Lom is designed for uncompromising performance during endurance activities when additional protection is needed. The shape gives great coverage and shelter from wind, dust, or other objects. Complete UV protection goes without saying. Built in our lightweight bio-based materials of the highest quality Lom is durable and extremely comfortable to wear for long hours of splitboarding or on the bike. The removeable foam protector at the top of the frame adds comfort and helps with perspiration management during high-output activity or use in warm climates.
Blank RAW.
We dare say that the RAW Series is the most environmentally conscious performance eyewear ever made – without sacrificing performance or functionality! For the RAW Performance Eyewear Series we introduce a brand-new lens from renowned Carl Zeiss Optics that is constructed from bio-based nylon with significantly lower impact on the planet compared to conventional lenses. The dyestuff and paint are also completely left out of the frame to avoid any non-essential chemicals in the product as painting and dyeing is a significant part of a product's eco footprint. The castor-bean based frame material out-performs conventional materials with its light weight and outstanding durability and a clear spare lens for low-light missions is included for a complete package. As is a soft case, made in collaboration with Woolpower and made in recycled wool that will keep your shades comfy in transit to have them last as long as possible.
Kall.
Kall is built for slightly wider faces and gives a fantastic level of protection and performance with a lifestyle look. Fit and comfort is beyond anything we have ever before experienced in a pair of shades.