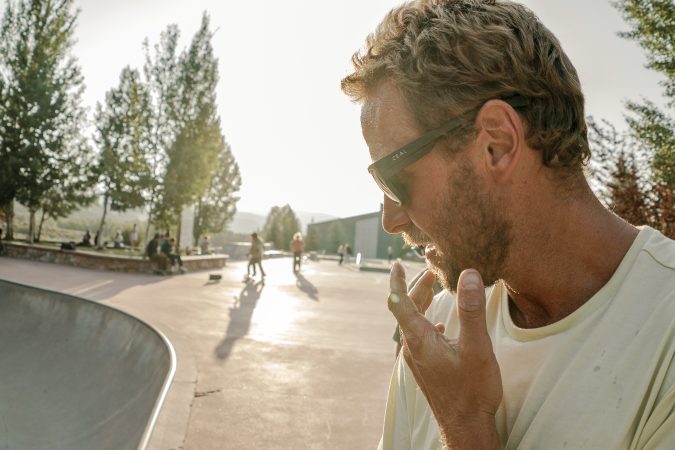 Zeal 2023 Sunglasses Brand Preview
Retail Buyers Guide: Sunglasses 2023 Retail Buyer's Guide
Brand: Zeal Optics
Interviewee: Mike Lewis, Director of Marketing
What are the current trends in sunglasses for board sports?
The biggest focus is on offering a quiver -iller approach to our sunglasses. Our goal is to create timeless designs with performance attributes, so you don't need different shades for different sports and activities and you always look good!
Here's what else is new!
Sustainability
Reducing the footprint of our product and processes is at the core of everything we do and we've got some exciting new styles and material stories for the new year.
We've launched three new styles in our Metals Collection that offer a unique take on classic aviator styling with great performance and eco stories.
The Metals Collection from Zeal Optics marks a new take on classic aviator styling. Zeal's Metals are a confluence of strength, style and sustainability with unique design elements that stand out from the pack, while minimizing their impact on the environment. Forged from recyclable stainless steel, plant-based Ellume Polarized lenses, Hexetate and ceramic nose pads, details are everything in the Metals Collection.
We're also launching two new See Grass frames, the Hondo and Cumulus
Zeal Optics See Grass frames combine 70% recycled plastics and 30% grass fibers in a closed-loop system to create our most sustainable sunglasses yet. This fibrous base is combined with recycled plastics to reuse waste material and keep it out of landfills. See Grass allows us to create beautiful, durable sunglass frames, each of which is unique, while finding alternative uses for what was previously considered trash and byproducts.
Offering a collection that is 100% polarized continues to be a key driver of sales as well. Not all polarized lenses are created equal. Our lenses use premium Japanese polarized film that is aligned within 1 degree of perfect alignment and a 99.5% polarized efficiency to eliminate glare. Seeing really is believing – with cheap polarized lenses, you actually can harm your eyes since your pupils are dilated by the lenses' tint, while glare and UV light still comes in.
We're also launching our first acetate line using, Hexetate, an eco-acetate that's currently featured in our Metals collection
How are you segmenting your sunglasses?
We segment our pricing by frame and lens technology. The majority of our line is RRP €139, Metals are €176, See Grass is €157 and our Auto Sun line are €214.
Where do you expect your biggest growth in 2023?
Europe is going to be a huge focus for us this year with our recent acquisition by Kering Eyewear.
We're already seeing solid growth from core retailers in the UK, Sweden and Norway, Germany, Poland, Hungary, Slovenia, France and now Spain and Portugal, where we just launched. Our plant-based story has really been resonating and we have a ton of new styles coming out this spring and summer!
What frame shapes and colours are most popular from your offering and why?
Our focus is on quiver-killing styles – think classic shapes like aviators, wayfarer-esque and round frames and lenses, but add in our performance attributes such as Z-Lite ultralight frames and ProFlex rubber to keep your sunglasses in place no matter what you're doing. This approach allows customers to have one pair of shades for all their passions and pursuits without having to buy multiple frames for different sports and activities. Look good, feel good, play hard!
What lens technologies are you currently working with?
Ellume Polarized is the staple of the Zeal line. While other lenses are made from petroleum-based materials, Ellume Polarized lenses and Z-Resin frames use a unique plant-based polymer as their bonding agent. This material, made from the castor plant, delivers incredibly light, durable frames and high-purity lenses for cleaner, crisper vision, with a smaller environmental footprint.
AUTO SUN From Dawn 'Til Dusk Your partner for all-day adventures in changing light conditions. Auto Sun lenses combine photochromic technology and polarized protection into a single lens for an unsurpassed visual experience no matter where the sun leads you.
Which lens colours and tints are you offering this year?
We've kept our lens colours tight and are seeing equal distribution across our Dark Grey, Copper and Horizon Blue Mirror Ellume Polarized lenses.
What are the main materials used in your 2023 sunglasses offering?
Our raw materials are a serious rabbit hole of technology with performance and sustainability at their core. Here are some highlights!
METALS Strength. Style. Sustainability. Zeal's Metals are a confluence of strength, style and sustainability with unique design elements that stand out from the pack, while minimizing their impact on the environment. Forged from recyclable stainless steel, plant-based Ellume Polarized lenses, Hexetate and ceramic nose pads. BECAUSE DETAIL IS EVERYTHING.
SEE GRASS Reuse. Regrow. Reimagine. See Grass combines recycled plastic and grass fibers in a closed-loop system powered by renewable energy to create unique, durable frames with our lowest environmental impact to date. Recycled Plastic + Grass Fiber + Bio Gas = SUNGLASSES REIMAGINED.
Z-RESIN Plant-Based Performance Crafted from the versatile castor bean's oil, this plant-based material provides an incredibly durable and lightweight plastic alternative without the footprint of petroleum. The use of Z-Resin significantly reduces the amount of C02 produced during manufacturing and is the staple of the Zeal Sunglass line.
Do you offer prescription glasses?
We do! The biggest news on that front is our new sport-specific, proprietary Adventure Ready 2.GO backside digitally compensated lens. This lens was created specifically for Zeal to allow edge-to-edge clarity in larger wrap styles for fast-moving sports, as well as having a progressive option that's designed for viewing digital devices.
We also opened a zero-waste, closed-loop digital lab in Braunschweig, Germany last year with Maui Jim. We produce all prescription orders at the lab we share there with Maui Jim. Our 25,000-square foot state-of-the-art Digital Rx lab receives high praises from around the globe for unmatched turn times, the highest quality, and dedicated hands-on customer care.
As part of our commitment to sustainability, we produce all prescription lenses in our zero-waste lab. We recycle all fluids used in the process. Excess lens material and warrantied lenses and frames are recycled domestically and turned into raw materials, nearly 200,000 pounds per year, for upcycling into new products.
Anything new in terms of sustainability ?
Our new eco-acetate line, featuring Hexetate, is the most exciting new develpment in our line, all of which uses plant-based and renewable materials from frame to lens.
How are you helping retailers sell this category?
We're focused on a very robust custom-POP program, both for in-store and on our partners' ecommerce sites. Our goal is to make Zeal Optics look like the best option to conscientious consumer and action sports-enthusiasts alike based on our materials, technology and quality. All of these sales tools are free for our retailers and we work to customize them to tell the story in unique ways and capture interest at the point of purchase.

What's your situation regarding stock and deliveries?
We're super clean and healthy thanks to our relationship with Maui Jim and Kering and have experienced no delays for sunglasses or goggles over the last year.
Best Sellers