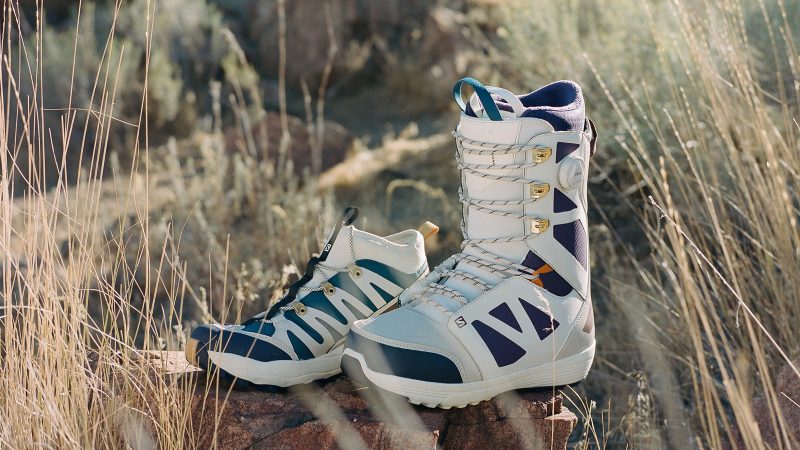 SALOMON 21/22 Snowboard Boots Preview
Retail Buyers Guide: Snowboard Boots 21/22 Retail Buyer's Guide
Brand: Salomon
Interviewee: Baptiste Chaussignand, Product Marketing Manager
Please provide an overview of how 2021/22 is shaping up for your brand. Has COVID-19 affected your line? If so, please explain the changes you've made, and how you came to these decisions.
The pandemic situation mixed with difficult snow conditions in some areas pushed us to review some of our projects.
But all the development and design teams have been heavily working on refreshing the board, boot, binding graphics and colors. We really wanted to offer and bring to the market a fresh and positive snowboard line. Positivity was the main focus here.
At Salomon we have the chance to have all the product creation expertise internally. This was a great asset to finalize the work that have been engaged before the crisis.
And we are bringing some heavy changes on the boot line and especially on the entry price point zone.
How much of your new line (pre-COVID) is normally dedicated to new models and artwork, and how has this changed, percentage-wise, for 21/22?
As the pandemic crisis came out quite late in the product creation process, 90% of the boot line is refreshed. It did not really change our boot program for FW21/22.
We are bringing some fresh new colorways, new entry price point boots and not only !
Even if the carry over seems a really good commercial option, a way to clarify ranges for our consumers, and a real sustainable solution which help to create a more virtuous eco-system for all actors, making our consumers excited about winter and new gear was the reason why we worked hard to deliver this refreshed line.
Carry over program will be mostly focused on FW22/23. The challenges are ahead of us…
If you will be carrying over a larger proportion of your products than normal, how do you hope this will be received by retailers?
We decided to not offer many carry over from FW20 to FW21 because when the pandemic came out, most of the snowboard products were already discounted.
So our vision is to look forward, and think about the next 2 selling seasons. The goal is to offer more carry overs in order to reduce risk for the retailers and e-tailers.
If you're pressing ahead with new items, what are the top three most important products of next year's line, and why? Please refer specifically to new products here, and not just new marketing stories.
All our entry price point offer is new for FW21/22. Meaning boot for beginners and intermediate riders looking for great performing boots without breaking the bank.
Here the focus is to improve the instant fit and comfort. To reach our consumers expectations we simply applied the Fit To Ride recipe. We have developed a full line with different price options, lacing options. Below we picked to of the most representative items :
The Faction BOA® is probably the best ratio, comfort / lightness / performance / price you can find. The Faction BOA® is using H4 coiler wheel, is retailing at 229€ and brings everyday comfort and durability to those looking for progression.
The Scarlet BOA® emphasizes comfort and convenience in a softer profile, allowing progression and performance for those seeking a forgiving boot. Built with Fit To Ride design on a sneaker inspired D-Light outsole, the Scarlet BOA® is retailing at 199€ and provides comfort and durability in a lightweight boot with board feel and dampening that your feet will appreciate.
The Dialogue, our iconic freestyle high tech medium flexing freestyle boot got a style layer with a new lacing option : traditional lace and BOA® STR8JKT.
The Dialogue Lace STR8JKT BOA® provides a progressive flex designed for freestyle performance. BOA® activated STR8JKT harness eliminates heel lift and adds support
This new Dialogue is the boot of choice of LOUIF PARADIS who is back on Salomon Snowboards boot teams. Seems like his feet are really happy !
Will you be using any previously unseen materials (in build, cushioning, support or grip) or construction methods?
Except the entire entry price point range which is now built with Fit To Ride technology, we are not introducing new materials.
Also we have been working for several years to make durable and sustainable boots. All our boots are PFC free and PVC free. And in the future Salomon Snowboard boots will set new industry standard in making durable and sustainable boots.
Finally, we are have been also working on eliminating all single use plastic from our boot packaging.
What lacing systems are your main focus in 21/22, and why? Is shifting customer preference influencing what you offer, or are things pretty stable now?
Salomon Snowboards unique lacing technology are still sought after by many consumers. I think about Power Lock which equips the most famous freeride boot the Malamute for example.
We observe that BOA® lacing options have more and more traction in all our major markets. We have been building a strong partnership with BOA® over the past years our range is now pretty stable in terms of lacing options.
Please tell us about the dominant visual themes in next year's boot line (materials as well as colours), including any interesting artist collabs you have lined up.
Black boot, outdoor inspired colors, simple and authentic designs are what our consumers are looking for.
But some of them are looking for bit more crazy stuff. If you want to know a bit more, read the answer n°8 😉
Which part of your range are you investing in the most? Freestyle, freeride, do-it-all, beginner…? Why?
This year it is clearly the do it all and beginners, not to say snowboard progression.
We believe that we have the mission to make our entry price point product better in order to offer a better experience for riders looking for progressing on a snowboard.
Renewing our Rental offer with Fit To Ride construction is also aligned with this. The UNITE rental program is all about delivering the best snowboard experience in order to keep beginners snowboarding and progressing !
Which other footwear sectors do you follow which influence the line?
We, as a global outdoor brand, are naturally influenced by the outdoor world. Salomon have been creating iconic hiking and trail running shoes for last few decades.
But lately, we developed our Sportstyle program which offer high fashion shoes and sneakers inspired by iconic models.
In FW21/22 we will be revealing a really collaboration mixing both world : fashion outdoor and snowboarding. The Launch Lace BOA® and the XA PRO 1 MID GORE TEX and the ones !
Keep your eyes peeled, it is coming Fall 21.
What are your top marketing stories for next season?
Fit To Ride is the umbrella. Main focus is one the the new Dialogue Lace STR8JKT BOA® and this unique collaboration with our footwear friends!