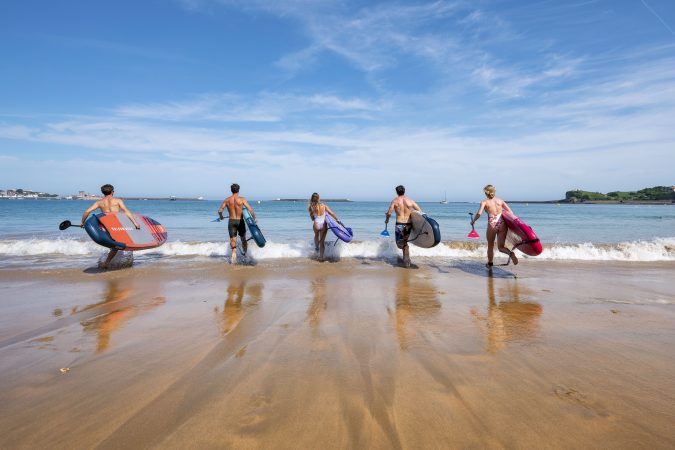 AQUA MARINA S/S 2024 SUP
Retail Buyers Guide: SUP S/S 2024 Retail Buyer's Guide
Brand: Aqua Marina
Interviewee: Chap ZHANG, Marketing Manager
How are you dealing with the overstock issue this summer?
We acknowledge the challenge of managing overstock, especially during the summer season. However, we've taken a proactive approach to address this. Rather than adopting a pessimistic stance, we've implemented a strategic promotion plan to support our valued clients. Furthermore, our commitment to innovation remains unwavering. We are continuously working on developing innovative and distinctive products that stimulate new demand within the watersport industry. We firmly believe that by doing so, we not only breathe life into our existing inventory but also position our brand to thrive in the competitive market.
As the sport grows up, do you notice a trend for customers to lean towards more evolved products? (allround > touring or other specific use)
Absolutely, as the watersport industry continues to evolve, we've observed a noticeable trend among customers who are seeking more advanced and specialised products. Many of our customers, especially those who have gained experience with their first boards, seek products that offer enhanced features such as increased gear capacity or improved gliding efficiency. We've invested substantial efforts in developing top-quality touring-shaped boards as a result of this to cater to growing demand. These boards are designed to provide exceptional performance and meet the needs of experienced users looking for specific features in their watercraft. However, the All-Around category remains a cornerstone of our product portfolio and we believe will continue to be the most sought after boards in the market. They offer a fantastic entry point for newcomers and serve as excellent all-purpose options for a wide range of enthusiasts.
The shipping costs are back to normal, what about materials? Can you tell whether pricepoints will be maintained, reduced?
It's certainly positive news that shipping costs and materials costs have returned to more stable levels. While materials costs have normalized, it's worth noting that the watersport industry has seen a shift in demand over the past few years, leading to a more competitive landscape. As a result, brands and companies may find it challenging to gain a significant cost advantage. At Aqua Marina, we are committed to providing the best value to our customers. We will continue to explore opportunities to maintain competitive price points while delivering top-quality products that meet the evolving needs of watersport enthusiasts. Our focus remains on offering exceptional value and ensuring that our products are accessible to a wider audience.
Single or double skin, fusion, welded, cross-stitched, multiple chambers… Technologies and constructions are still very opaque for the average Joe, thus benefiting to the no-name brands with cool graphics or colors. How can we solve this?
Navigating the complexities of watersport technologies and constructions can be challenging. At Aqua Marina, we're committed to simplifying this for you. Our website, marketing materials, and packaging are all designed to provide clear and comprehensive information about our products, ensuring you can make informed choices with confidence. What sets Aqua Marina apart is our unwavering focus on quality. We employ advanced materials and construction methods to create boards that excel in performance and durability. Additionally, our robust customer support infrastructure sets us apart from many no-name brands, ensuring you receive the assistance you need. Stand-up paddleboarding is a long-term sport, and we're here for the long run, delivering products that stand the test of time.
Inflatables: Which new technologies & models are you implementing in SS24?
In SS24, we're thrilled to unveil a groundbreaking addition to our inflatable lineup – the world's first glowing iSUP, the GLOW. This remarkable board features our cutting-edge Ambient Light System™, setting it apart as a true innovation in the industry. With this technology, users can experience the enchantment of day and night paddling, as the board emits a mesmerising luminosity that adds a touch of magic to every moment on the water. Furthermore, the GLOW is crafted using our state-of-the-art Woven Drop-stitch Technology, ensuring not only exceptional durability but also a lighter weight for improved performance. We've also integrated our proprietary ECO-PRINT™ Technology, which underscores our commitment to environmental sustainability. And to top it off, our Heat Fusion Welding Technology further enhances the board's structural integrity. The GLOW is designed to be your ideal companion for all-day, all-around paddling, setting a new standard in inflatable SUP technology.
Hardboards: Which new technologies & models are you implementing in SS24?
At Aqua Marina, we specialise in inflatable watercraft, and do not produce hardboards. Our focus is entirely on creating innovative and high-quality inflatable SUPs, kayaks, and boats.
What kind of support do you offer for retailers? (pre-orders sales terms, in-season restocking, demos…)
We offer comprehensive support for our retailers. Our pre-order sales terms are designed to facilitate effective inventory planning, allowing retailers to secure the products they need in advance. Moreover, we're dedicated to nurturing marketing partnerships, providing access to marketing materials, product imagery, and promotional content to bolster our retailers' sales efforts. Our commitment is to foster strong, mutually beneficial relationships with our retailers, ensuring their success in offering Aqua Marina products to their customers.