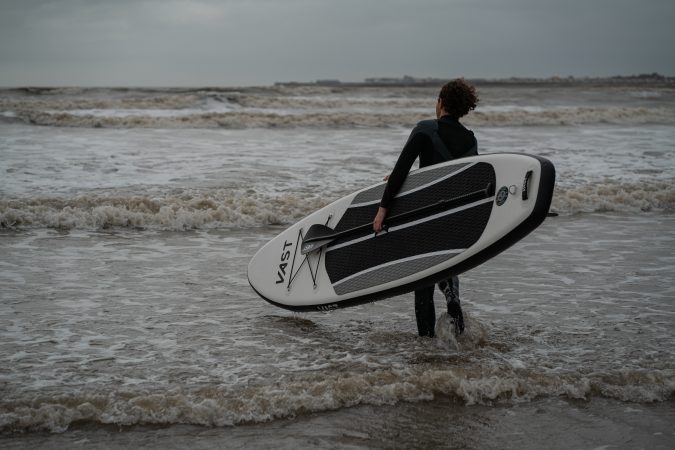 VAST S/S 2024 SUP
Retail Buyers Guide: SUP S/S 2024 Retail Buyer's Guide
Brand: VAST
Interviewee: Tom Lazarus Boardsports, Sales Manager
How are you dealing with the overstock issue this summer?
Our stock levels are looking pretty good internally, and within our retailers. We have worked closely with our retailers to ensure that they are not overstocked, but still have access to the products they need, when they need them.
As the sport grows up, do you notice a trend for customers to lean towards more evolved products? (allround > touring or other specific use)
Without doubt that is happening, as would be expected from any developing sport, however the bigger trend we're seeing is people looking to improve their allround boards, generally from the cheaper, single skins that can be found in Supermarkets and alike, to a more developed construction.
The shipping costs are back to normal, what about materials? Can you tell whether pricepoints will be maintained, reduced?
We actually maintained our pricepoints through the last couple of years to help our retailers out as much as possible, and took the hit ourselves.
Single or double skin, fusion, welded, cross-stitched, multiple chambers… Technologies and constructions are still very opaque for the average Joe, thus benefiting to the no-name brands with cool graphics or colors. How can we solve this?
Possibly, but it is our job as brands to ensure customers are using good quality boards, through education to the correct constructions they should be looking for. Retailers also have a large part to play here as the final sales point of contact with the consumer. At VAST, we deliver staff training to all that require it in our resellers locations to ensure that we can safely put our customers on the water. This should become far easier now that the "Quick Buck" market should die down after this season, hopefully only leaving the dedicated brands.
Inflatables: Which new technologies & models are you implementing in SS24?
We are really looking to knuckle down on our accessories offering for next season, further establishing ourselves as a watersports dedicated brands that can meet all needs within retail spaces with high quality, yet fairly prices products.
Hardboards: Which new technologies & models are you implementing in SS24? N/A
What kind of support do you offer for retailers? (pre-orders sales terms, in-season restocking, demos…)
We place a huge emphasis on our relationships with our retailers. Without you, we cannot establish ourselves in national hotspots effectively. We work together through the whole pre-order, staff training, sales and aftersales processes to ensure that you are as educated as necessary on the product you are selling and the safety features that go along with that.