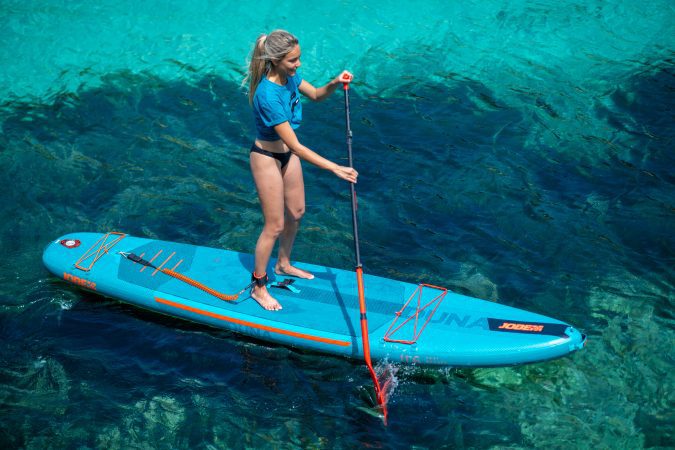 Jobe S/S 2024 SUP
Retail Buyers Guide: Surf Robes and Ponchos 2023 Retail Buyer's Guide
Brand: Jobe
Interviewee: Paul Mols Marketing Manager
How are you dealing with the overstock issue this summer?
We have no big overstock issues. This summer the market seemed to go back to pre-Covid levels – with even a bit of growth in some markets. Which is healthy for the whole supply chain, and in the end our retailers as well.
As te sport grows up, do you notice a trend for customers to lean towards more evolved products? (allround > touring or other specific use)
I would say it's a journey for a consumer. They might start out with a low range board, but will soon discover some disadvantages as they progress in the sport. Most noticeable is the lack of stiffness for example. And that's fine if you're just floating around a lake. But for longer journeys you'll need an upgrade. On the internet you see a lot of fora about longer SUP tours. It's a trend to really start discovering the waters whit a SUP– like you would with a Canoe of Kayak.
The shipping costs are back to normal, what about materials? Can you tell whether pricepoints will be maintained, reduced?
Prices are pretty stable at the moment. However supply chains still face a lot of issues. We don't foresee any (big) changes there in the near future.

Single or double skin, fusion, welded, cross-stitched, multiple chambers… Technologies and constructions are still very opaque for the average Joe, thus benefiting to the no-name brands with cool graphics or colors. How can we solve this?
We simplified it by making three series. Aero (for starters), Premium (if you're a bit more experienced and want to go further) and Elite (the best of the best). Yes, you can find all the tech specs on our website, but you don't need to.
Inflatables: Which new technologies & models are you implementing in SS24?
In 2023 we've added a new outstanding range, the Elite Series. These boards are created with the goal that "the sky is the limit". Everything that we look for in a Paddle Board, is in it. The Elite version of our Yarra 10.6 is packed with next-gen innovations like a new hook system, sandwich railtape, carbon rails and many, many more! This year we continue this series as we see a growing consumer demand for premium boards.
Hardboards: Which new technologies & models are you implementing in SS24?
In 2024 we don't have new hardboards on the market. This is because of the easy storage of Inflatable Paddle Boards and the trust that we have in our Inflatable Boards. The experience is as good as on a hardboard, without the hassle.
What kind of support do you offer for retailers? (pre-orders sales terms, in-season restocking, demos…)
We have our dealerportal in place with live stock, easy ordering and when appropriate some extra interesting terms and conditions. Apart from that, we have a customer contact center that can answer any consumer in their own language, which makes us very high rated in terms of after sales.