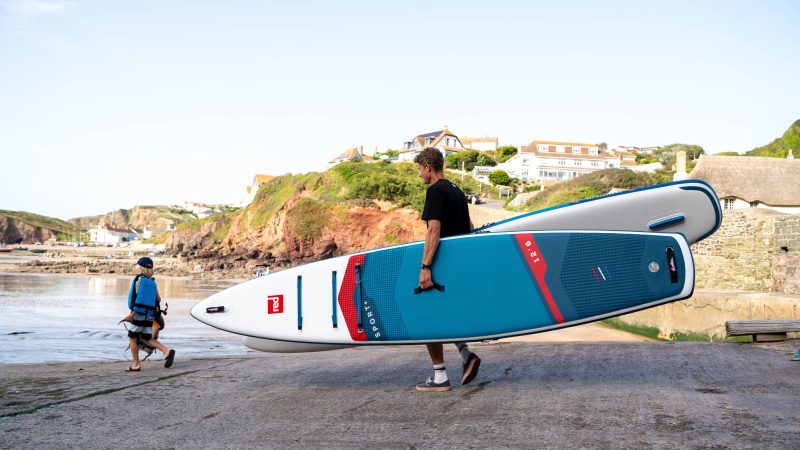 RED PADDLE CO S/S 2024 SUP
Retail Buyers Guide: SUP S/S 2024 Retail Buyer's Guide
Brand: Red Paddle Co
Interviewee: GEORGE SHILLITO – Commercial Director
How are you dealing with the overstock issue this summer?
The aim this year has to been to protect margin to support the thousands of independent retailers by ensuring their efforts are financially rewarded rather than simply turning stock. The 2022/23 range was carried over this year to avoid early discounting and margin loss and in more recent weeks we've started to push out the 2023/24 to maintain price point and present a strong brand offering.
As the sport grows up, do you notice a trend for customers to lean towards more evolved products? (allround > touring or other specific use)
The all-round category remains very strong but we've been seen a good shift towards performance based paddling especially amongst the dedicated looking for a more efficient paddling experience.
The shipping costs are back to normal, what about materials? Can you tell whether pricepoints will be maintained, reduced?
As the only inflatable brand to run a private production we have been able to retain the skilled workforce that we have trained over 15 years to build durable, long-lasting boards that are designed to perform. Our production team have been fundamental to our success over the years. Inflatable boards are handmade, textile products so it takes years for the team to develop the skill and experience consistently and reliably good quality boards.  This close working relationship with our suppliers also allows us to keep a close eye on supply chain and material costs. In general we expect to see prices across lower priced products to return to a more realistic price due to the reduced combined orders and loss of workforce in large multi-product factories.
Single or double skin, fusion, welded, cross-stitched, multiple chambers… Technologies and constructions are still very opaque for the average Joe, thus benefiting to the no-name brands with cool graphics or colors. How can we solve this?
As the sport matures so too does the knowledge and understanding of products and materials. Ultimately constructions and materials need to have genuine benefits to the consumer without compromising on the safety or reliability of the board.  Continuing to grow the sport by appealing to the mass consumer rather than focusing on a niche will naturally draw through a new generation of paddlers looking for quality equipment in a more established way.
Inflatables: Which new technologies & models are you implementing in SS24?
We are releasing a new 'Upgrade Collection' with some select new additions to the range designed to help paddlers take the step to a more performance-based board that allows them to travel further and faster. As well as these new shapes which are designed to take adventures to the nect level, we are also releasing a new material which has been 5 years in development. We call it MSL800. At 800 grams per square meter lighter than our MSL material it allows us to reduce the weight on longer touring and race boards where speed is of the essence.
Hardboards: Which new technologies & models are you implementing in SS24?
What kind of support do you offer for retailers? (pre-orders sales terms, in-season restocking, demos…)