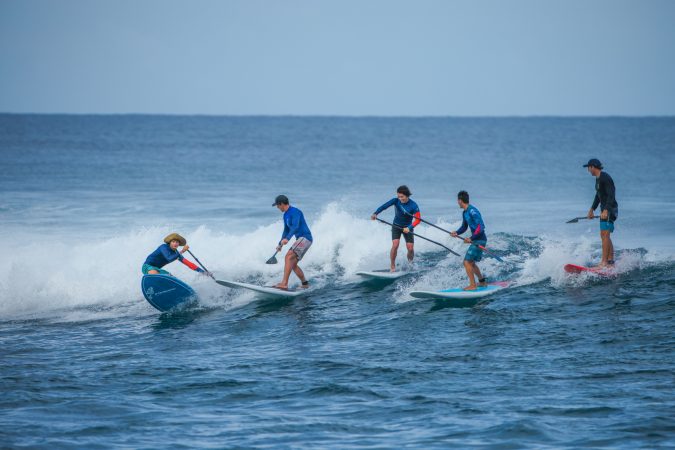 STARBOARD S/S 2024 SUP
Retail Buyers Guide: SUP S/S 2024 Retail Buyer's Guide
Brand: STARBOARD
Interviewee: OLLIE O'REILY - BRAND MANAGER SUP
How are you dealing with the overstock issue this summer?Overstock is a tough situation for everyone in the industry. Massive spikes in demand, limited supply, production constraints, late shipments and then drop in demand, all contribute to the problem. While stock situations are high in certain product categories, we have chosen to carry over some models like the Zen Classic to extend the life cycle of the product. Other products we see stocks depleting slowly. We still see high demand in specialty models, particularly the more premium models and constructions.
As the sport grows up, do you notice a trend for customers to lean towards more evolved products? (allround > touring or other specific use)
Consumers become more value focused in a way that they want a product that will last and give them multiple opportunities to progress. We see models like the Starboard Generation doing very well, as it's a 3in1 board that accommodates racing, touring and surfing in 1 board. This versatility is a big sell for leaving options open. Touring models in general for both Inflatable and Composite seem to be a good balance of performance to paddle distances with the extra glide, yet still offer a solid stability for most to step on easily. Both the Starboard Waterline which is specialist to Flat-water and the Touring model, are both popular entry yet performance rides.
The shipping costs are back to normal, what about materials? Can you tell whether pricepoints will be maintained, reduced?Shipping costs dropped and so we were able to lower some prices. Materials are always in some level of flux. Coming out of covid, Carbon has been higher in demand in other industries causing a slight drop in supply, resulting in price increases. However, most materials remain fairly stable. The issue now relates to the full supply chain. If dealers have high inventory levels and order less, then the factory will have lower orders and either need to charge more to keep their staff or lay off people, which will result in less capacity in the future. This is our responsibility to try and manage as best we can to keep all of the chain in balance.
Single or double skin, fusion, welded, cross-stitched, multiple chambers… Technologies and constructions are still very opaque for the average Joe, thus benefiting the no-name brands with cool graphics or colors. How can we solve this?
It's the responsibility of us as brands to explain clearly. But you're right, the many names and slight tweaks in naming between brands can often confuse the final customer. We are always looking for easy ways to simplify  the messaging for anyone to understand. We did this in our recent Welding video, showcasing the benefit of a welded rail vs glue in a dramatic pod test. If you haven't watched it, be ready for some explosive action!
Inflatables: Which new technologies & models are you implementing in SS24?
For Inflatables, we have various new models including the new All Star Airline, featuring a higher nose rocker for more open ocean conditions and surfing. The new 9'5"x32" Surf model pushed the limits of an inflatable surf SUP to new levels in some solid waves in our New Caledonia Photoshoot. Check the website! Other new additions include the Roll, a compact inflatable technology designed around a foldable fin box, packing 30% smaller. An extensive test in technologies has led to the new Deluxe Lite technology, coming soon.
Hardboards: Which new technologies & models are you implementing in SS24?
For Hardboards, we have an all new Longboard SUP range. Our Longboard model has won 2x best high performance Longboard SUP, and the all new model elevates the ride further. We have the all new models in the Race category, with the new Gen R wowing many for its ease of use as a new flat-deck design. All Star and Sprint models coming later this year. Some smaller models in both the Pro and Spice expand the surfing range, ensuring our World Champions and consumers have the best quivers out there.
What kind of support do you offer for retailers? (pre-orders sales terms, in-season restocking, demos…)
We encourage demos as our number one sales tool to get people on the water to try and feel the difference in performance between products. This is still our most effective strategy. We just came back from attending the AWSI event in Hood River as well as hosting our own North America Dealer meeting, The event was a big success as people were able to test and give feedback first hand, resulting in direct pre-order opportunities.