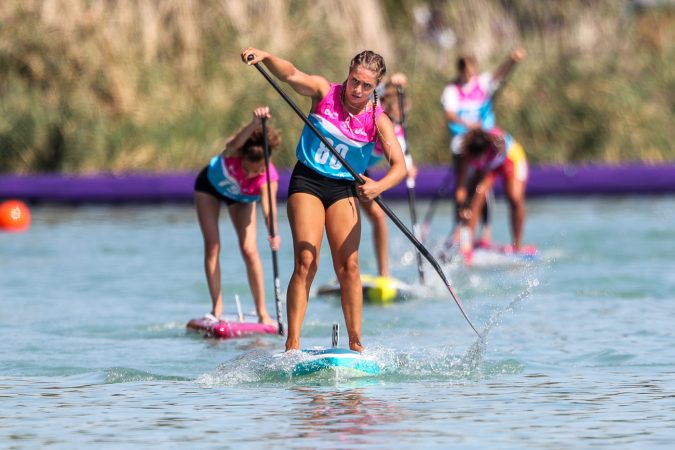 NSP S/S 2024 SUP
Retail Buyers Guide: Surf Robes and Ponchos 2023 Retail Buyer's Guide
Brand: NSP
Interviewee: Global Sales Manager
How are you dealing with the overstock issue this summer?
What over stock? Lol – Yes it's definitely an overused word  of the new reality. But on a positive, demand for premium race boards has remained high on the back of strong podium results. For recreational SUP, some markets are fortunately seeing a bit of a late summer sell through, so that definitely helps to create space for seeding in some fresh graphics for 2024. While inflatables are an over supplied and slower moving category, we are fortunate our inflatable race boards remain in high demand thanks to their rigid shape and innovative removable fin box that supports greater glide and less drag.
As the sport grows up, do you notice a trend for customers to lean towards more evolved products? (allround > touring or other specific use)
Yes! The massive quantity of attractively priced inflatables has introduced many new people to the sport everywhere – especially in Europe and N.America While most remain recreational paddlers or simply looking for fun on the water, there is a new generation of paddlers that want to distance themselves from the regular allround and cruise shapes.  This group of paddlers is often looking for their recreational hard or inflatable boards. They want a faster board with greater Omni usage that they can paddle on to progress their paddling skills. Due to budget constraints and newness to the category, they are not yet ready to commit to a dedicated race board, but want something faster than the regular recreational or touring boards. To support this new generation of paddlers we are introducing our Omni board, bridging the gap between recreation and race boards. NSP's race board shaper Alain Teurquetil has focused a lot of his development on this versatile game changer for an easier transition before committing to a race board.
The shipping costs are back to normal, what about materials? Can you tell whether pricepoints will be maintained, reduced?
Raw materials have certainly increased significantly in some cases. But with costs of living impacting everyone and less money to go around, we have done our part  to absorb some of these increases. The normalizing of freight costs has helped to keep increases to a minimum.  BUT…  with some brands and retailers liquidating stock to make way for 2024, its definitely a buyers market and plenty of great deals to be negotiated.
Single or double skin, fusion, welded, cross-stitched, multiple chambers… Technologies and constructions are still very opaque for the average Joe, thus benefiting to the no-name brands with cool graphics or colors. How can we solve this?
Can we solve this? The market is still rampant with many "fly by night" garage brands, built by desperate factories to receive orders. As the current over supply clears many of these garage brands will have burnt their fingers and hopefully exited the market. This should help the remaining brands to rebuild the unique technologies and points of difference. BUT this relies heavily on suppliers and manufacturers to protect innovative technologies for the loyal and established brands that have built the category and demand and not offer the technologies to everyone looking to make a quick buck.
Inflatables: Which new technologies & models are you implementing in SS24?
Th oversupply is definitely taking a hit on development of new inflatable technologies and models. Expect a narrower, leaner selection moving forward as stock clears
Hardboards: Which new technologies & models are you implementing in SS24?
In direct reference to #2 we are making a big push with the introduction of our all new Omni models. Named after the Latin word for "all" or "every" the Omni allows enthusiastic paddlers to progress beyond the recreational boards where they started, building greater speed, glide and distance with confidence and stability, without breaking the bank for a full blown race board. Supporting the enthusiastic recreational paddler that wants more from their boards in a wide range of conditions, the Omni targets the next generation of racers and paddlers.
What kind of support do you offer for retailers? (pre-orders sales terms, in-season restocking, demos…)
It's a buyers market, so it's important for us all to maintain flexibility as markets remain volatile. Beyond the regular staple of samples and support with team riders, we support retailers through our distributors with easily accessible marketing and social media content, including SEO and SEM focused to drive traffic, demand and sell through.