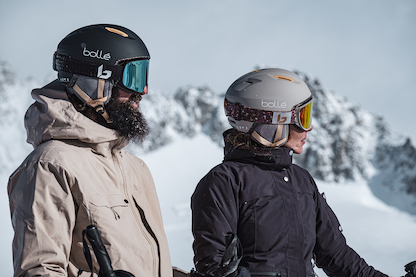 Bollé 2022/23 Snow Helmets Preview
Retail Buyers Guide: Snow Helmets 2022/23 Retail Buyer's Guide
Brand: Bollé
Interviewee: Nadja Herger, Marketing/Communication
For the past few years, Bollé has developed a sustainable approach supported by a campaign called React for Good. We know that there is still a lot to accomplish but step by step we are getting closer to where we want the brand to be.
Following on from our cycling helmets, we are introducing our React for Good campaign in winter for the first time with one eco designed helmet model called Eco Atmos in 3 colors, one pair of eco designed goggles called Eco Blanca in 3 colors and 3 eco designed mountain sunglasses models, the Adventurer, the Ascender and the Pathfinder in 4 colors. This is Bolle's natural response to the needs of avid skiers who want to do their part for the planet.
Ryft:
There are cool ski helmets. And then there's Bollé RYFT MIPS®. Featuring its state-of-the-art design, this helmet sets a new industry standard. A unique and patented Active Panel Ventilation system provides unprecedented airflow, making RYFT MIPS® the most ventilated helmet ever designed by Boll. Equipped with MIPS® (Multi-directional Impact Protection System), this hybrid helmet also meets the highest impact protection norms for a safe ride under any condition.
Eco Atmos:
With its in mold construction, the Eco Atmos first attributes are its lightness and comfort. Designed with eco materials including lycra lining, straps, dividers, shell and earpads, all partially made from recycled or bio based materials along with cork mixed with the EPS, it is Bollé's first ski helmet with a sustainability approach for avid skiers who want to do their part for the planet. The active ventilation system with & vents also makes the Eco Atmos one of the most ventilated helmets in the range.
Medalist Pure Pinturault:
Alexis Pinturault signature racing helmet. FIS certified, the Medalist Pure offers an extreme protection thanks to its ABS construction. Its compact design with a kamm tail shape in the back provides enhanced aerodynamism while the click to fit system guarantees a perfect fit. Also very comfortable and ventilated, the Medalist Pure with the Alexis Pinturault colors presents a real competitive advantage on the slopes.