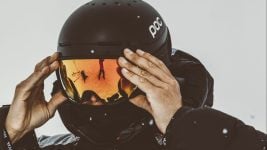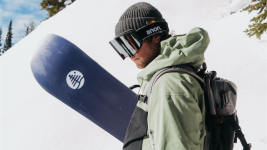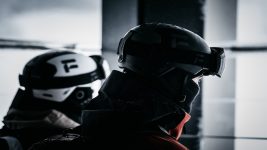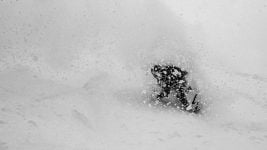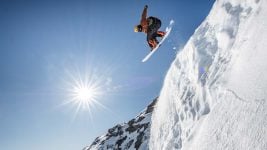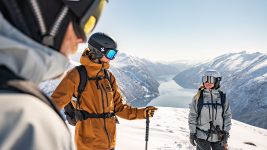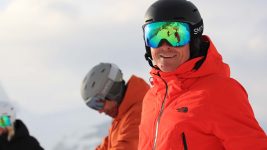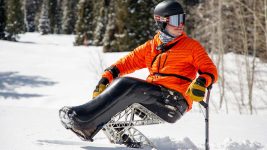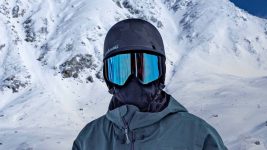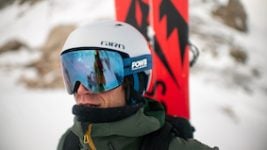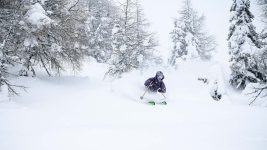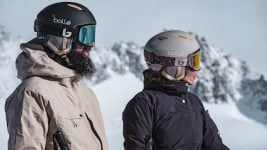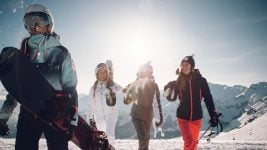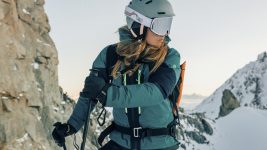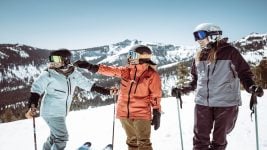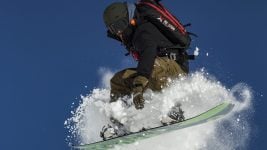 Snow Helmets 2022/23 Retail Buyer's Guide
The acceptance of the helmet has resulted in more educated customers. Meeting their demands promotes the use of the helmet and contributes to an increasing demand. By Rocio Enriquez.
Helmet brands are expectant to see how their products perform with resorts and retailers open to the public. Of all snowboarding product categories, helmets did not fare too badly last winter. Restrictions at resorts sent a lot of eager riders off-piste. Nothing could bring the spotlight onto safety equipment more than braving the backcountry. The head, and the brain it harbours, seems to be the body part that riders are keener to protect. As R.P. Bess from Protect states, "wearing a helmet is a cheap way of protecting the CPU of your body".
This increased awareness of protection has resulted in more educated customers. With education comes a more sophisticated demand that brands strive to meet. Helmet users want the best protection provided with comfort and wrapped up in a good look. Extra brownie points are granted to the brands that check-in with sustainability too. As a result, helmets are getting lighter and more low profile, while increasing the safety and performance features. Technology such as MPIS protection, ventilation systems or photochromic visors are becoming standard. Aesthetics are making it easy to integrate them into the overall look. The added comfort makes it easy to have the helmet on all day long.
New for FW22/23
Next season will be shy on launches. Products launched last season did not have a fair exposure and their market performance remains untested. Most importantly, retailers were left with an unexpected amount of inventory in their back rooms. Carrying over products allows them to replenish the gaps in sizes or colours to complete their offer. Yet, we find some innovations across the brands interviewed.
MIPS has become standard. Brands who had integrated it in selected models are expanding it within the range. Brands who hadn't tried it so far are giving it a go. "We are updating our Husk helmet to feature MIPS, following overwhelming customer demand", says Chris Bellamy from Salomon. They make a note that MIPS comes in addition to their existing EPS 4D and Smart Safety 360 technology. Sandbox announces the integration of MIPS in selected models. Most of the few new styles that will be launched next season will feature it. Giro will be presenting the new Tor and Tenaya helmets. These are high-end, hybrid-shell helmets aimed at free riders. They feature Spherical MIPS and a unique look. "Hybrid shell construction allowed to play with texture, adding aesthetic value", says Darius Heristchian. MIPS is also found in two of the three new launches announced by Smith. The Nexus MIPS is their premium tech offering in a lightweight, hybrid shell construction. The Summit MIPS is their triple certified ski helmet with Koroyd zonal protection and a set of valuable backcountry features. It comes with a Smith + Boa® custom fit system that stashes inside the helmet when stored. It also has an integrated headlamp router, an Ionic+ anti-microbial liner and a Smith cold weather beanie liner accessory. Sweet keeps rolling out their 2Vi technology platform with the launch the Igniter 2Vi MIPS. This new style offers better performance and comfort while keeping weight and volume low.
Anon will keep pushing their exclusive WaveCel impact protection technology launched last season. This is a three-dimensional cellular structure that creates a network of interconnected shock absorbers that distribute the impact energy through the helmet. Rossignol keeps the focus on their IMPACTS technology launched last season. "The IMPACTS technology is on 100% of our helmets. The new Fits IMPACTS is an entry price, light helmet for both skiers and snowboarders", says Marine Cessans from Rossignol. POC will keep promoting the new Meninx helmet launched last season. "It features the new MIPS Integra solution, combined with a textured Alcantara interior for a very comfortable wearing experience", explains Damian Philips.
Moving away from impact protection tech, we find other novelties and updates worth mentioning. "The Dirty Dog CVAFT Ventilation System uses carefully chosen areas for the intake and exhaust of cooling air to ensure all-day wearability", explains Tom Lazarus. Pret presents an exclusive collaboration with a new anti-microbial foam. Found in all their helmets, it protects from the germs and bacteria found in our heads. Sandbox introduces a new liner made with grid fleece. "It improves fit and elevates comfort, as excess heat escapes through the grid lines and vents through our patented airflow tech", explains Max Jenke. Triple8 is extending the integration of their new softer Halo liner to all helmets. They are also redesigning the goggle clip to be attached to the helmet. Oakley redesigned their best-selling MOD1 helmet to offer the MOD1 Pro. "We use an injected Dura-Matter shell over an EPS foam liner, offering the highest level of durability while keeping the same low-profile design", says Scott McMorris.
Visors are a trend that hasn't been ignored. Smith's new proposal in this segment is the Survey Visor, which integrates a ChromaPop Visor. CéBé launches the Intuition helmet, with ABS construction, adjustable venting system on the top and a very comfortable padding. "The Multi-Use concept was key in the development, so it will also be available with a perfectly integrated photochromic visor", announces Adélie Gaillard. Salomon is refreshing their Driver helmet. It will combine the comfort and field of vision of a visor style with the aesthetics of a goggle/helmet combination.
There are some efforts in sustainability. Bollé extends their "React for Good" campaign from cycling helmets into snow ones. The first launch will be the eco-designed Eco Atmos helmet. Salomon will build their MTN helmets to be made with 70% recycled materials. They will also be triple certified for snowboarding, climbing and biking. By preventing excessive purchasing, they tie in versatility with sustainability.
As for looks, Spy+ announces new colours on the Galactic MIPS model. "We are offering three new pop colourways inspired by 1987, and a rider signature model made with Trevor Kennison", announces Alexis Ratajczak. CéBé celebrates their third year of collaboration with Superdry by launching 4 new helmets. Flaxta is relaunching their hybrid style Deep Space to target wider user groups and integrate digital safety devices. 
Amongst accessories, we find pouches, spare parts and audio enabling gadgets. Head offers complimentary pouches with their top-of-the-line helmets. CéBé includes a pouch in the packaging of each helmet. Spy+ includes an additional brim in each helmet for customisation.
Pret offers ear covers, goggle attachments and liners that are easily replaceable without the need of special tools. Salomon makes spare lenses and visors available in stores and online. Sandbox offers additional comfort liners in an array of fits. Anon offers facemasks that magnetically seal the face pane to any MFI compatible style. Smith's racing helmets have an optional slalom chin guard. So do Sweet's, in this case made with titanium to combine low weight and massive strength. Audio capabilities is at the forefront of helmet accessories. Sweet offers outdoor tech speaker/mic systems for all audio ready helmets. Smith has partnered with Aleck to integrate their audio systems in most of their helmets. Aleck pushes their Push-to-Talk system that allows you to communicate with your snowboarding group. "With the real time GPS, you can find your friends anywhere in the resort", says Adam Janecka.
Retailer Support
Closure of resorts last winter resulted in retailers holding on to a lot of unexpected stock. The best form of retailer support has been to postpone the launch of new references and carry over key existing ones. This offers retailers the opportunity to fill up the gaps in size or colour. Most brands have adopted this measure. Some of them, like Head, have expressed their intentions of keeping it up for seasons to come. This is a welcome practice in terms of sustainability too. Less seasonality equals less waste.
Unsold stock was not the only challenge that the pandemic brought about. Bottlenecks in the supply chains have been the cause of many delivery delays. This has altered purchasing and manufacturing schedules globally. "Everyone is at full capacity and there are backlogs. We anticipated and brought forward our cycles early", says Katharina Acham from Head. They are not the only ones who are adjusting to earlier purchasing orders. CéBé also anticipated potential delays and was able to deliver on time. Smith has brought forward their timelines to ensure an uneventful FW23 delivery. Sandbox explains that they are asking retailers for earlier prebooks to meet the current purchasing order dates. Still, they are still giving them enough time to assess this season's sell-through beforehand. Aleck saw the chip shortages coming. They purchased critical components six months in advance of their production run.
Some brands opted for increasing production to make sure they have all the stock their retailers might need in-season. Sweet has ramped up their production capacity which will allow for a more flexible go-to-market process. Triple8 is stocking up as much as possible. Flaxta is looking into alternative logistic solutions to ensure next season's timely deliveries.
Although problem-solving is taking up a lot of retailer support energy, brands haven't forgotten about marketing support. A lot of this is dedicated to education. Users are more knowledgeable and communicating the technology efficiently is key to secure the sale. Head produces high quality videos about features, technology, fit and use. Salomon offers a range of demo tools to push their key technology, such as the helmet safety system EOS 4D. CéBé focuses their go-to-market strategy on in-store teams training about technology. Smith develops infographics that explain clearly how the technology works. There is marketing support in the form of POS props too. Giro offers a helmet and google holder that allows retailers to display the look efficiently. Triple8 has designed a helmet tree that can display up to 20 units and a gondola display that can hold helmets and pads together. Head offers metal helmet holders and highlight displays. Protec is working on new stands and supports with hangers for their helmets. Aleck innovates with a QR Code inserted in their new packaging, which delivers a "digital salesperson" experience in many languages.