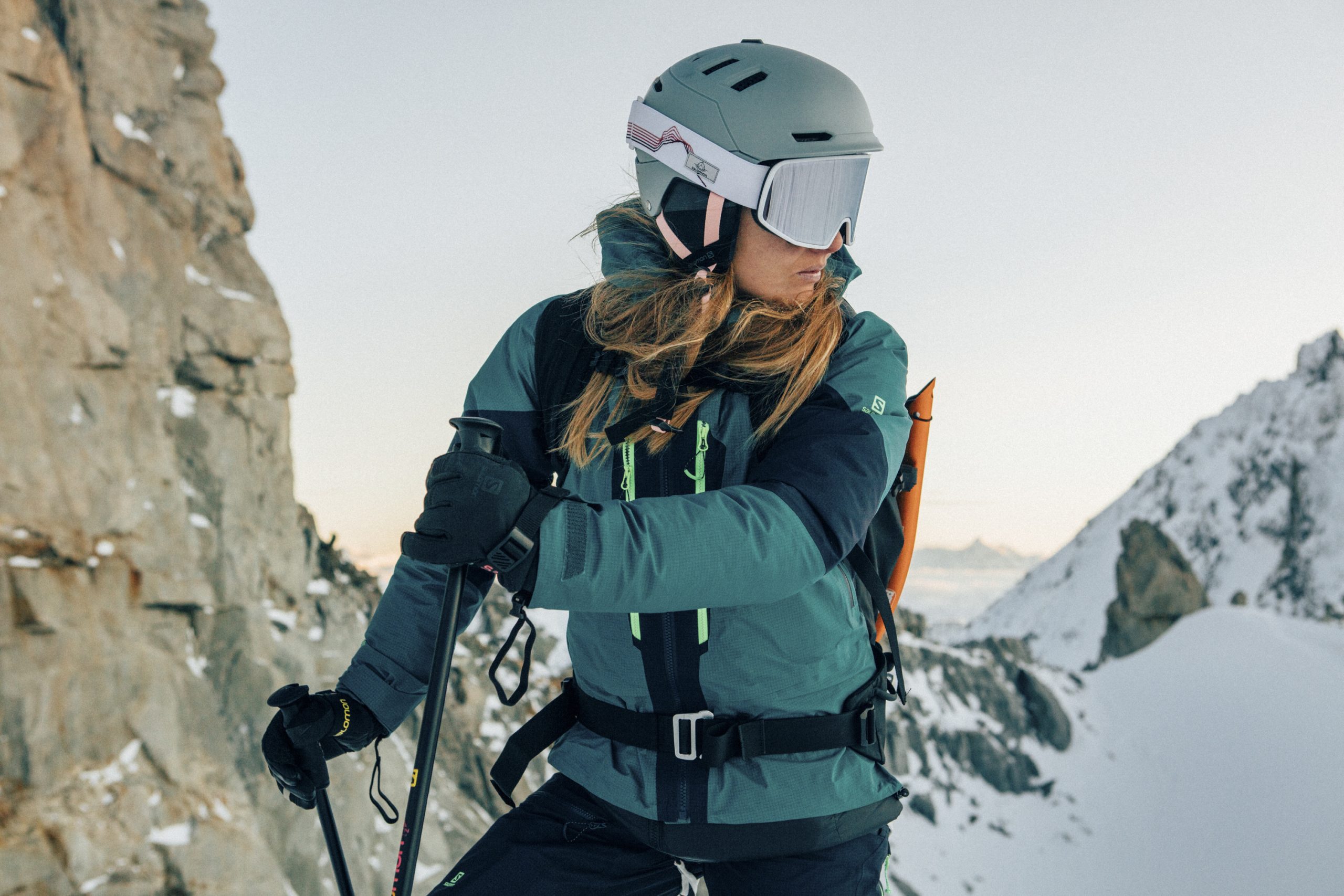 Salomon 2022/23 Snow Helmets Preview
Retail Buyers Guide: Snow Helmets 2022/23 Retail Buyer's Guide
Brand: Salomon
Interviewee: Chris Bellamy, Salomon Protective Marketing Manager
What are the main trends in the snowboarding helmet market?
Sustainability, versatility, simplicity and MIPs . . .  – on top of the basics of comfort and safety.
What is the general consumer's attitude towards wearing snow helmets?
Whether it be the increase in big wave surf safety equipment, or helmets becoming mandatory in some Olympic Skateboarding events, or the fit and comfort of products improving – acceptance of wearing protection in boardsports seems to be increasing.
What were your biggest sellers in FW21/22?
We see very equal sales volumes between five of our best products:
Our Pioneer LT entry level helmets remain best sellers with exceptional comfort and affordability.
The MTN Lab helmet is a Salomon icon, and with the rise in backcountry, this has seen huge demand for FW21.
Brigade continues to perform well, especially with boardsports.
Our Husk helmets for freeriders, packed with technology, have been a big hit in their first year.Finally, our visor offer – Driver – continues to lead the visor market, although almost exclusively for on piste skiers.
Where do you expect the biggest growth in helmets for FW22/23?
We expect to see the demand for backcountry products like the MTN to continue to grow in FW22/23. We have updated our MTN helmet to meet this demand.However as resorts re-open, customers will also be refreshing their products for lift-served skiing. With the launch of our updated, and quite revolutionary, Driver visor helmet, we aim to target this market.
Do you have any innovations in terms of design or materials for FW22/23?
We have updated our MTN helmets to be made from 70% recycled materials, as well as being now triple norm certified, for snowsports, climbing & biking. This meets consumer demands for sustainability and versatility.
Our Driver helmet, the market leader in visors is getting a major refresh and innovation. It has the convenience of a visor, but the aesthetics of a goggle helmet combination. You can now have the comfort and field of vision of a visor, without looking like an astronaut.
We have updated our Husk helmets to now have MIPs. Overwhelming customer demand made it an easy choice to include this technology. MIPs is added in addition to our existing technologies – EPS 4D and Smart Safety 360.
Are you offering any accessories to your helmets?
Spare parts (available in store). Spare lenses and visors (available in store and online)
Are your products targeted to specific customers / rider types?
Absolutely.The new Driver is targeted at on piste "modernists". The Husk helmets are targeted at freeride "gear junkies". The Brigade is targeted at "tribe gurus". The MTN is targeted at those who like going up as well as down.
How are you supporting retailers to sell this category?
We provide a full package of merchandising tools and PoP information.We also have a range of demo tools to sell our key technologies such as our enhanced contrast lens technology – SIGMA, or our helmet safety system EPS4D.Finally, for our new product – Driver – we have a dedicated demo tool to explain all of the benefits and features.
Did the restrictions at resorts last year impact the sell-through of the FW21/22 collection? If so, how have you addressed this issue?
Yes – we saw a big impact on Helmet and Goggles demand, particularly those sold in resorts. We have offered a lot of commercial support to help reduce the risk for our accounts, and increased our carry over rate to reduce the impact of left over stock.
Have you had problems with the supply of FW21/22 product? If so, how have you addressed this issue, and will this result in changes to your FW22/23 sell-in?
We have managed to avoid any significant supply problems. While we have had to managed rising material prices, and delays in production, on the whole we have still managed to produced everything we need, and get it to the right places at the right time.
Please name and describe in about 60 words your 3 key models for FW22/23.
DRIVER – Blurring the lines between visor helmets and traditional helmet-goggles combinations, DRIVER PRIME is the low-profile visor helmet of the future. The flawlessly integrated visor, reminiscent of the most high-tech goggles, provides you with a wide field of vision, while the premium fit and safety features keep you comfortable and safe.
MTN Lab – Designed for outdoor enthusiast looking for more safety and less weight, MTN Lab helmet meets safety norms for alpine, mountaineering and biking. In line with our sustainability efforts, it is made with a mix of up to 70% recycled and natural materials, so you can be comfy and safe while playing your part in protecting the environment.
HUSK PRIME MIPS – Adding MIPs to our most advanced freerider helmet. Designed for outdoor enthusiasts always eager to find new ways for pushing their limits, this minimalist helmet features a sharp design that perfectly integrates top-of-the-line safety and ventilation technologies. Get out and push that gas pedal, enjoy ultimate protection with a cool-looking helmet that makes you stand out on any mountain.