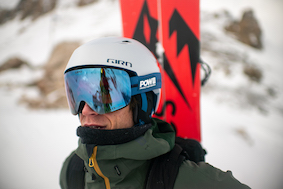 Giro 2022/23 Snow Helmets Preview
Retail Buyers Guide: Snow Helmets 2022/23 Retail Buyer's Guide
Brand: Giro
Interviewee: N/A
What is the general consumer's attitude towards wearing snow helmets?
We feel it is now adopted by the large majority as part of the equipment.
And when time comes to renew their helmet, consumer would either reconduct the purchase of their preferred model, or would look for the features or points that became more pertinent or obvious after some experimenting a model for some time.
What were your biggest sellers in FW21/22?
The Jackson MIPS for all-rounders Bc freestyler shredders and freeriders,
Together wiht the Ledge MIPS for freestylers.
Where do you expect the biggest growth in helmets for FW22/23?
We expect it from the Grid, our backcountry helmet that was launched last year during, the hardest season for new launch, to have to finally have the chance to be seen at retail.
Do you have any innovations in terms of design or materials for FW22/23?
Yes absolutely, we have the Tor and Tenaya Helmets, our new high end freeride Hybrid shells Helmets. These models feature our SPHERICAL MIPS (TM) and the hybrid shell construction allowed us to play with texture. This adds aesthetic value to a helmets that is probably the best fitting helmet of the Market.
Are you offering any accessories to your helmets?
The Grid and Envi Helmet are featuring a removeable liner, for those who like to skin up with helmet on their head but want to keep the liner for the downhill a climbing mode and a riding mode
Are your products targeted to specific customers / rider types?
We historically provided Helmet and Goggles holders to make sure Retailers can display the lock up in an efficient way 
Have you had problems with the supply of FW21/22 product? If so, how have you addressed this issue, and will this result in changes to your FW22/23 sell-in?
Yes and we as a Brand and our partners have had to be very flexible, and we thank them for that! We try to adapt to this (daily) moving target and adapt our sales agenda to match the requested delivery dates
Please name and describe in about 60 words your 3 key models for FW22/23.
The GRID & ENVI: our lightweight Backcountry Helmet. Well ventilated with a removeable liner for the way up. Featuring Spherical MIPS to provide you with Giro's latest technology for comfort and safety.
The Jackson MIPS Helmet: minimalist design for pure efficiency, Jackson is defining the new esthetics of the Brand and of what a cool helmet is like. A side hit- and freeride lover's favorite: EUR 179
The Tor and its sister the Tenaya Helmets: our new SPHERICAL MIPS freeride helmets, their Hybrid construction (In mold + Hardshell) provides durability and an amazing texture that makes them remarkable and differentiate from the rest of the the market