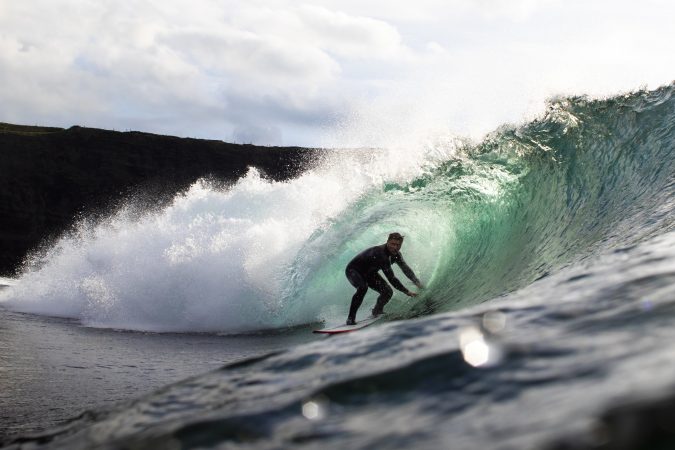 C-Skins F/W 23/24 Wetsuits Preview
Retail Buyers Guide: Wetsuits F/W 2023/24 Retail Buyer's Guide
Brand: C-Skins
Interviewee: Mark Brown, Director
Already an expensive piece of the surfer's kit, the winter steamer took a hit with the rise of material/shipping costs. How much of a rise of RRPs are we talking about for FW23? How do you justify the rise to retailers & customers?
I don't agree that wetsuits are expensive. When C-Skins founder Carey Brown was producing wetsuits in the UK, 35 – 40 years ago, a 3:2 steamer retailed for £100. You can still buy a C-Skins Element Steamer today for the same money. If you compare wetsuits to other items from 40 years ago I think you'd be surprised how cheap wetsuits really are. I think everyone in the world is aware of the factors causing price increases. Its been well documented on the media. The combination of raw material price increases due to increased global demand, high shipping costs(which are now back down to pre-covid levels) and weak global currencies against the USD, all mean higher landed costs for us, which unfortunately get passed on. In short I think everyone is already aware of the reasons for price increases, so they are expected. We haven't set our AW22 pricelist yet, so currently I cant advise the % increase for AW23 at this stage.
On the one hand, surfers are now keen on wearing hooded wetsuits for the coldest days, and the other hand, the "4/3 with more 3 than 4" are on the rise for extended mild autumns these days. How do you handle those new habits?
Our 4:3 offering is extensive and is offered in all ranges, the perfect solution for those in-between sessions. The 4:3 has really revolutionized the junior surfing market enabling groms to be warm enough in the winter with the right accessories and to stay in the water dusk till dawn into the summer, a real Swiss army knife of the wetsuit market. The 4:3 for adults is perhaps more of a luxury purchase but such an awesome way of delaying the inevitable change into the thicker rubber, gradually adding boots and a cap or hood before getting into the full-on winter suits. In fact the 4:3's with the right accessories are so good these days that some of our hardcore riders stick with them right through the winter to maintain that cutting edge performance. Of course, the hooded suits have truly earned their place for the extreme conditions providing pure comfort and longer sessions.
With technologies trickling down in the ranges, is GBS to be the new Flatlock? Otherly said: is the flatlock wetsuit set to disappear in a near future?
No flatlock is here to stay for sure, if you are talking core surfing then perhaps no-one has really used flatlock for years except on those warmest of days but in the wider general watersports and tourist market there is still a real demand for flatlock and it is the perfect solution, it is almost a separate market. We certainly don't recommend flatlock for FW23.
What are you bringing on the table in FW23 as far as neoprene and linings are concerned?
Halo X2 is here and has been successfully introduced for the 2023 season, building upon the existing superb performance and construction now with recycled yarn to help the planet. For the foam we continue to use waste oyster shell powder throughout our premium ranges in Halo X2 this super light foam is so flexible and better for the environment than the limestone based neoprenes. Dark Matter 3D bonded technology for Rewired and Wired ranges gives augmented wind resistance and durability on our most popular core lines. Session and Solace performance mid-range styles will now include Halo X2 and a fresh colour offering throughout.
There has been a lot of focus on fits lately, as opposed to a few years ago when the stretch was the fit. Is there room for improvement on silhouettes (and genders)?
Fit is key throughout our ranges and we are constantly monitoring and evolving the fit within each of the Genders and age groups. Our Future fit for men provides a great athletic performance fit and the classic fit offers a solution in lower end suits for a more standard fit. The Women's Benefit range now has added sizes to provide for the evolving modern woman's shape. The baby through junior ranges have an awesome fit from age 1 through to 16.
The lifespan of a wetsuit is 3 year — 4 tops — whatever the durable efforts are made by brands and manufacturers. Recycled and compostable are the way to go for a sustainable future?
A compostable suit would truly be an awesome development but currently our primary focus lies in durability to provide less waste with a strong focus on using as much recycled and sustainable material as we can throughout the ranges. Recycling facilities are coming to Europe and already exist in the US which can turn used wetsuits into Carbon Black which in turn can then be used to make neoprene. This will be the future.
When it comes to the order form, what piece of advice do you have for retailers? Stick to the pre-orders for better margins or split your purchases in separate batches to oil your cash flow?
Many retailers are currently heavy on stock and also dealing with a slow down after covid and an inflation crisis all resulting in consumers reducing their spend. These factors alone mean that the vast majority will be more cautious moving forwards. My suggestion would be to order safe, order what you need, order from the brands that haven't let you down over the past 2-3 years and cover your key price points. Don't put down multiple batches if you cant guarantee you can take/pay for them. Rely on the wetsuit brands to carry a bit of stock if the lines sell through and top-up as you go.
Key Products
Solace
So 5.4 Women's GBS Chest Zip Steamer
The all new Solace range has evolved with great new panel designs and artwork prints for 2023 that improve fit, function and style. This model has become the firm favourite amongst women who value quality combined with style. Not only is the Solace a great looking suit, but is also packed with top end tech such as Diamond Flex neoprene for remarkable flexibility and Glued and Blindstitched seams for a watertight construction.
Rewired
Rw 6.5 Men's GBS Chest Zip Hooded Steamer
The ReWired continues to benefit from radical innovations for 2023. The addition of Halo X2 our most sustainable neoprene to date with Dark Matter chest panel reduces wind chill and improves durability and contact with your board. Stretch levels in the body and lower legs have skyrocketed thanks to improved face fabrics and foam. The Enigma 3 Zip with Single Cinch design reduces bulk and increases freedom of movement across the chest. This new streamlined design works in perfect harmony with our all-new and exclusive Halo X2 neoprene throughout the upper body – the most futuristic neoprene we have ever produced for unsurpassed paddle power and reduced fatigue over long sessions.
Wired
Wd 4.3 Men's LQS Chest Zip Steamer
The Wired benefits from our latest innovations, enlightened with era defining Halo X2 neoprene in key movement zones and Halo RD8 neoprene throughout the torso for ultimate warmth. Further R&D to the progressive Dark Matter Liquid Skin has led to an improvement in the formula and bonding process which provides greater protection, durability and stretch. The updated Iris II inner closure system combined with Enigma 3 Zip and new Quick Release Twin Cinch keeps you completely sealed and locked away from the cold.