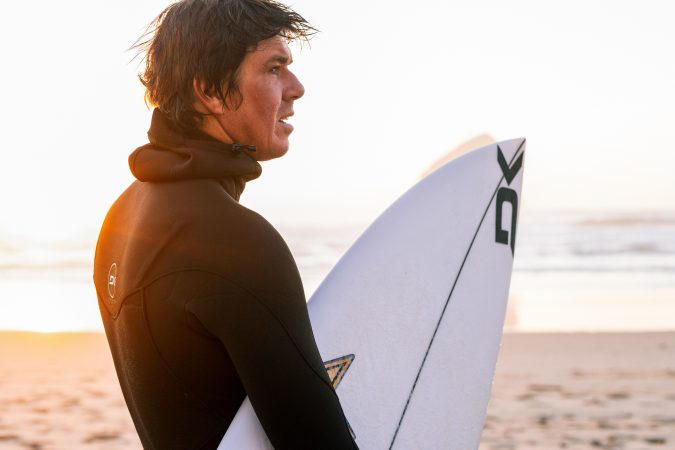 Dakine F/W 23/24 Wetsuits Preview
Retail Buyers Guide: Wetsuits F/W 2023/24 Retail Buyer's Guide
Brand: Dakine
Interviewee: Phil Bridges, Wetsuit design
Already an expensive piece of the surfer's kit, the winter steamer took a hit with the rise of material/shipping costs. How much of a rise of RRPs are we talking about for FW23? How do you justify the rise to retailers & customers?
Competition within the market will always drive the best price. So regardless of the cost increases the customer is always getting the best product for the best price. The increase in RRP isn't an increase in profit but in cost. I think customers are seeing this everywhere and understand the mechanics.
On the one hand, surfers are now keen on wearing hooded wetsuits for the coldest days, and on the other hand, the "4/3 with more 3 than 4" are on the rise for extended mild autumns these days. How do you handle those new habits?
Consistency is key here. Firstly thickness must be reliable – it's a weird issue in the wetsuit industry that there's no standard for neoprene thickness measuring – some measure only the foam, some measure foam and lining. We've seen 'winter' suits are definitely under thickness. We go on foam thickness ie, the neoprene thickness before lamination. It's the only reliable method to avoid the variation added by different linings.
With this information the customer can make an informed choice whether that's to go for the 4/3 or full blown winter suit.
With technologies trickling down in the ranges, is GBS to be the new Flatlock? Otherly said: is the flatlock wetsuit set to disappear in a near future?
No. Flatlock is a really good seam construction – it's super strong and very cost effective. If you live in a warmer climate then flatlock is a very good choice. In Europe, within the core surf market – of course, GBS is king.
What are you bringing on the table in FW23 as far as neoprene and linings are concerned?
We're moving to all recycled linings through the whole range. We are also developing biodegradable linings to use with our FriendlyPrene with enhanced biodegradation.
There has been a lot of focus on fits lately, as opposed to a few years ago when the stretch was the fit. Is there room for improvement on silhouettes (and genders)?
Fit has always been #1. The usual compromise is between fit and everything else – the best fitting wetsuit needs more panels and more curve. But more panels equals more seams, more construction, more cost, more areas for failure, poorer neoprene yield. There is always some give and take on these factors.
The lifespan of a wetsuit is 3 year — 4 tops — whatever the durable efforts are made by brands and manufacturers. Recycled and compostable are the way to go for a sustainable future?
Biodegradable is the way forward. Sure, recycled delays the time before it hits landfill but whether you turn it into a yoga mat or sound insulation that's a short term solution. Good optics but not a long term solution. On the other hand, imagine every wetsuit made next year could biodegrade within 5 years on hitting landfill. That's what we have done with our Yamamoto FriendlyPrene and we need everyone to get one board with it.
When it comes to the order form, what piece of advice do you have for retailers? Stick to the pre-orders for better margins or split your purchases in separate batches to oil your cash flow?
In the wetsuit business, pre-order is critical to make the process work. The MOQ on all of the component parts of a wetsuit are such that commitment to production is essential. Without commitment from all stakeholders, the options (colors, thicknesses, shorty variants) and volumes being made will reduce, which will work down the chain to a very basic offering on the retail floor and a scarcity of stock. The wetsuit business is a real partnership between retailer, brand and manufacturer.
Key Products
Malama Mens 5/4 Chest Zip
The Mālama wetsuit is the pinnacle of our ambition for a cleaner way to do wetsuits.
First and foremost, this is a high end performance wetsuit. Based on our APEX fit pattern with a zip free design pioneered and proven on our Cyclone range, using Yamamoto #39 rubber the Mālama fits, feels and performs at the highest level. In line with our durable design concept, the Mālama continues our mission to recalibrate balance; putting durability at the centre of wetsuit design to make longer lasting products. The Mālama, goes one step further to solving the problem of post consumer neoprene waste; FriendlyPrene with enhanced biodegradation, developed with our friends at Yamamoto and EcoLogic LLC.
Cyclone Mens 4/3 Chest Zip
Our next level performance suit, now available in a Chest Zip design. Featuring all high end materials and construction for surfers looking for extreme performance in flexibility and warmth. Available in 5/4mm true thickness cold water wetsuit. The Hexotherm 2 lined core and fully sealed seams make these feel warmer than some thicker suits meaning you can go thinner to feel even freer. Available as 4/3 Hooded
Cyclone 5/4mm Split Toe Boot
Warm 5mm boot with a 4mm sole for board feel. Lined with Hexotherm2 for warmth and a dual textured sole for grip. This is a full spec winter board that allows you to surf at your best in any conditions.