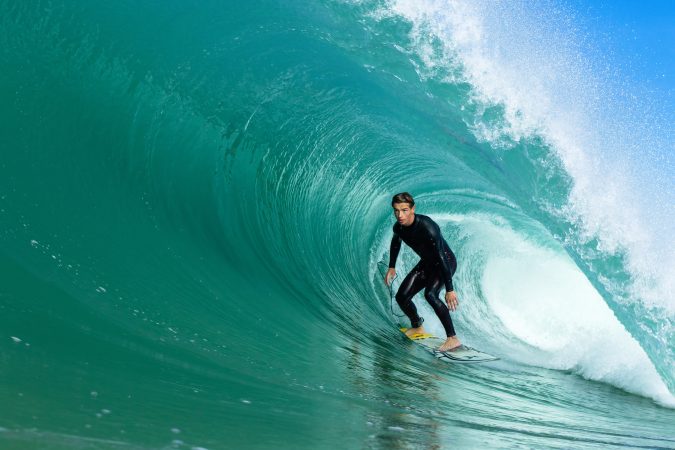 Hurley F/W 23/24 Wetsuits Preview
Retail Buyers Guide: Wetsuits F/W 2023/24 Retail Buyer's Guide
Brand: Hurley
Interviewee: Fernando Rivero, Product Manager Hurley EMEA
Already an expensive piece of the surfer's kit, the winter steamer took a hit with the rise of material/shipping costs. How much of a rise of RRPs are we talking about for FW23? How do you justify the rise to retailers & customers?
In FW 23, we haven´t rise prices of any model, except Advant, we increased of 5-10€ because we added an extra insulated panel in the front part of the wetsuit. Retailers & consumers are seeing how in all parts of their lives, are increasing, so they don´t like it, but they know there is a macroeconomic reason after.
On the one hand, surfers are now keen on wearing hooded wetsuits for the coldest days, and the other hand, the "4/3 with more 3 than 4" are on the rise for extended mild autumns these days. How do you handle those new habits?
We try to listen the needs and demand of consumers & do our best to match it. We try to have sufficient product & technologies at different price points to cover the actual demand. We have a 5/3 hooded & different 4/3 in the different models (Advant, Plus, Max). Each of them uses different materials & technologies that can fit the different surfers' expectation. Whether they need protection from cold waters, wind & insulation.
With technologies trickling down in the ranges, is GBS to be the new Flatlock? Otherly said: is the flatlock wetsuit set to disappear in a near future?
I can´t believe that the flatlock is going to disappear in a near future. Its still a good closure to reduce water going into the suit. Our responsibility it's to evolve and give consumers different options to buy, so they can select from the different systems, the one that fits better their needs. I think we still haven´t find a closure sufficiently good to substitute the benefits of the flatlock.
What are you bringing on the table in FW23 as far as neoprene and linings are concerned?
In FW 23, we are bringing several relevant newness. We are launching:
-MAX for her. We couldn't continue without offering women the chance to wear the best & most premium Hurley wetsuit. Using best materials, finishes & technology as men, in black version. 4/3 & 3/2. -AIR, as our 4th silo in the collection. We want to complement our offer with a comfortable option. The perfect option for surfers that prioritize feeling more comfortable, flexible & light when they are surfing. For example, high skill surfers, that are constantly paddling and surfing. Surfers that they have short time to surf and want to maximize their energy and avoid getting tired by paddling, with a lighter & flexible model. We use the same Exoflex material, as in the advent that gives great flexibility and quick dry. Spot Taped strategically placed to add durability where it's needed. We will offer a 4/3 & 3/2 both men & women in a triple black color option. Our springsuits & jackets are going to move to this new silo.-Nic Von Rupp pro model. He will be our ambassador of the Plus silo. We decided bringing some excitement and supporting our local heroes by design and special edition with him. It will be a volt yellow with black, so he can be seen from far away as a safety benefit. It has extra flexibility in arms and shoulders. Nice branding details. It will be offer in a 4/3 & 3/2. -Advant Back zip. We are offering a back zip closure in this models for surfers that want to have a different option from the Chest zip, to make it easier to get in. It will have a insulated panel in the front & a neck pocket to avoid water going in. 4/3 & 3/2 both men and women -Kids Backzip: We find that kids also need a different closure when they go surfing, specially at those ages were they don´t have sufficient ability to fit on a front zip and need parents help. It would make their lives easier.
There has been a lot of focus on fits lately, as opposed to a few years ago when the stretch was the fit. Is there room for improvement on silhouettes (and genders)?
There is always space to improve, especially if we use new fabrics, that are more flexible, durable etc., changes the way it fit a suit. We need to adapt and adjust the patterns & measures of our wetsuits, depending on this, so they don´t fill loss or press more than expected.
The lifespan of a wetsuit is 3 year — 4 tops — whatever the durable efforts are made by brands and manufacturers. Recycled and compostable are the way to go for a sustainable future?
There is a big focus from everyone in the industry to make wetsuit & its process more sustainable. I see a lot of things going on, from small details in the production to try to reduce & use recycled, from clean energy used in the factories, color treatments to the natural bases, gluing, plastic used in packaging etc. What we see that there is room to improve in the performance & durability of natural base neoprene's if we compare with rubber based. Brands are working with factories to develop and to offer same benefits in natural & recycled materials, but we are in the process, the same as for example, automotive industry.
When it comes to the order form, what piece of advice do you have for retailers? Stick to the pre-orders for better margins or split your purchases in separate batches to oil your cash flow?
As a brand we need to offer different options, so we adapt depending on the needs, size, strategy of each retailer. Wetsuit usually it's a product with a smaller margin vs other category & at the same time the 2nd most expensive. It's important to know and control you finance and cash flow, inventory, rotation, to run efficiently your biz.
Key Products
MAX
ADVANT
PLUS