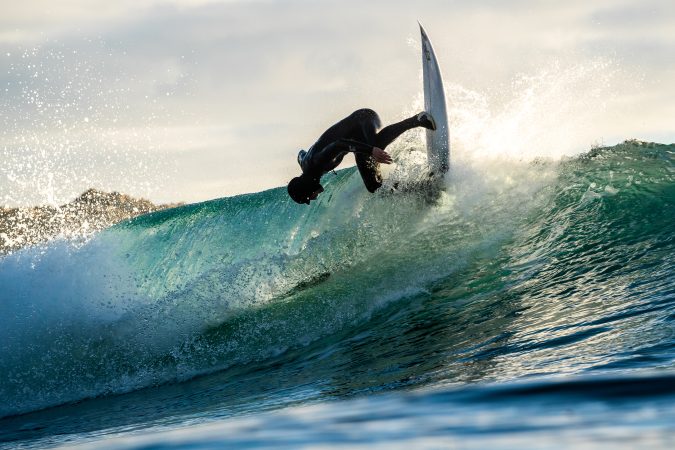 Manera F/W 23/24 Wetsuits Preview
Retail Buyers Guide: Wetsuits F/W 2023/24 Retail Buyer's Guide
Brand: Manera
Interviewee: Julien Salles, Brand Manager
Already an expensive piece of the surfer's kit, the winter steamer took a hit with the rise of material/shipping costs. How much of a rise of RRPs are we talking about for FW23? How do you justify the rise to retailers & customers?
We're talking about an 8% – 16% increase. It's mainly caused by the raw material, shipping costs, but also the bad dollar rate.Some of our products are carry overs but still suffered this price increase; I think that's the hardest to justify. But customers know that it's the same for pretty much every industry nowadays. We're not the only ones affected, so I guess we all have to accept it. Our customers know that we run a sustainable and healthy business, and we can't just absorb every price increase. We have a transparent and straightforward relationship, so they know that we don't increase our prices without a solid reason. We also made sure to announce every price increase in advance during pre-orders, so our customers are not surprised when the goods are shipped to them. They could place their orders with the correct information in mind. One solution to keep our prices down would have been to sell the same wetsuits but with reduced quality (cheaper neoprene, jersey, features…) But that's just not who we are. Quality comes first. I would say it's just a matter of trust and keeping a sustainable business/partnership with our customers.
On the one hand, surfers are now keen on wearing hooded wetsuits for the coldest days, and on the other hand, the "4/3 with more 3 than 4" are on the rise for extended mild autumns these days. How do you handle those new habits?
We have a clear vision of what kind of product we want to offer. We've been selling a lot of hooded wetsuits for many years because people like the quality of our winter wetsuits and we believe this design provides ultimate warmth. Selling 4.3 with more 3 than 4 is not an option for us. As a quality wetsuit company, we refuse to go that way. We guarantee that every wetsuit we sell features more than 50% of the thickest neoprene announced. For example, our 4.3mm features more than 50% of 4mm neoprene panels. I never want to hear about a customer being cold in a MANERA wetsuit because they thought they were buying a 4.3 but, in the end, only the chest area had 4mm. If you're looking for an extended, mild autumn's wetsuit, I guarantee our 3.2mm will do the job!
With technologies trickling down in the ranges, is GBS to be the new Flatlock? Otherly said: is the flatlock wetsuit set to disappear in a near future?
We never offered flatlock wetsuits and we do not intend to do so. But I'm pretty sure they won't disappear since prices are going up. People will turn to cheaper technologies like flatlock for price point wetsuit.
What are you bringing on the table in FW23 as far as neoprene and linings are concerned?
Our most premium MAGMA range is brand new for FW23! We implemented a new MAGMA+ fleece that is warmer, dries faster, and feels more comfortable, as well as fully recycled inside and outside jerseys. We have a newcomer into the range: the ALT. It's a 100% Yulex, 100% recycled jerseys wetsuit that has a reduced impact on earth (Yulex claims that using their foam compared to standard neoprene reduces the overall carbon emissions by 80%). It's a very premium wetsuit, but we have to push the market into a more sustainable direction, and we hope that with more and more brands using Yulex the price will go down.
There has been a lot of focus on fits lately, as opposed to a few years ago when the stretch was the fit. Is there room for improvement on silhouettes (and genders)?
MANERA was built over the 3D DESIGNED WETSUIT principle since its inception. We have a specific software that allows us to design our wetsuits on a 3D model. Doing everything in 3D allows us to choose our mannequin body morphology and position, and then adapt it to our sports and customer's body type. Once the wetsuit panels are designed on this mannequin, our software smartly flattens the panels taking into consideration the neoprene thickness and elasticity, to match the 3D design as much as possible. Lay one of our wetsuits flat on the ground and compare it to any other competitor. The MANERA one will be pre-shaped and will actually look like human arms and legs are already inside. We are improving and working on our fit every year. However, we feel like we are already quite far ahead compared to other brands that work everything out in 2D, or those that just send cutlines to the factory and expect it to work out the fit for them.
The lifespan of a wetsuit is 3 years — 4 tops — whatever the durable efforts are made by brands and manufacturers. Recycled and compostable are the way to go for a sustainable future?
Brands now have several good options to reduce their impact on earth when building a wetsuit. For example, we now use natural foams like YULEX on our latest ALT model. The company argues that it thus reduces the overall carbon footprint of a wetsuit by 80% compared to a limestone or petroleum-based foam. Besides, factories offer more and more high-performance recycled jerseys that are very durable and flexible. Packaging is an important point, but we now have many better options available on the market. We're actually using Minima recycled/compostable bioplastic and recycled carton board, and we never had any problem during shipping. With a little sourcing effort, we can do good things. Concerning the wetsuit's end of life, we finally have a good option! We and other brands partnered with Circular Flow to really recycle wetsuits. Thanks to an exclusive process, Circular Flow is able to turn unusable wetsuits into a new neoprene foam, and then build neoprene accessories from this foam (car seat covers for example). And they are based in Europe! We have recently launched our partnership, announcing that MANERA's goal is to collect 2500 used wetsuit this year. We placed collecting barrels in our 10 biggest shops in France, and we're already looking to expand the number of wetsuits collected and collecting point for the following year.
When it comes to the order form, what piece of advice do you have for retailers? Stick to the pre-orders for better margins or split your purchases in separate batches to oil your cash flow?
I guess it depends on the shop! If you have the cashflow, take option 1. If you don't, take option 2. The market right now is slow, with retailers having a lot of inventory. I would always prefer to keep a clean market over increasing sales, so it's not a problem for us to receive lower preorders or split purchases to give retailers the opportunity to clean their stock over a longer time, and so to avoid huge discounts.
Key Products
ALT 5.4.3 men
ALT stands for « Alternative ». We have built a greener alternative to conventional wetsuits, with performance in mind. It features a 100% natural YULEX rubber. Directly tapped from FSC-certified hevea forests without cutting them down, it ensures a long-term supply stability as well as a drastically reduced environmental impact. Both inside and outside jerseys as well as our inside fleece are recycled.The ALT represents a new generation of high-performance wetsuits.
MAGMA 6.4 women and men
The Magma Hooded is the northern warriors' best friend. Featuring a 2mm windproof Magma hood attached to a 6.4mm Magma suit, you can hit the spot all year round even in the worst conditions.The Magma+ is one of the best material out there. It is the wetsuit of your choice if you don't want to stay home during winter.
X10D 4.3 men
Best of both worlds, the 4.3mm X10D allows unrestricted movements while keeping you warm during mid-season. The X10D is the ultimate performance wetsuit. In addition to excellent thermal protection, the X10D fleece interior gives flexibility and lightness while providing great comfort. It is perfectly adapted to any discipline where you need maximum flex because of its ability to follow the body's movements. If you are looking for lightness and freedom of movement, this is the wetsuit you need.