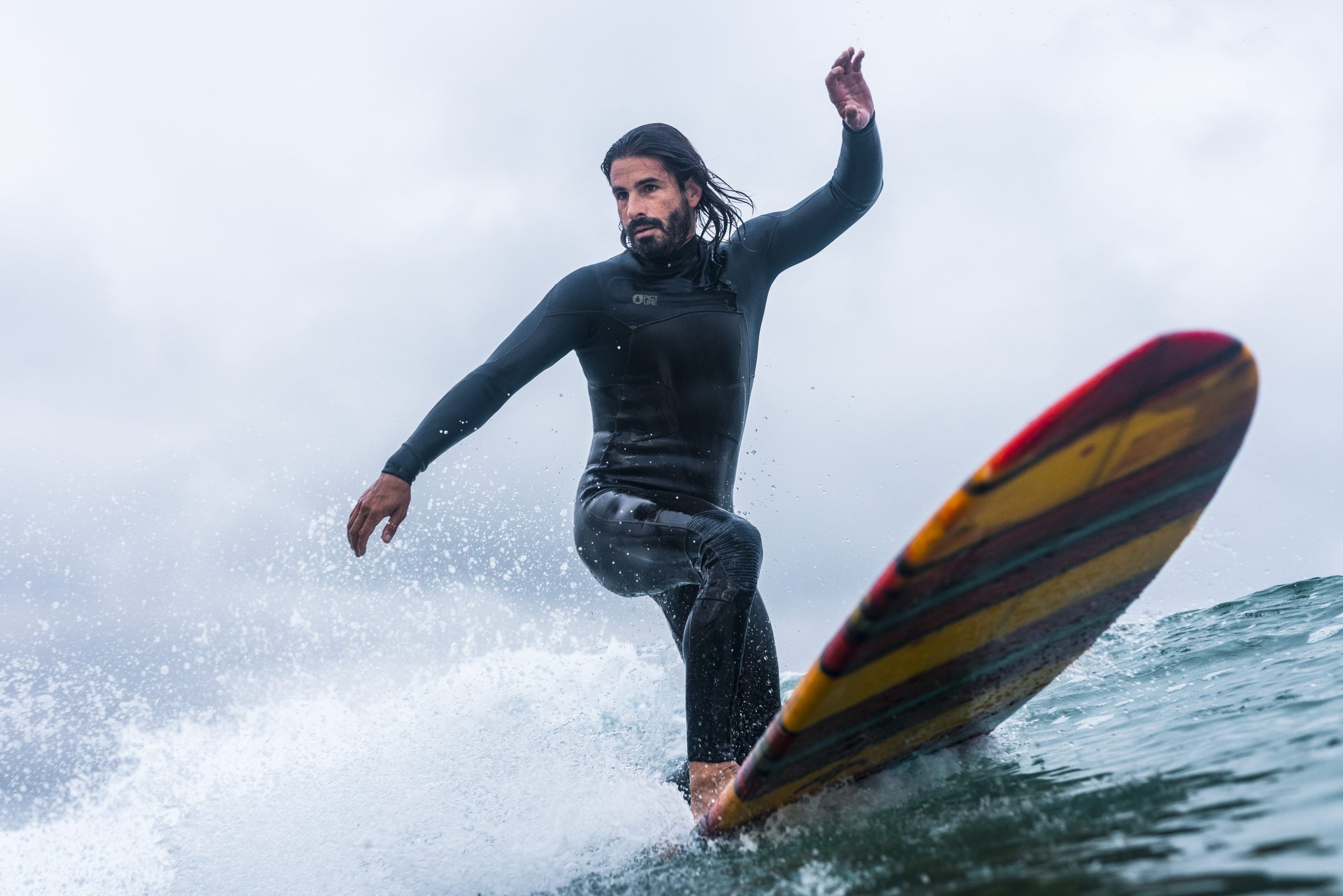 Picture Wetsuits F/W 23/24 Preview
Retail Buyers Guide: Wetsuits F/W 2023/24 Retail Buyer's Guide
Brand: Picture Organic Clothing
Interviewee: Maxime Lemaitre – Surf Product Manager / Vincent Durand – Marketing specialist Surf
Already an expensive piece of the surfer's kit, the winter steamer took a hit with the rise of material/shipping costs. How much of a rise of RRPs are we talking about for FW23? How do you justify the rise in retailers & customers?
As you should know, a price increase in raw materials has a strong impact on product sourcing. First of all our supplier (who is the main actor in the market) had to increase their price, therefore we had no choice but to also increase our RPP to stay at an acceptable margin level. This is a situation we faced in all our product categories, outerwear, streetwear, and accessories. On the other hand, the exchange rate between dollars and euros cost us some more losses. What we decided to do is to absorb a part of the losses. At the end, our retail price on the wetsuit category went up by 15% approximately. We could start to work with another supplier, but we decided to keep with our actual one for its capacity to always innovate in terms of sustainability. This is key for us to grow the category and continue to develop innovative & sustainable products.
On the one hand, surfers are now keen on wearing hooded wetsuits for the coldest days, and on the other hand, the "4/3 with more 3 than 4" are on the rise for extended mild autumns these days. How do you handle those new habits?
Of course, we can identify these 2 trends depending on the winter period and the area. We have a dedicated product for both uses. First, we have our Dome series, which provides unmatched warmth and performance. A 5/4 Hooded version is available for both men & women.
On the other hand, we have our Equation series, which provides comfort and stretch. It is less warm than our Dome series but stretcher and perfect for mid-seasons.
With technologies trickling down in the ranges, is GBS to be the new Flatlock? Otherly said: is the flatlock wetsuit set to disappear in a near future?
If we talk about cold water wetsuits, the range that we sell the most in water, I think we can affirm that flatlock is dead. On the other hand, we have a summer range of spring suit where we will continue to use flatlock since it allow us to stay competitive in price, and there is no need of GBS on thickness below 3mm.
What are you bringing on the table in FW23 as far as neoprene and linings are concerned?
For FW23, the focus was made on our pattern on our Equation series for both men &  women; The focus was to enhance stretch and flexibility of our suit. We also work on water entry to optimize our previous pattern.
There has been a lot of focus on fits lately, as opposed to a few years ago when the stretch was the fit. Is there room for improvement on silhouettes (and genders)?
As I explained previously, pattern and therefore fit on our wetsuit was a true focus. Wetsuit is a fitted product, that rely directly on skin. We put much energy to develop pattern that will fit the widest variety of body, with different need for Men & Women. Thanks to our development team and testers in the water almost every day, we are confident about our new pattern.
The lifespan of a wetsuit is 3 year — 4 tops — whatever the durable efforts are made by brands and manufacturers. Recycled and compostable are the way to go for a sustainable future?
Sustainability is part of the roots of Picture. As you may know, we introduce circular polyester (recycled polyester from garment) on our outerwear line for FW23. We have a upcycling story on our backpack line to improve end of the product lifecycle. On the wetsuit we work on solution as well to valorize the neoprene we use on our product. But before that we first take care to develop sustainable and durable products. For instance all our winter suits are fully taped seams, we reinforce the collar with a stretchy binding, and we use fuse cut on arms and legs. All this features warranty a longer lifetime for the product, which is the most important thing for every sustainable brand out there.
When it comes to the order form, what piece of advice do you have for retailers? Stick to the pre-orders for better margins or split your purchases in separate batches to oil your cash flow?
We never push our customer to achieve bigger volume than they can do just to achieve growth. Our philosophy is more to allow them to have the right product at the right time. When we develop a new wetsuit, we take the right time to be sure on our product, and we keep it on the market for several seasons. With that in mind, we always generate some stocks to allow our retailers to do some reassortment.
Key Products:
Dome 4/3 :
Our Dome range of premium wetsuits combines flexible materials with our best draining technologies to provide you with unparalleled freedom of movement and minimal drying time between two sessions. We make them with the latest Eicoprene technology, a non-petroleum based synthetic foam derived from a mix of oyster shell powder, limestone, and recycled tires. To laminate the recycled polyester lining we use Aqua-A™, a solvent-free water-based glue with no harmful chemicals. Designed for 52°F-63°F water, our flexible and heavy-duty power seams make the 4/3 Front Zip stand out, and the Dry Now lining wicks moisture away for fast drying and increased insulation. The hyper-stretch knit under the arms offers total freedom of movement. These amazing wetsuits also include a WPF lining (Warmth Performance), our warmest lining available. The 3D-Knit construction and the WPF lining provide warmth by trapping air between each loop. Our Dome range also features glued, blind-stitched, fully-taped seams (GBS) for both maximum protection and comfort zones to protect your ribs when paddling.
Equation Flexskin 4/3 :
Paddling has never been so good! Featuring our brand new Flex Skin technology, the Equation 4/3 Flex Skin Front Zip is an ultra-stretch, heavy-duty wetsuit for chilly water!
Equation W printed 4/3 :
The ideal wetsuit for sessions in chilly water! The Equation range features our most advanced insulating technologies to keep you warm. Equation wetsuits are made with the latest Eicoprene.