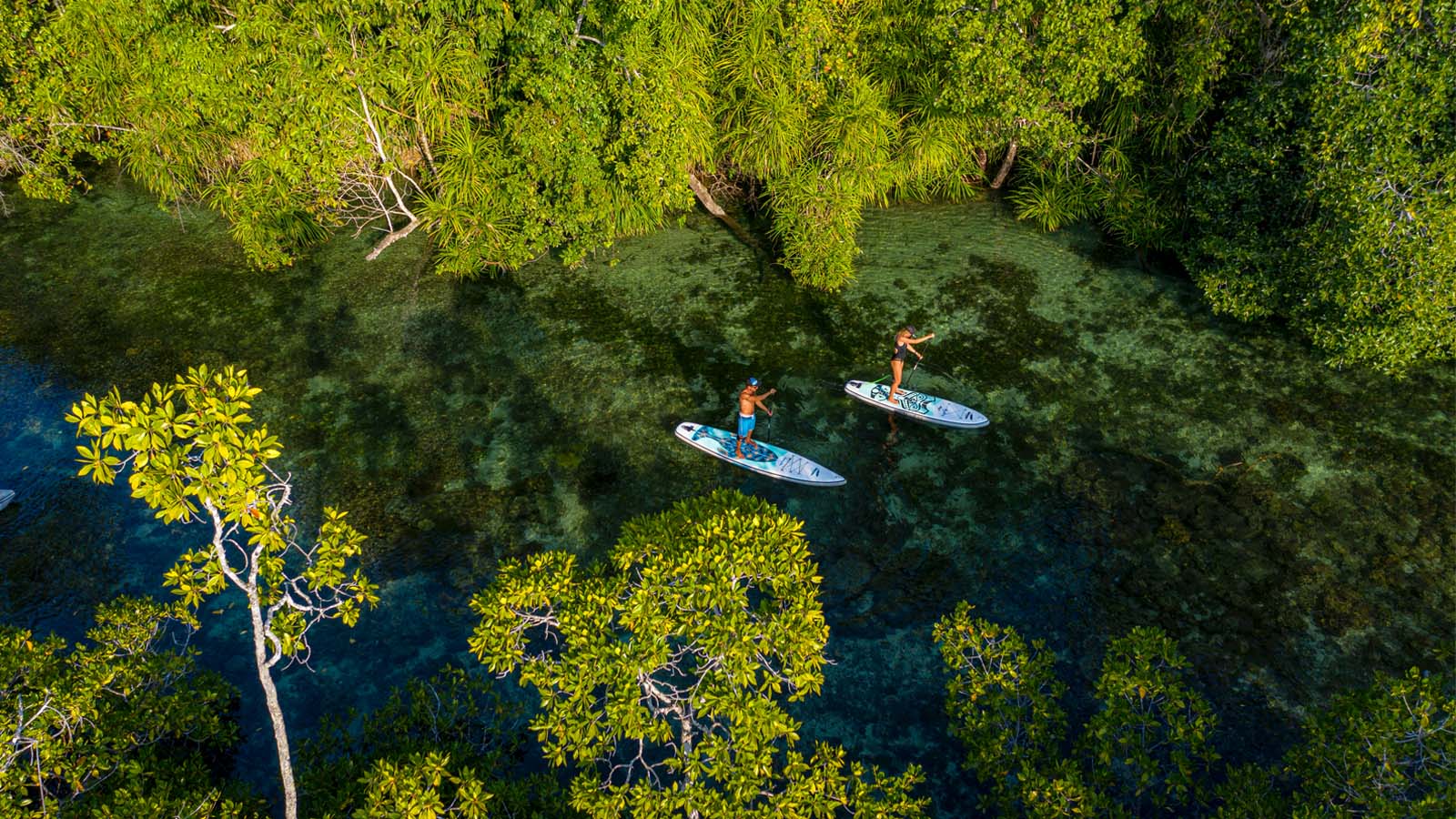 Indiana SS21 SUP Preview
Retail Buyers Guide: SUP SS21
Brand: Indiana
Interviewee: Co-Founder & CEO
How has Covid affected your SS21 range's development & production? (delays/range cancellations/carry over…)
The worldwide Covid19 measurements slowed us down as well. A lot of time was spent organising additional production batches and logistics. For 2020 we achieved already with our SUP 2.0 construction and features a new dimension for inflatable SUPs, which will be carried over for 2021 and 2022. But still, we did work on other developments. Already in August, we presented the new Inflatable Boards Groms 10'2 and Feather 12'6. We worked on two Rivers SUPs together with our partner River-SUP.ch, the 9'0, and 10'2 will be on the market in March 2020. All the Classic Inflatable Boards will get a shoulder carrying strap and a tear-off edge, the same for the Limited Edition boards.
Do you have any feedback regarding the post lockdown sales at a retailer's level?
They all increased their sales. Could have sold more if more available in our stocks.
With PaddleExpo and all the tradeshows cancelled in 2020, how will you connect with distributors and retailers to market the SS21 products?
With personal visits, phone calls, mails. Since April 2020 we have our own showroom right at the Lake of Zurich. We welcome all shops and SUP stations to visit us and test all our equipment.

Any change to report in the bestselling SUP categories? (allround vs touring/race/waves/river/downwind/foiling…)
The percentage of the lighter and more expensive classic inflatable boards is increasing, Inside the family category, there is an ordered movement from the allround 10'6 to the 11'6 and 12'0 touring boards. The foiling sector is exploding. Our new wing foil boards, both carbon and inflatables, are very well pre-ordered. As well as the foils, River SUP is a new category for us but started very interesting. We have two models. All the other categories remain the same.
Inflatables: Which new technologies & models are you implementing in 2021?
The SUP 2.0 Construction with Woven Pre-Laminated Double-Layer Drop stitch for Classic and Limited Boards will remain the same. As well as Knitted Pre-Laminated Double-Layer for all Family Packs. We added Feather 12'6 and Groms 10'2 and the River 9'0 and 10'2.
Hardboards: Which new technologies & models are you implementing in 2021?
We have a 14' hollow dugout race board with 21.5 width made in Croatia. This will be a super fast and light race board.
For rental stations, we offer our appreciated allround hardboards 10'6 and 11'6 in heavy-duty PVC carbon sandwich quality. As well the touring boards 11'6 and 12'6. Rental customers like more and more fast touring boards.
Versatile all-in-one platforms (SUP/FOIL/WING/WIND/SURF) are quite popular. Do you market such model(s)? Secondly, isn't a one-board quiver deterring people from buying several boards?
We still offer the 7'8 hybrid board for SUP Surfing, SUP Foiling, Windsurf Foiling, and Wingfoiling.
The ones who have no more space or budget prefer the all-in-one boards, the freaks with more capacity prefer specialist boards for all their disciplines.
Please name and describe your 3 highlight pieces and items that retailers should definitely order.
Indiana Inflatable Familypack 11'6: Retail Price: 849 Euro
The 11'6 Touring Family has a pointed, flat, and therefore fast shape and offers a lot of volume and payload areas for longer trips. Thanks to the «pre-laminated double layer drop stitch, the board is stiff and robust. The practical 3-piece fiberglass/carbon paddle is included in the pack. Incl. Split Fin Box, 8.5 Hyperflow Polyamid Fin, Wheelie Bag + Paddle-Connecting-System, HP 2 Double Action Pump
Indiana Inflatable Touring 12'6: Retail Price: 1049 Euro
The perfect choice for micro-adventures and smaller tours. Stable and secure thanks to its 31-inch width and with the pointed and flat touring shape, it allows you to move forward quickly. The woven pre-laminated double layer makes it very robust and stiff. The fiberglass foot bases in the stand area provide a hardboard feeling.
Incl. Split Fin Box, 8.5 Hyperflow Polyamid Fin, Fibreglass Foot Bases, Wheelie Bag + Paddle-Connecting-System, HP 2 Double Action Pump
Indiana Inflatable Feather 11'6: Retail Price: 899 Euro
The feather-light board for adventurers, who like to take their board with them everywhere they go without missing out on performance The length of 11'6 and the pointed, flat shape allow for brisk speed and good directional-stability Thanks to the thickness of 6 '' it is stiff enough and the volume of 307 liters allows a large payload.
Incl. Slidefin Box, 8.5 Hyperflow Polyamid Fin, Light Dry Transport Bag, Mini Double Action Pump