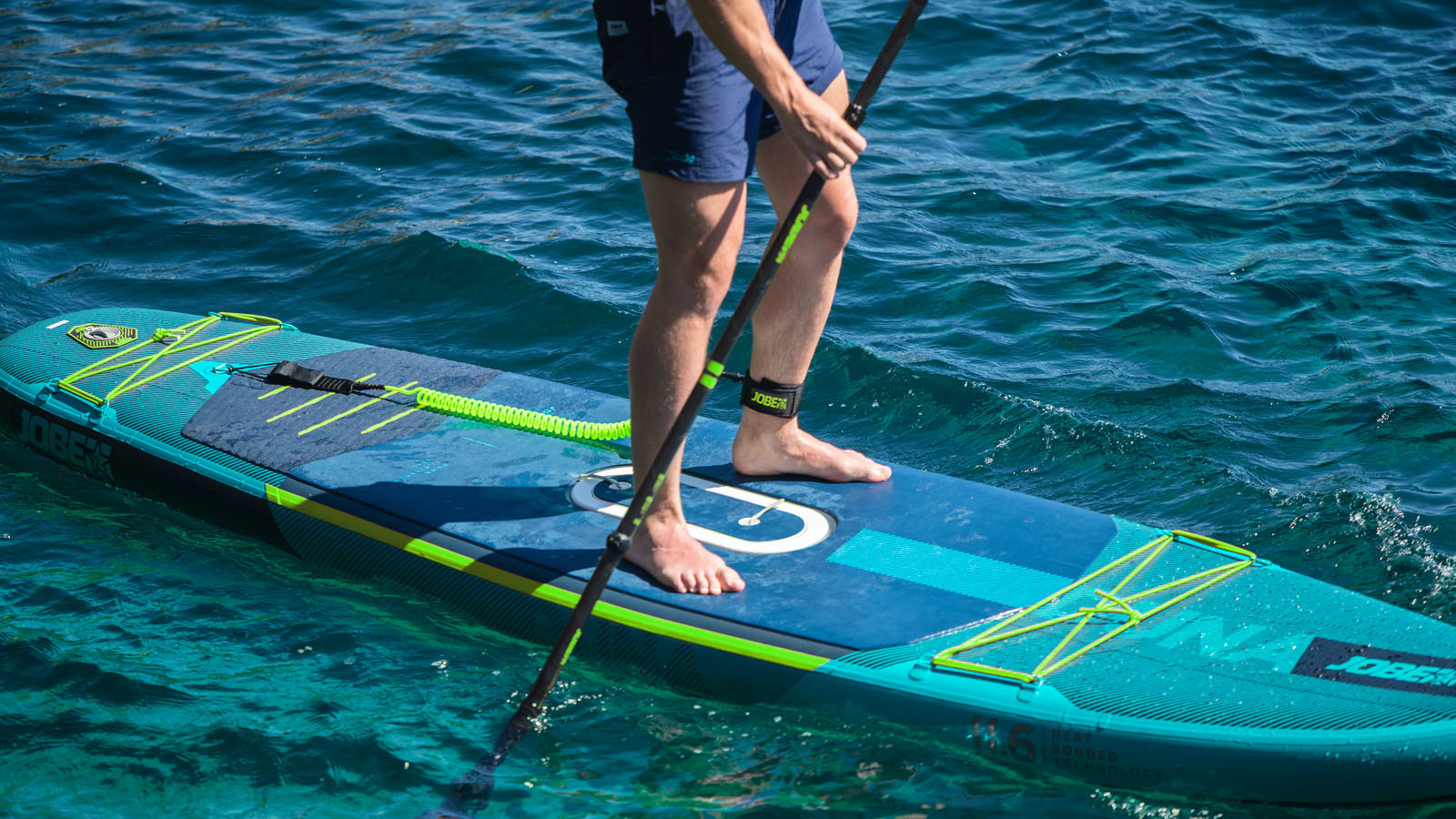 Jobe SS21 SUP Preview
Retail Buyers Guide: SUP SS21
Brand: Jobe
Interviewee: William Doornekamp, B2B Marketer
How has Covid affected your SS21 range's development & production? (delays/range cancellations/carry over…)
Good one! It has been bizarre so far. Last time we spoke about SUP, I said double digits were gone but this summer has been our best so far (who could see that coming right). We were already working on some great innovations and this boost has given us confidence in our choice to push even more on this for the future. Luckily for us, we have a reliable partner and can continue these innovations and collections as planned. So for Jobe Sports, it's all looking good and as planned for our 2021 SUP collection
Do you have any feedback regarding the post lockdown sales at a retailer's level?
Consumers have spent their summer holidays in their own country and all during a hot summer as well! The result for retailers has been insane growth in sales of hardgoods. Consumers want something to do and have more time than ever before!
We saw that consumers have so much time that SUP was the perfect summer activity. They don't have to commute, they can't go to a terrace or bar and they can't go on holiday. All this time and a hot summer resulted in great sales and with the future being so insecure, we advise dealers to prepare for another summer where a lot of people might not want to take the risk of traveling far. Another thing is what I mentioned last time as well, create a good online experience that matches the experience you would give in your store. If you didn't have an online presence, this situation should make you think about it at the very least
With PaddleExpo and all the tradeshows cancelled in 2020, how will you connect with distributors and retailers to market the SS21 products?
Next to regular marketing activities that we continue throughout the year, we've been shifting to a new and exciting online platform: The Jobe Expo (https://www.jobesports.com/en/jobeexpo/).
The Jobe Expo is our own online platform which will replace the cancelled tradeshows. We have made unique content for this explaining our product range and our latest innovations. We connect this with our Customer Service team who will answer all questions directly. By doing so, we invest heavily in an online experience which matches that of normal trade shows.
Any change to report in the bestselling SUP categories? (allround vs touring/race/waves/river/downwind/foiling…)
Well, a big change has been the number in the market in general. I can't emphasize enough that COVID has given an insane boost to the Sup and watersports market in general. All around has always been the top category and has had a tremendous boost due to the COVID situation.
Our other categories have steadily grown and touring also has had an insane boost. Foiling is something we aren't active in but we are keeping a close eye on this as it is an interesting part of the market.
Inflatables: Which new technologies & models are you implementing in 2021?
There have been a lot and exciting new changes for the new 2021 collection making this the most innovative collection in the market. First is our Form Follows Function philosophy where design meets functionality. You can see this in our Integrated Leash System for instance, which has a sleek looking system for the bungee cord instead of the sloppy looking patches on a SUP.
Another really cool new feature is our EZ-click fin, the name might give it away though: you can easily click this fin in. It's a whole new finbox system which makes for a fin which is lock tight and won't budge, even if you bump into rocks or something.
Then we've made our EVA deckpads a lot bigger for more surface area AND we added second stringer to the bottom of the SUP board. This creates way more stiffness and makes Jobe boards the stiffest in the market. And you get all of this next to our earlier innovations like our Railtape, X-Stringer Construction, Heat Bonded Tech, and much more.
Last but not least, is the addition of a new series; this year we have the "Premium Aero Series" and the "Aero Series". The premium comes with all our tech and an advanced paddle. But our "Aero Series" is our answer to the cheap, low-end boards and brands on the market. Our Aero Series is thinner (4.75 inches thick) and offers high-end quality for a fraction of the price!
Hardboards: Which new technologies & models are you implementing in 2021?
Our hardboard range has received a beautiful new coating on the rails of the board. The rails are always the point of a board where people tend to get the most impact because they might bump into rocks for instance. This new coating on our Bamboo SUP boards doesn't just look good, it's far more durable.
Versatile all-in-one platforms (SUP/FOIL/WING/WIND/SURF) are quite popular. Do you market such model(s)? Secondly, isn't a one-board quiver deterring people from buying several boards?
 For our SUP range, we don't apply this philosophy. Sure, we have a windSUP but making an all-in-one option is not the way we work. We are a specialist brand and don't intend to make a product which is a 'Jack-of-all-trades but master of none'. We focus on creating a perfect product which is the best in its category.
Please name and describe your 3 highlight pieces and items that retailers should definitely order.
Yarra
The Yarra has always been our top seller, being the high-end Swiss Army knife that it is. This 10.6 is an all-round board which is perfect for everyone. And this board comes with all our latest technology to create the best experience out on the water.
E-Duna
This is a cool innovation! Next to our normal Duna which was already very popular, we created the E-Duna. This product features an engine in the center of the board which can pump up the board for you and pushes you forward out on the water. It comes with a remote which you can place on your paddle and is the perfect SUP for those long SUP tours or for locations with more current.
Leona
In the fight for the SUP market, there is always an argument about pricing. Which is why we have our regular "Aero Series" which is our answer to the cheap and low-end boards/brands on the market. The Leona is our all-round 10.6 which is 4.75 inches thick but offers all the high-end tech for a fraction of the price.