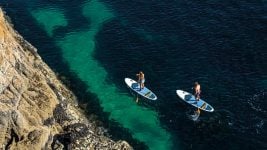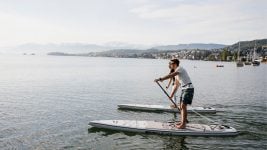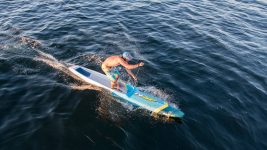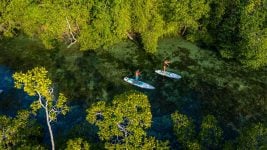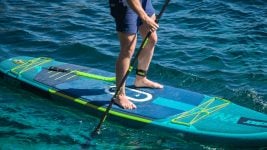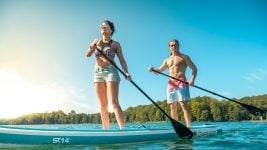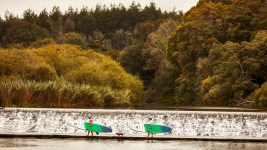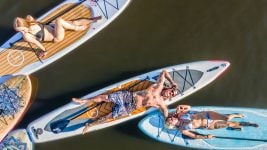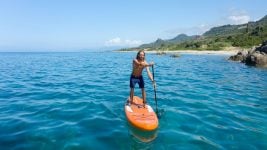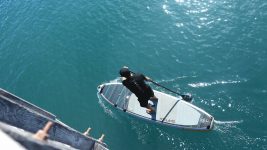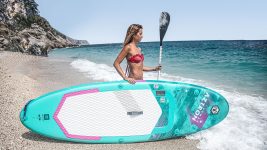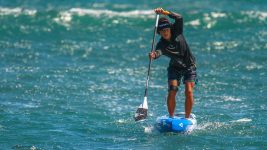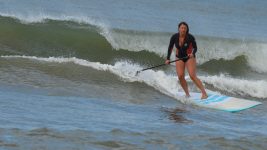 In issue 101, we left you on a rather positive note regarding the SUP market, this was back in June when European countries were coming out of lockdown. With the summer behind us, we are now able to confirm an unprecedented upsurge in outdoor sports and SUP is certainly no exception. Overview and presentation of 2021's ranges with David Bianic.
Was the summer good? This is a rhetorical question in 2020… "on the inflatables market sales were excellent this summer and we quickly ran out of stock on our flagship models!" enthuses Benoît Brecq, Marketing Director for Ari'i Nui in France. On the other side of the world in Shanghai, the brand Aztron saw "an immense surge in orders since April 2020", assures Founder Tony Yeung. Co-Founder of Red Paddle Co, John Hibbard, received over 9000 information requests (in English alone) through the website and "this demand flowed through our retailers".
Better still, this high demand for SUP has meant that "big companies sold a great part of their unsold inventory stock", figures Andrea Di Sante from JLID Distribution in Italy (Jimmy Lewis, Infinity, I Love Sup, Wing Clan Project), and didn't have to "order boards or accessories for 2020". Jan Strindler, CEO of Kona fine-tunes this analysis further by defining a very clear market trend, namely "the small resellers step down or reduce their pre-orders, while the large players more than double their pre-orders for SS21". This situation benefitted the English brand Noah, confides Commercial Director, Tom Lazarus, thanks to stock being situated in their warehouse in the United Kingdom, "where other pre-order-only brands may have had low stock levels". In other words, to sell well, you still have to have the financial resources to buy enough stock…The scarcity of boards gave rise to situations never seen before, as Anja Scheuermann from Marketing at YOLO Board relates: "Most containers that were ordered were almost sold even before they had arrived."
But will this upsurge last until spring-summer 2021? This is the purpose of the article… For William Doornekamp, B2B Marketer at Jobe Sports, "a lot of people might not want to take a risk travelling far", and this uncertain future might well benefit local activities like SUP. For the moment, the brands are above all trying to ensure the production and delivery of their 2021 ranges that were largely delayed because of the sanitary crisis with most manufacturing sites being located in Asia. "Companies in China and Vietnam have delays of over six months for production time," says Andrea from JLID.
Another solution is to continue the 2020 range into 2021, a choice made by SIC Maui, Gladiator and Jimmy Lewis, providing products with a two-year life cycle. Brands that manufacture on the Old Continent are rare but for Tripstix in Germany: "Covid did not affect us much! We already stopped manufacturing in the Far East at the beginning of 2019 and set up production in Europe instead." We should also commend the efforts of ORPC (the parent company of Aqua Marina) who set up a solidarity programme between dealers and distributors in April 2020 to help them get through the most difficult moments.
NO EXPO
Traditionally, our autumn Retailer Buyer's Guide serves as a preview to accompany the new ranges presented at the PADDLEexpo in Germany. Unfortunately, absolutely no trade shows have gone down as you already know, so much so that brands have had to find new means of connecting with retailers. Tony Lu from Aqua Marina explains how (forced) economies made from the absence of tradeshows have been reinvested in digital marketing and e-commerce, meanwhile at Jobe, this situation has given rise to a new platform, the Jobe Expo (www.jobesports.com/en/jobeexpo) to replace the cancelled tradeshows: "We have made unique content for this explaining our product range and our latest innovations", relates William Doornekamp before adding: "We connect this with our customer service team who will answer all questions directly." For others, online Zoom conferences didn't make up for the lack of direct contact, "but came a close second", asserts John from Red Paddle Co: "Many of our wholesale teams have put in efforts to build out showrooms that work for video calling." Red Paddle Co's end consumers weren't forgotten about either and their weekly Facebook Live episodes became the preferred way of talking to the dedicated customer experience team. Crisis breeds innovation!
iSUP TRENDS SS21
The dominance of all-round designs aimed at the widest audience is showing no signs of fading. Spring-summer 2021 will therefore look very much like that of 2020, 2019, 2018, 2017… because the strength of the market is still reliant on first-timers attracted by the practical aspects of inflatable boards. Amongst these beginners are more and more females. The feminine market share is significant and demand is orientated towards all-round boards like you find in the Venus range from JP Australia, "These boards are perfect for cruising, touring, fitness and yoga", invokes Franziska Müller, Junior Marketing Director. These models are also adapted to the female physique with a thickness of 5" (instead of 6" normally) "for a lower standing position and lighter weight". Tara at Surftech confirms the success of this kind of model and they are continuing a wonderful collaboration with Prana (yoga specialists) in 2021 "and a new collab with Pura Vida the extremely popular lifestyle brand," and boards aimed at the 16-24 year old market. At Siren, the Rubio model in 11'2'' by 32'' is along the same lines, mimicking the look of a rigid board with its wood colour and turquoise crocodile pad.
Another noteworthy development is the growing market share of the touring category (shared with rigid models as below) as Maurus Strobel, CEO of Indiana and Apatcha confirms: "there is an order movement from the all-round 10'6 to the 11'6 and 12'0 touring boards." We should commend the work done by Red Paddle Co on their Voyager range, iSUPs with a "real" hull shape with their V-Hull that "really makes a difference when it comes to glide on flat water as well as control in cross chop and side winds," explains John Hibbard. Famous for introducing the concept of the compact inflatable, Red Paddle Co have also extended the twin-fin configuration of these models onto the Ride (all-round) and Voyager ranges, "which gives them increased glide".
While SUP on rivers and whitewater is still a niche within the inflatable market, these people are set apart from "Sunday paddlers": as real hardcore SUPers, they are inclined to shell out for models that are ready to tackle the rapids. Amongst the specialists of the genre, the brand Hala Gear from Colorado have three whitewater models amongst their best sellers, the Atcha 96, Rado and Radito. Their system with retractable fins (Stompbox) is a healthy advantage for risky descents over the rocks. Germany also has some nice whitewater descents so it's not surprising to see a hardcore model from Siren, the 10'2" snapper with HCT construction (Hybrid Carbon Technology).
But even more so than the shape or the discipline, it's the chosen construction that provides differentiation. The first thing to notice is that double layered PVC constructions are less popular, seeing a return to single layers. Stiffness and solidity are nowadays provided by other means like reinforcement bands, as is the case at Ari'I Nui: "In 2021 we are focussing on two types of technology: single layer with our Mahana range and the single layer + double PVC stringer on the top and bottom of the board with our H-Light range." This return to single layer has mostly been made possible by the advent of woven dropstitch (X-Stitch), explains Tony Yeung from Aztron & Aquatone: "This new technology fabric is made out of a stronger and lighter nylon base yarns, comparing to heavier traditional Dacron yarns." Their All-Round 2.0 model is therefore 25% lighter than before. Just as impressive, the weight of the 9'10" Spinera with ULT dropstitch (Ultra Light Technology) is just 6.7kg! After some reticence in the last three years, the concept of multiple compartment iSUPs will swell in 2021. Safety is a good sales argument when attracting new recreational participants and this "lifeline" of two (or more) air chambers in case of a puncture constitutes a must. The external chamber, around the outside of the board absorbs distortions, while the second central compartment provides stiffness. Here we can mention the Deluxe models launched in 2020 by Starboard "perhaps the most advanced technology in the 2021 SUP inflatable market," assures Svein. And the reason: double chamber, woven Fusion dropstitch, double I-Beam stringer, hot welded rails with 2000D compression band and 3K carbon reinforcement band. We should also mention the VaccuAir multichamber technology from Tripstix with the imminent arrival of ClustAIR. The system reuses the concept of inflatable tubes of varying circumferences (to give more shape to the board), but leaves out the secret weapon of vacuum-sealed compartments full of granules that help you fold the board up more compact. So stay tuned.
RIGID SUP TRENDS SS21
Rigid construction sets the real passionate enthusiasts apart from your occasional paddler and the brands are striving to ensure an easy transition between the two. One of the fears that SUPers have in the progression phase is damaging the rails with their paddle strokes. To reassure them, Jobe are presenting an elegant new covering on their Bamboo models that "doesn't just look good, it's far more durable," assures William Doornekamp. This sturdiness meant that HIT technology brought in the best sales for NSP in 2020 as Marketing Director Caren Forbes reveals: "It's the board you can smack with the paddle on the rails on purpose and it will likely damage the paddle quicker than the board."
With their first experience on all-round inflatables, a certain number of SUPers are looking to expand their scope for action and, if possible, go faster. So it's not surprising that the touring category has seen steady growth in the last few years. Amongst the flagship boards of 2021, in rigids, we'd cite the new GT-S from JP Australia. "Think 'ease of use' at no cost to speed," describes Franziska Müller. "The idea is to be able to enjoy the view on SUP tours while gliding at an average Race SUP speed." Not to be confused with the GT (Gran Tourismo) model from RRD, a best seller in 12'6" relates Jacopo Giusti in Marketing. Also take a peek at the Promenade model from Surftech, available in classic finish or in wood veneer for a nice effect.
Sportier but still in the realms of transition between iSUP and rigid, Kona are unveiling a new Ocean Hybrid 14'x24', "which will be the entry board for training/racing for the beginner, it will be extremely stable with high performance at an affordable price," explains Jan Strindler. Another trend amongst race/downwind models is the strong comeback of "dug outs", like the new Atlantis board from SIC Maui, devised for use on more turbulent water, or the full carbon Lightspeed 2021 model from Aztron. At the other end of the usage spectrum, rigids are also preferred for rental boards, either in soft-top construction or in full rigid like at Ari'i Nui, "with soft epoxy boards in our Throgger range mostly used by SUP Schools and rentals as well as an almost indestructible moulded epoxy sandwich construction in our MLX range that we sell primarily to rental centres" explains Benoît Brecq. At Indiana, rental or school boards can also go hand in hand with high-performance materials, like their 10'6" and 11'6" in carbon sandwich.
HOT: MULTI-USAGE BOARDS
The emergence of foiling and more recently wingfoiling has given rise to a new category of SUP, multifunction platforms. Initiated by Starboard (Hyper Nut) and JP Australia (Slate), followed by Naish (Hover Crossover "4-in-1"), this trend is not going away because "the watersport enthusiast of today does many different sports, having the same budget available", reminds Andy Wirtz from Norden. The German brand are also responding to this demand with their Futurama (6'1'' and 5'6''), a model aimed at SUP and wingfoiling sold at around €900. RRD are proposing a hybrid model christened the Wassup Foil (SUP, SUP foil, windsurf, wind foil), as well as the Hi Flight (SUP Foil and windfoil) while their Pocket Rocket (wind/wing/SUP foil) will appeal to riders not wanting the hassle of big boards on top of their cars! Already very foil-orientated, Slingshot will also have a new model on offer in 2021, the Shred Sled, a 3-in-1 board (SUP, wing, windsurf), as well as an astonishing accessory, the sUPWINDer, a stick-on fin that can transform a classic SUP into a wingsurf and go upwind. JP Australia will also unveil a little bomb in 2021, the X-Foil, a board designed for wingfoiling, downwind SUP foiling and windsurf foiling. "Shorter in length, wider and thicker compared to the Foil range for generous flotation and instant reaction to pumping", says Franziska about this model that ticks all the boxes of high performance.
SIC Maui have also joined in with their Marlin model (SUP surf, wing, windsurf foil), as have Tahe (formerly known as Bic Sport) with their 11'6" SUP Wind (SUP & windsurf). Benoît Tréguilly (Marketing & Communication) and Peter Durham (Product Manager) from SIC Maui/Tahe don't hesitate in highlighting the sustainability benefits of these crossover models: "If we sell less boards that are hyper specialised and ultimately used rarely, we use less of the planet's resources and are more environmentally friendly."
Finally there are also the pure, exclusive models, 100% SUP foil, like the Tombstone from Infinity (5'2'' to 7') or the Flying V from Jimmy Lewis (6'5'' and 6'11''), models aimed at seasoned foilers.