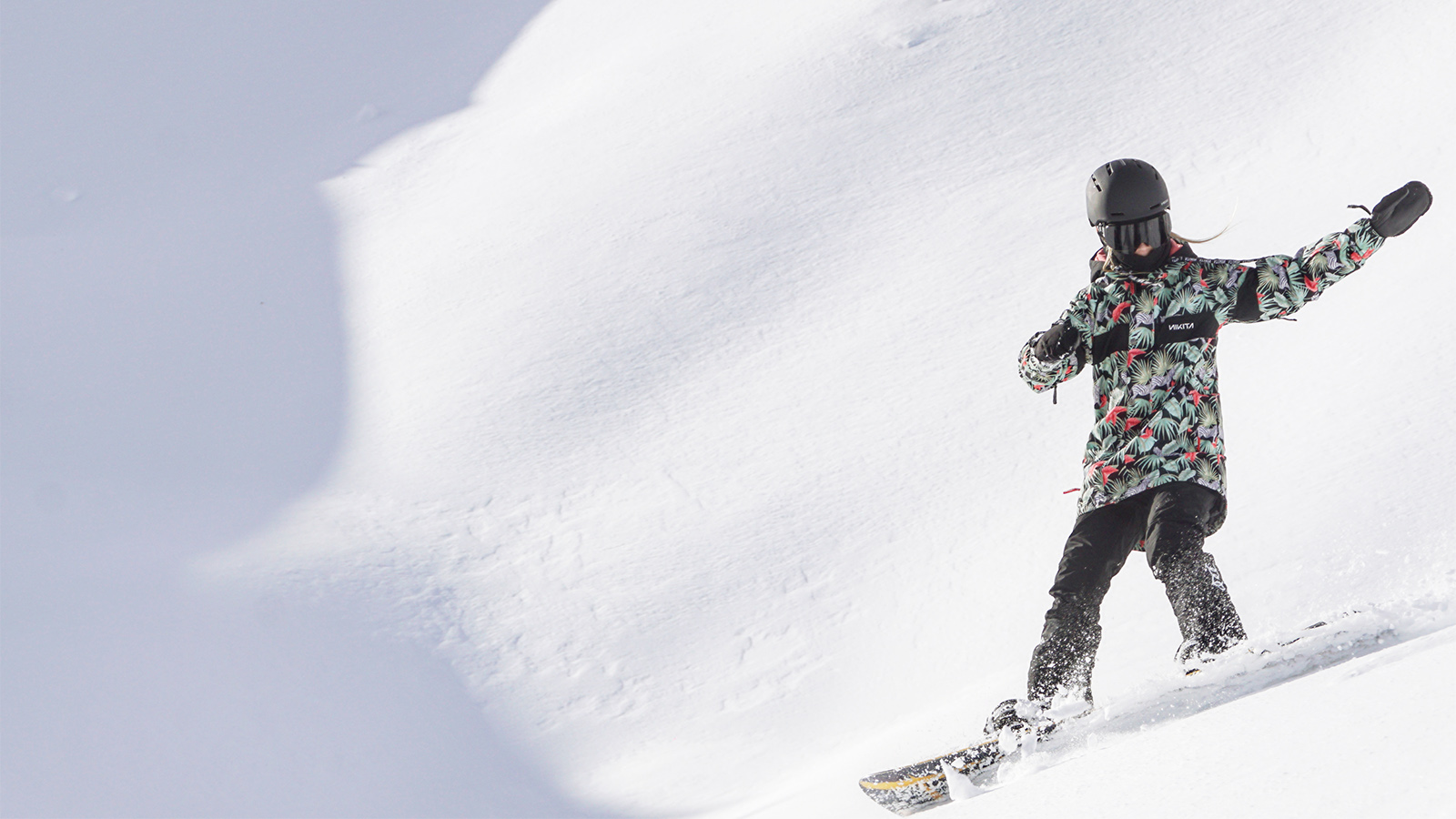 Nikita FW20/21 Women's Outerwear Preview
Retail Buyers Guide: Women's Outerwear FW20/21
Brand: Nikita Clothing 
Interviewee: Natalie Sullivan, Head of Design & Katharina Westerwelle, Marketing Manager EU
What's the overall theme behind next year's outerwear? From which big trends do you take your inspiration?
Overall theme is 80's influence. We also have taken on a 20th year anniversary of Nikita bringing back past prints and colors, adapting it to the new and fresh look of FW2021.
What new fits / silhouettes are coming next year? What pant and jacket styles are most important in your range?
Within our range you can find classic fit jackets, oversized ones, classic long fits and our famous one-piece.
Regarding pants, we're offering a classic fit bib, relaxed pants, but slim fit pants as well. We're trying to complete all the different styles and preferences. Each girl likes to look individually in her style of riding.
What's new in colours / prints?
New colors and Prints:  We have a Nikita Retro print from 2009 that we are bringing back. It is featuring the colors Red / Grey and Black. We have 2 more bright popping prints in the 80's generation.. a Blue Jaguar, and Black and White  Zig Zag print. We also have some basics, like a mountain Camo, and a Mountain Stripe we are working with. And a very bright Tropical Zebra color print for brave girls.
Any *NEW* technical stories concerning fabrics and materials?
One of the Technical stories we are bringing to the market this year is a water-saving Solution dye process. This fabric is only offered in black.   The special thing about this fabric is, that it eliminates the dying process after the fabric is woven, which in turn saves a lot of water. The dye process is done during the manufacturing of the actual fiber before it is woven into a yarn.
We are also using a blue-sign approved Recycled Eco down created by Thermore for our insulated jackets.
What are the three most important products in next year's range? Why? Please tell us about them.
One of our most important products we have is the Eco Black Anorack – Black; Made with our new water-saving Solution Dye fabric and includes the Blu eSign Approved Thermore Ecodown with fully seam sealed to keep water out and warmth in.
20k Waterproofing, 80gm/60gm of insulation
Features: Jacket to Pant Connect, Mesh Backed Pit Vents, Radiant Heat® Pocket, Luxury Comfort Lining W/RecycledLycra Wrist Gaiter, Stretch Powder Skirt, Adjustable 3-Piece, Secured Drop Hood w/ Ribbed CollarPass Pocket, Internal Pocket, Zippered Chest Pocket, Ultra Soft Chin Guard, Key Hook Inside Hand PocketDroptail, Built-In Waist Adjustment, Audio Routing, No Tangle Headphone Port, Elbow Articulation, Cuff Adjustments
Hemlock Pullover Jacket – all colors
Basic is boring and the Hemlock Jacket has already proven it's anything but. With its unique pullover fit, side-entry design, comfort details and iconic Nikita style – the Hemlock Jacket is for the girl who never settles for "good enough". Its the favourite of our team riders and customers.
10K Waterproofing, 60gm / 40gm insulation
Features: Jacket to Pant Connect, Mesh Backed Pit Vents, Radiant Heat® Pocket, Luxe Neck Warmer, Lycra Wrist Gaiter, Side Entry Powder Skirt System, Top Load Pouch Pocket w/Audio Routing, Sleeve Pass Pocket, Zipper Hand Pockets, Ultra Soft Chin Guard, Convertible Hood-to-Collar Design, Shaped Droptail, Easy Full Zip Side Entry, Audio Routing, No Tangle Headphone Port Elbow Articulation, Cuff Adjustments w/Extension, Double Stitched Seams
Fabric: Luxe Lining: Tricot/ Taffeta Insulation: 60gm/40gm Seam Seal: Critically Seam Sealed
Sizes: XS – XL Fit: Classic Long
Mondrana One Piece – 20YR Anniversary
This is the most eye-catching style within our new range. It comes with an oldschool print from 2009. The Madrona One Piece is back and better than ever with the addition of a dropseat in the back (to make those bathroom breaks go smoother) and an added media pocket for fast access to your phone on the slopes.
à 15K Waterproofing, 40gm insulation
à Features: Jacket to Pant Connect, Mesh Backed Pit Vents, Mesh Backed Inseam Vents, Convenient Drop Seat NEW,
YKK® Metalux® Zipper (thigh pocket), Radiant Heat® Pocket, Lycra Wrist Gaiter, Storm Access Pocket, Sleeve Pass Pocket,
Ultra Soft Chin Guard, Key Hook Inside Hand Pocket, Audio Routing, No Tangle Audio Loop, Elbow Articulation, Knee
Articulation, Cuff Adjustments w/Extension, Boot Gaiters, Boot Hooks Fabric: Luxe/ Foundation Lining: Comfort Lining
Insulation: 40gm Seam Seal: Critically Seam Sealed Sizes: XS – XL Fit: Slim
What are your top marketing stories for next season?
We have a couple of stories for the upcoming FW20 season:
The 20th year Anniversary capsule collection
We looked back at some iconic prints and pieces that have defined Nikita over the years and created a collection that blends together the old with the new.  This includes five styles, some outerwear and some streetwear pieces: Hawthorne Jacket, Madrona One Piece, White Pine Pant, Recall SS Tee and Flashback Hoodie. These pieces are featuring Nostalgic graphics and prints from Nikita's past.
B4BC X Nikita – Capsule
This season Nikita is proud to announce an exclusive collaboration with B4BC.
For this collab, we wanted to highlight the female form and bring consciousness to bodies in motion. To help bring this collab to life, we reached out to Canadian Artist Tori Swanson.
Our capsule consists of the following:
Sycamore Stretch Jacket in Blush Pink
White Pine pant in Black
The Endurance PO Hoodie in Black
The Resilience SS Tee in White
Graphics from Swanson are very decent on our styles – this makes it look really special.
Self-love and self-care are two things that we know, no one can ever have too much of and we're proud to support this message and B4BC´s mission.
Sustainable Practices
We at Nikita are proud to be continuing our ever-going journey towards sustainable practices. We began three years ago with Blue-Sign approved recycled theremore eco down in our winter jackets and now we expanded our sustainable selection of products including a new water-saving solution dye process, organice cotton hoodies and tees and recycled polyester.
BASE LAYER FOCUS
Do you do baselayers? What's happening here, what's your base layer strategy next year? Please let us know your tech innovations, materials, colours and pricepoints.
We are looking at this category in a whole new direction. We are expanding this area, because there are so many activities we do in our day to day life that we can use the base layers when designed with this in mind.  We are calling this group Life Layers.
Not only can you use these pieces for underlayers, but depending on what you buy, they can be used for yoga class, every day running around clothes, and   out at night when paired up with the right accessories.